The definition of beef stroganoff is very loosely described in Wikipedia as sautéed pieces of beef with a sauce and sour cream. Since beef stroganoff is so loosely defined this AIP Ground Beef Stroganoff with Spinach recipe may be completely different from what you remember but still delicious and AIP diet friendly.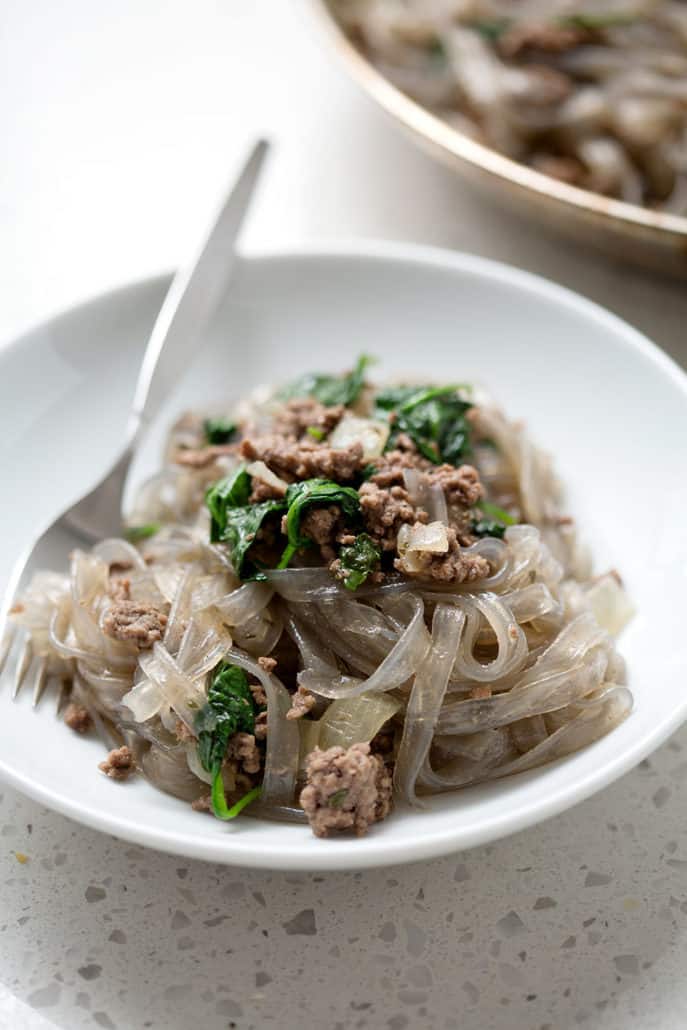 Honestly I wanted to call this 'noodley thing with beef and spinach' but that's not great for SEO. I really wanted you to find this recipe so I thought I better give it a name that make it easy for google to find. Hence, we have AIP Ground Beef Stroganoff with Spinach.
Traditionally beef stroganoff includes sour cream. Well, dairy is a reintroduction and one that I haven't been able to reintroduce just yet. I use coconut cream as a substitution. However, I feel like it's totally optional because it tastes really good without the cream. In my house, I can't have coconut just yet, my son doesn't like it and my husband doesn't love cream sauces so I think I included it once and since then we've been cream free. If you're coconut free, this recipe is a great option!
I think beef stroganoff with ground beef has fallen out of style. I remember it as something we used to have decades ago when I was a kid. However, I was able to reimagine this dish for the AIP diet.
This quick beef stroganoff with ground beef is so much faster than traditional stroganoff. The ground beef is the key to getting this recipe done in about 30 minutes.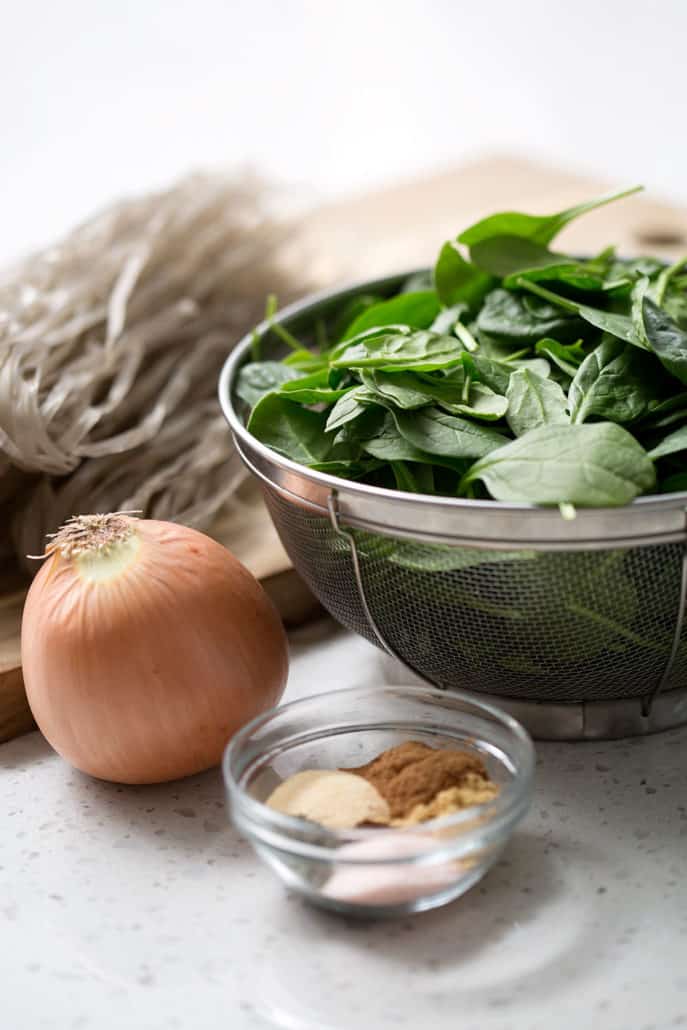 Have you ever tried sweet potato starch noodles (Korean sweet potato noodles)?
Sweet potato starch noodles are the only AIP diet friendly noodles that remotely taste like legit noodles. They are a favorite of mine. They are a type of glass noodles, which are commonly found in Asian cooking. These specific noodles are more common in Korean food.
Please make sure you read the ingredients before buying these noodles. Glass noodles (noodles that are made from the starch of potato, sweet potato, rice, etc.) can come from many different sources and they aren't always AIP friendly. Another thing to remember is that just because it says sweet potato noodles on the packaging it may include other ingredients like wheat, rice, or white potato. Those are pretty typical so just remember to check the ingredients before you make a purchase.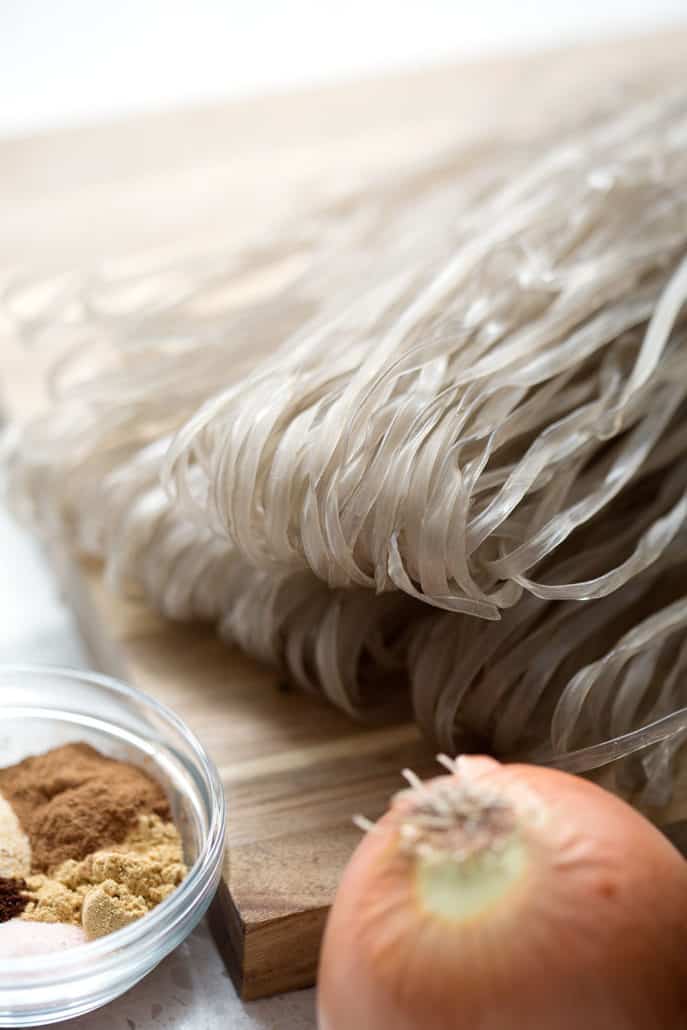 Where to buy Korean sweet potato noodles?
You can get them online or in an Asian grocery store. If you have a Korean market near you, even better! These sweet potato starch noodles are more typical in Korean cooking so you have more variety in a Korean market. We are lucky to have a few different options when it comes to Asian markets. We have Ranch 99, Lucky, and H Mart. I've found the most variety at Lucky but I'm pretty sure that's just a local market. H Mart is a larger chain that I've found a few different options for sweet potato starch noodles.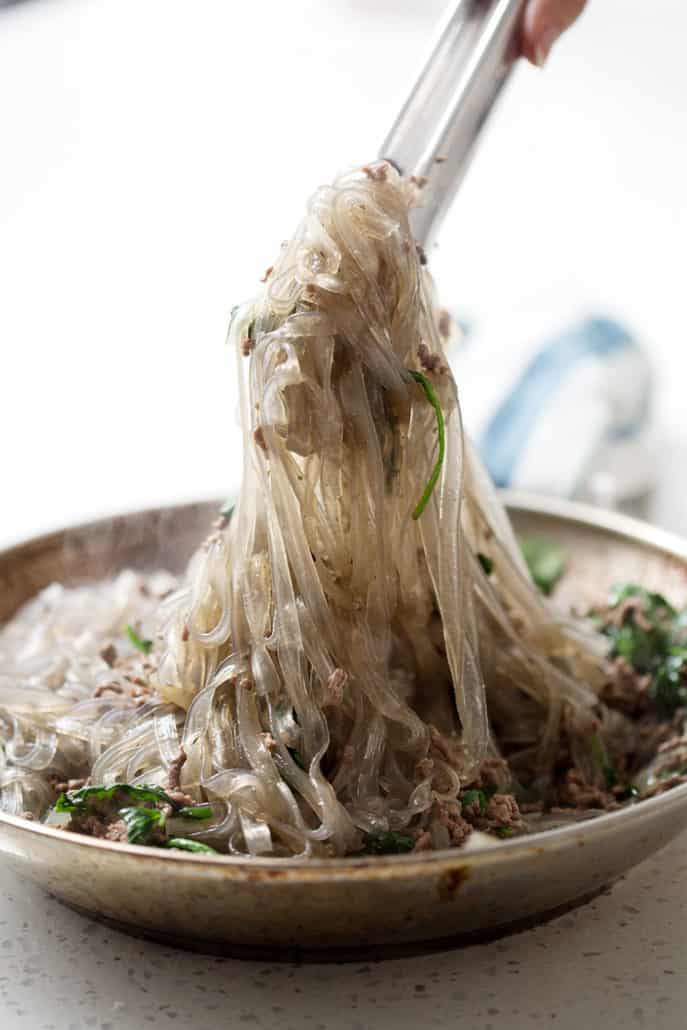 How to cook Korean sweet potato noodles?
Depending upon the size of the noodles, you'll probably want to cook them in boiling water for 5-8 minutes. It will usually tell you on the packaging but I've found some packages to be written completely in another language and just had to taste every few minutes towards the end of cooking.
These noodles really absorb a lot of liquid so don't let them sit in the cooking water once they are finished cooking. If you time it just right, you should be able to transfer right from the cooking water to the pan of beef.
If you love these noodles, then check out my Asian Pork and Noodle Soup recipe. It's another recipe that can be made in about 30 minutes.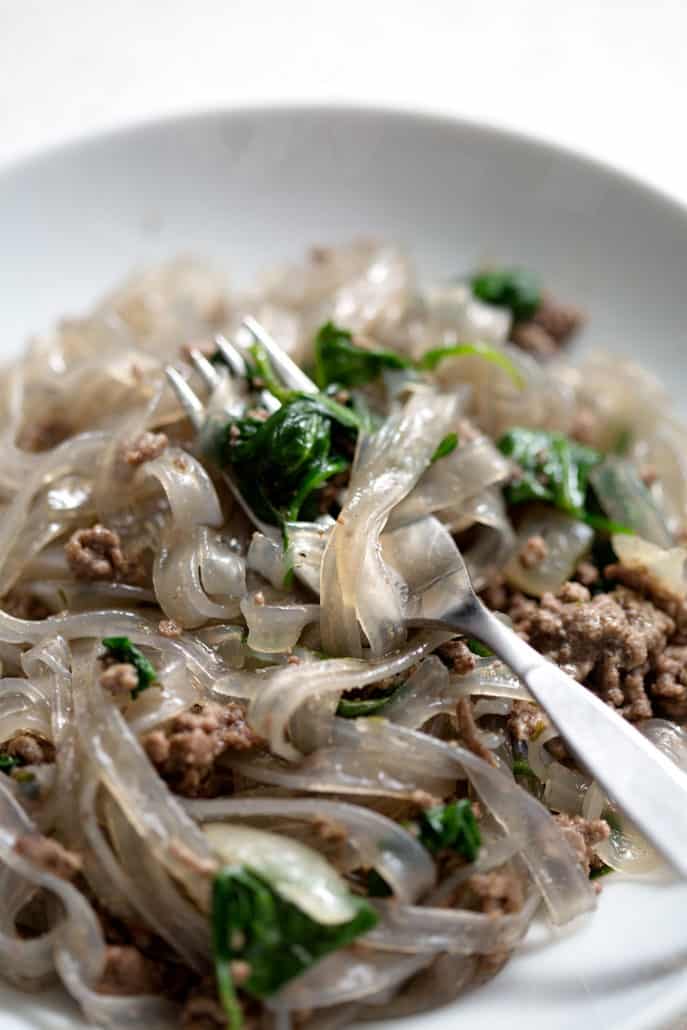 Print Recipe
AIP Ground Beef Stroganoff with Spinach
AIP Ground Beef Stroganoff with Spinach recipe is a quick beef stroganoff with ground beef and sweet potato starch noodles. Traditionally stroganoff includes sour cream but I've used coconut cream. However, this recipe is delicious cream free! This recipe fits the Autoimmune Protocol (AIP) and Paleo diets.
Ingredients
1

Onion

chopped

1

tablespoon

Extra Virgin Olive Oil

1

pound

Ground Beef

2

teaspoons

Salt

2

teaspoons

Garlic Powder

1 1/2

teaspoon

Dried Thyme

1 1/2

teaspoon

Ground Ginger

1

teaspoon

Cinnamon

pinch

Ground Cloves

1

cup

Bone Broth

8

ounces

Sweet Potato Noodles

5

ounces

Baby Spinach

1/2

cup

Coconut Cream

optional
Instructions
Bring a stock pot of water to a boil.

Add onions to a large sauté pan with olive oil over medium high heat until onions are translucent.

Add the ground beef and then using a spoon, break apart.

Add in the herbs and spices then stir to combine.

Pour the broth over the meat mixture and bring to a boil over high heat.

Let the beef mixture cook for about 10 minutes, stirring occasionally.

While the beef is cooking, add the sweet potato starch noodles to the stockpot and cook for about 6-8 minutes.

When the noodles are finished cooking, add them to the pan of ground beef

Next add the spinach to the noodles and toss to combine.

If using the cream, add to pan and then toss again. Make sure to coat the noodles with the sauce.

Serve.
Nutrition
Serving:
1
cup
|
Calories:
651
kcal
|
Carbohydrates:
57
g
|
Protein:
24
g
|
Fat:
37
g
|
Saturated Fat:
18
g
|
Cholesterol:
81
mg
|
Sodium:
1293
mg
|
Potassium:
669
mg
|
Fiber:
4
g
|
Sugar:
1
g
|
Vitamin A:
3337
IU
|
Vitamin C:
13
mg
|
Calcium:
89
mg
|
Iron:
5
mg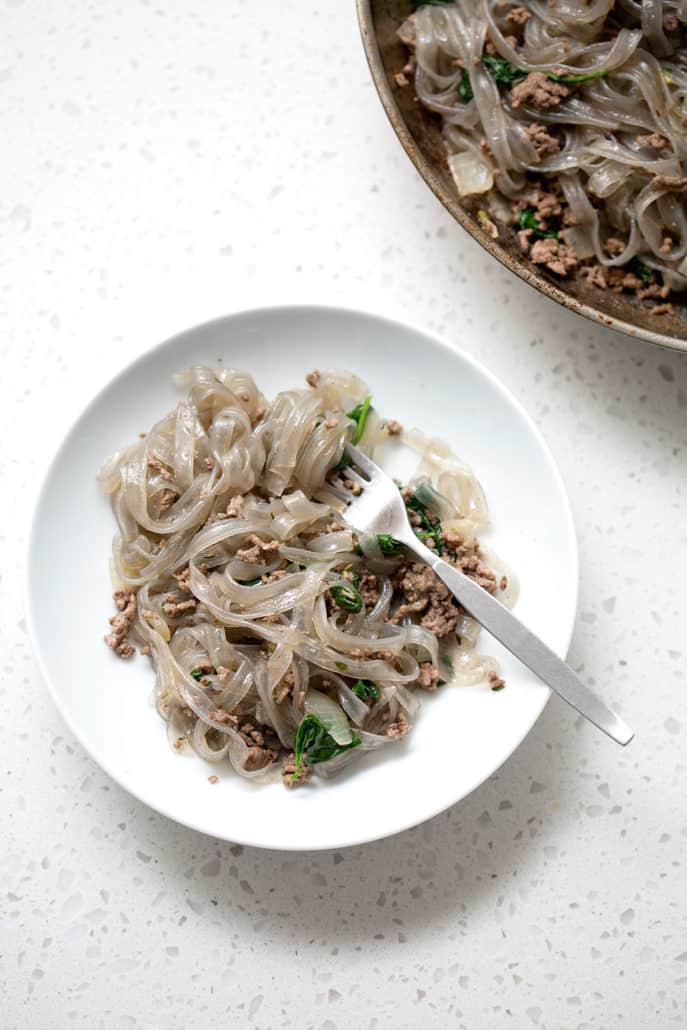 If you like this recipe, be sure to share it on Pinterest or leave a comment below!