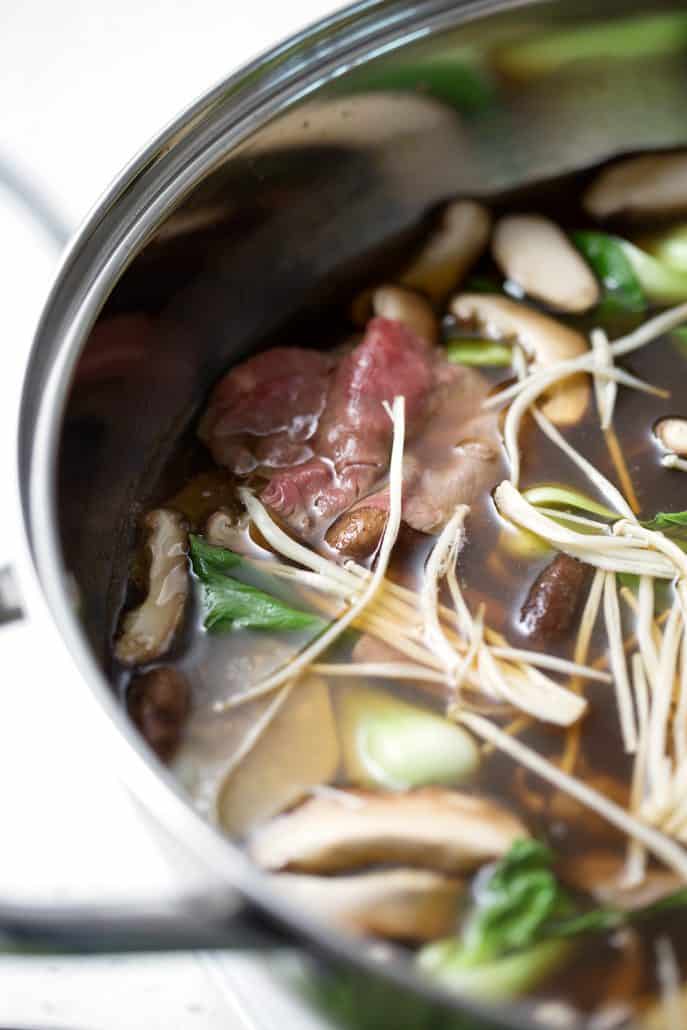 Hot Pot is a Chinese soup where everyone sits around a communal pot of broth and cooks the ingredients at the table. The ingredients in the dish vary but they generally include thinly sliced meat, seafood, vegetables and mushrooms. This particular Hot Pot recipe is made to fit the autoimmune protocol diet however; it's definitely not missing any of the flavors of a more traditional hot pot.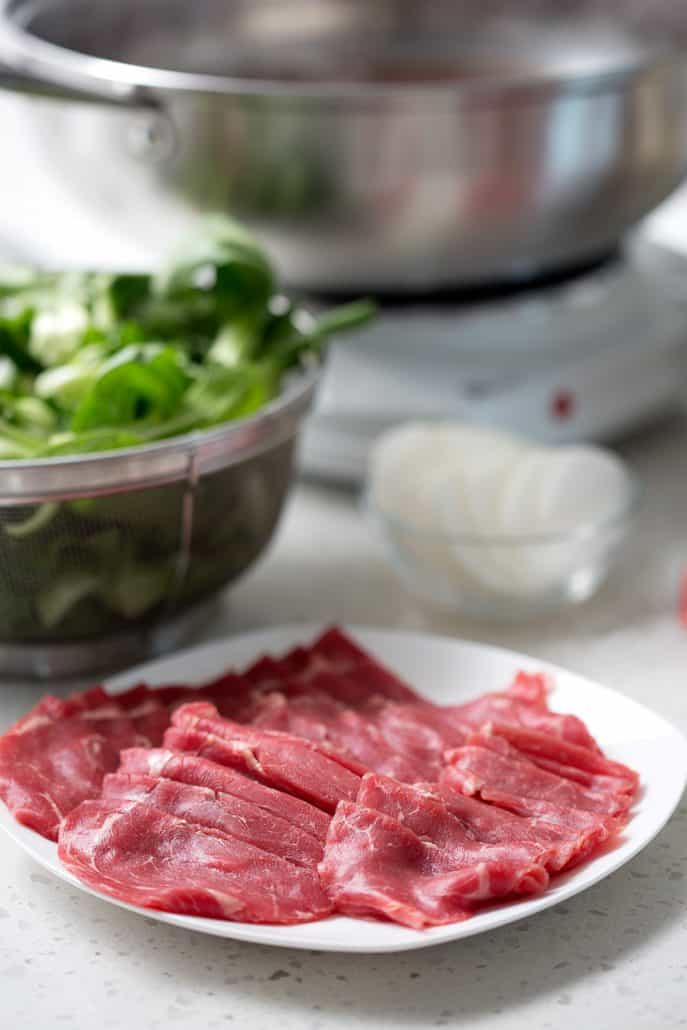 Hot Pot is a Chinese dish but the same type of meal exists in other countries. For example it's called shabu shabu in Japan. The ingredients vary by country and region. I've had hot pots that were super spicy and others that were milder in flavor. I've adapted my mother in laws hot pot and used substitutions to make it AIP compliant. For example, traditional hot pot broth has soy sauce and mirin. Soy and Mirin (sweet rice wine) aren't AIP friendly so I've substituted them with fish sauce, cinnamon and molasses. The fish sauce is salty like the soy but it doesn't have the depth of flavor. Cinnamon is definitely a more Vietnamese spice and molasses is straight up American. While they aren't traditional additions, the cinnamon adds richness to the broth. The molasses adds some depth as well but it also adds some sweetness. It's a very nice substation for the mirin. Although, I'd go real slow with the fish sauce and molasses. Start with a teaspoon and then taste. Make sure you taste as you go. You can always add more but if you add too much, you've ruined the dish.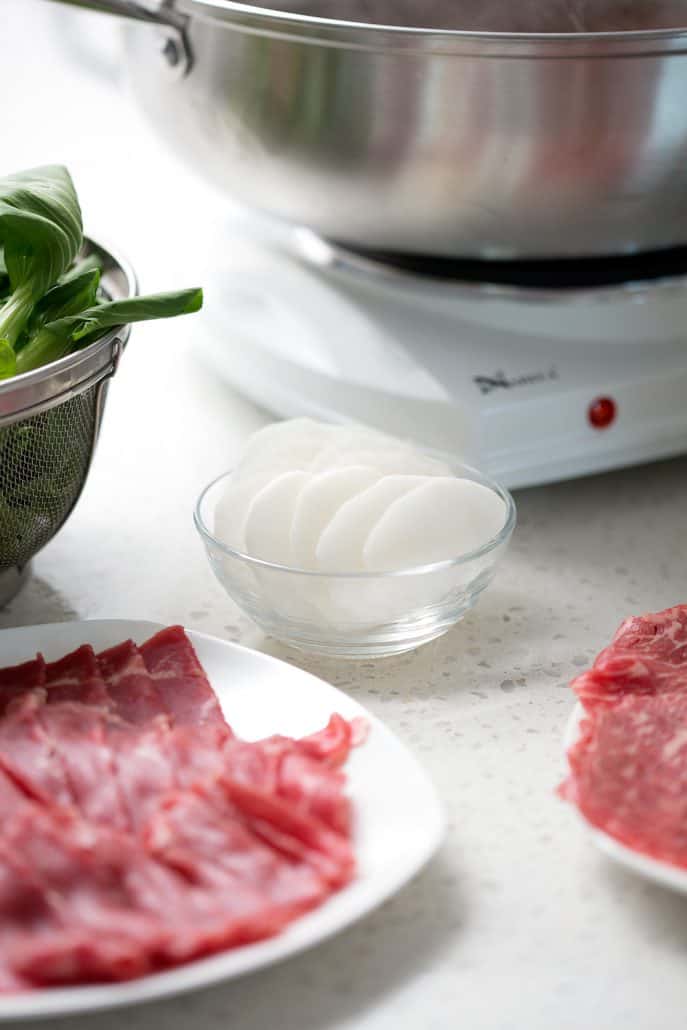 The ingredients in hot pot are wide ranging. It's really whatever looks good at the market that day. They usually include shrimp balls, tofu, shrimp, beef, pork, lamb, pea sprouts, bean sprouts, noodles, fish balls, rice noodles and watercress. Many of these things are not AIP friendly but part of the beauty of hot pot is that there are no real rules about ingredients. You can mix and match it to fit your tastes and diet.
You'll need a wide and low stockpot as well as an electric burner to sit on your table. I've seen sets that are made specifically for hot pot. The pot and burner are meant to be used together. If you're really into hot pot, then you should look into a set.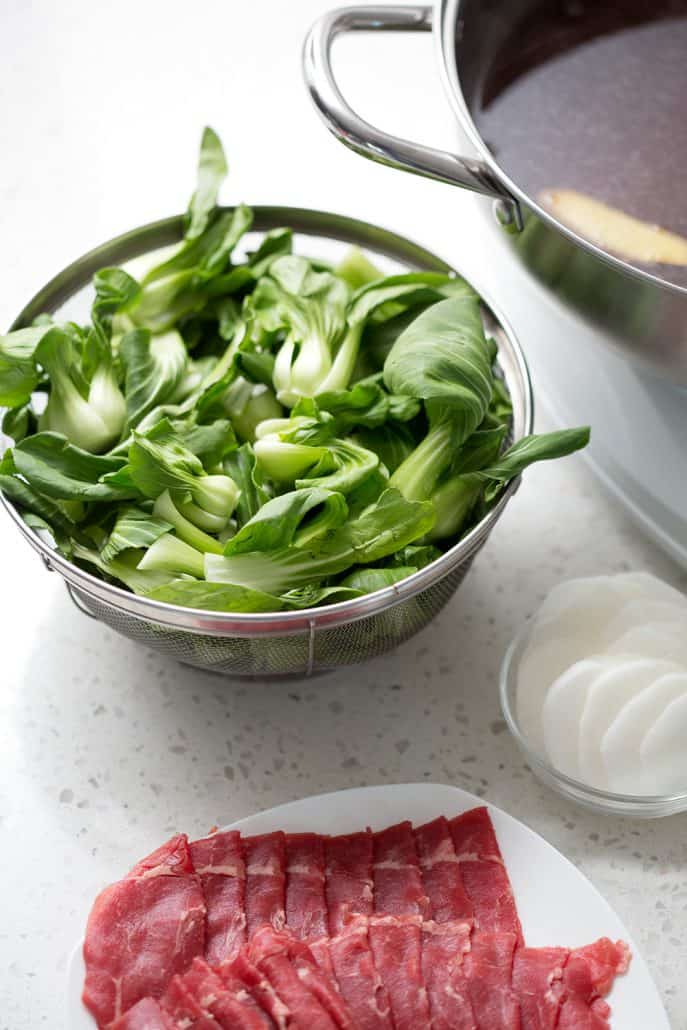 The utensils we have on hand for hot pot are chopsticks, deep soup bowls, porcelain Asian-style spoons, and a ladle. The chopsticks, porcelain spoons are optional. You can use regular spoons and forks to eat. Although if you're not going to use chopsticks then you'll need a pair of tongs. The only other items that are helpful are small strainers. They are great at fishing out pieces of meat and noodles that can sometimes be slippery with chopsticks.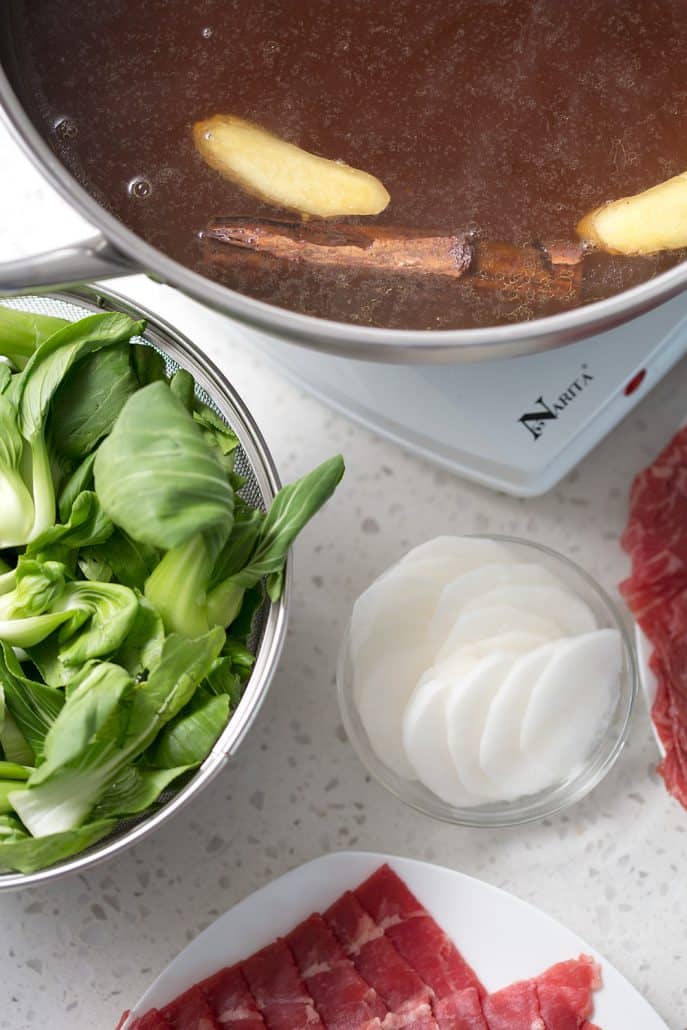 When it comes to your meats, they must be thinly sliced. If you go to an Asian market, they may actually have them labeled for you. There's a Korean market near us that had different cuts for grilling and for hot pot. They may label it for shabu shabu or hot pot which is very helpful. It's different than the meats used for grilling because it's much thinner. Some cuts are paper-thin which is good because it will cook quickly in the broth. To be totally honest, it's difficult to find organic or higher quality meats in Asian markets. If you have a good butcher, you can ask them to cut your organic meats super thin for Hot Pot. The other option is to forgo meat and stick with seafood.
This AIP Hot Pot recipe gives amounts for about 4 people. However, the great thing is that it could easily serve 6-8 with additional broth and other ingredients. The only real problem you run into is making sure that everyone can reach the pot to grab there own food as the number of guests increases.
This is a really long post so thanks for sticking with me to the end. I hope it answered all of your questions about Hot Pot. If not, feel free to leave questions or comments below and I will do my best to answer them for you.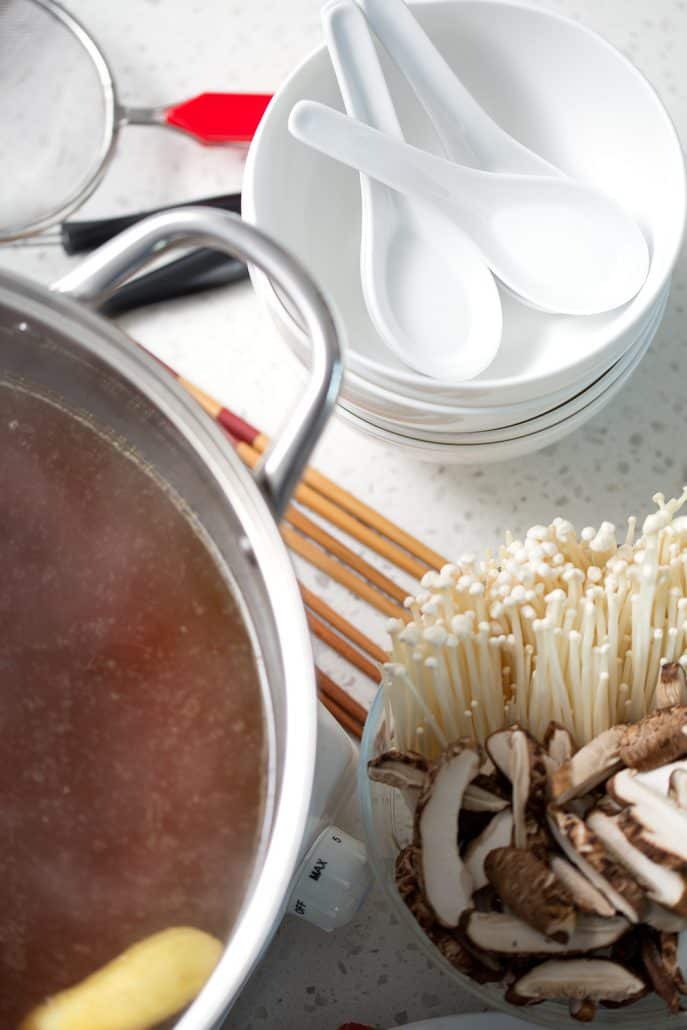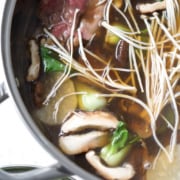 Print Recipe
AIP Hot Pot
This AIP Hot Pot is a simple and quick meal that can serve a crowd. It's also a fun way to enjoy a meal because you get to cook your food right at the table. This recipe is allergy friendly (gluten, dairy, shellfish, nut, egg, and soy free) and suits the autoimmune protocol diet (AIP), and paleo diets.
Ingredients
8

cups

Chicken Broth

1

Cinnamon Stick

2

slices

of Fresh Ginger

Blackstrap Molasses

to taste

Fish Sauce

to taste

Beef

very thinly sliced

Bok Choy

ends trimmed

Shitake Mushrooms

stems removed and thinly sliced

Enoki Mushroom

ends trimmed

Daikon Radish

peeled and thinly sliced

1

bunch Sweet Potato Glass Noodles
Additional Add-ins (not shown):
Shrimp

Pork

very thinly sliced

Lamp

very thinly sliced

Napa Cabbage

Carrots

peeled and thinly sliced

Spinach

Green Onions

Cilantro
Instructions
Add the chicken broth, cinnamon stick, and ginger to a shallow stockpot.

Next add the fish sauce and molasses to taste. Add them each about a tablespoon at a time. It's potent stuff and it can be very easy to over season the broth.

Bring the broth to a boil.

While the broth is boiling, set up your burner on the kitchen table. You may need an extension cord for the burner to sit comfortably in the middle of the table.

Place all of your meat and veggies on plates and set them on the table around the burner.

When the broth is boiling, bring it to the table and place it on the burner. Bring the broth back up to a slow boil.

Remove the cinnamon and ginger then start adding in your meat and veggies. Everyone at the table can reach in and grab whatever meat, veggies and broth they want to eat.
Nutrition
Serving:
1
serving
|
Calories:
27
kcal
|
Carbohydrates:
3
g
|
Protein:
2
g
|
Fat:
1
g
|
Saturated Fat:
1
g
|
Polyunsaturated Fat:
1
g
|
Monounsaturated Fat:
1
g
|
Sodium:
1720
mg
|
Potassium:
384
mg
|
Fiber:
1
g
|
Sugar:
1
g
|
Vitamin A:
12
IU
|
Vitamin C:
33
mg
|
Calcium:
37
mg
|
Iron:
1
mg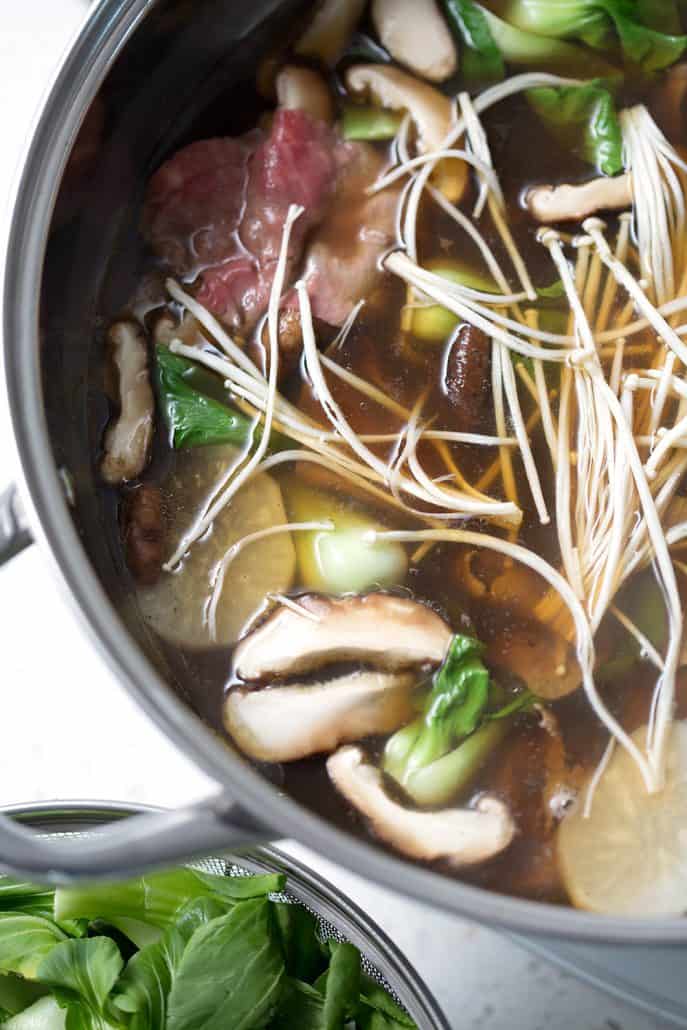 If you like this recipe, be sure to share it on Pinterest or leave a comment below!