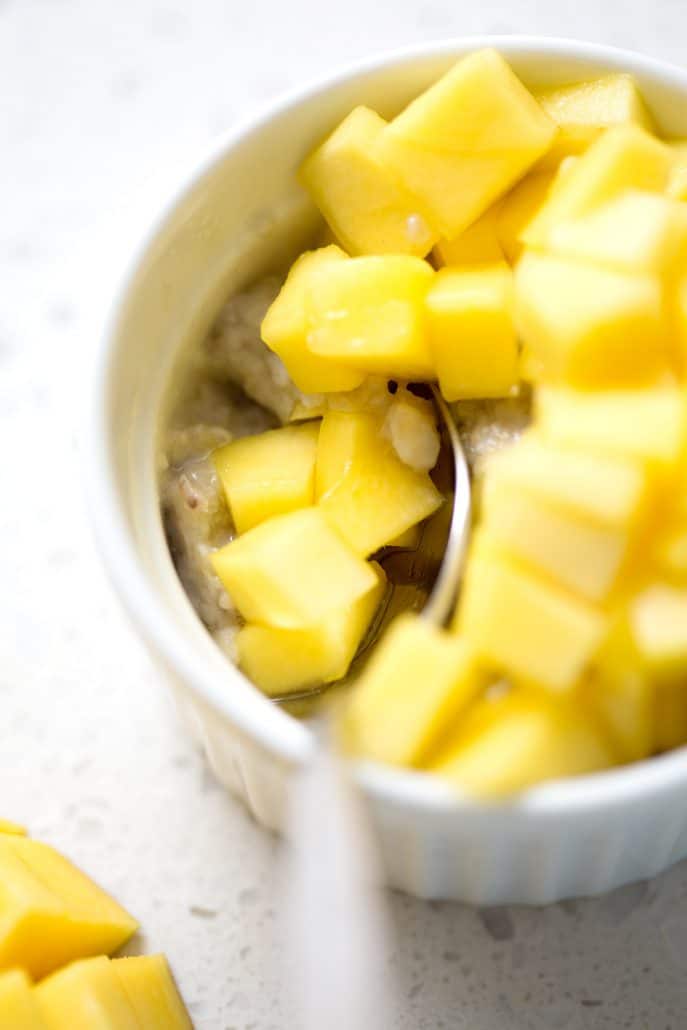 Mango Sticky Rice is a classic Thai dessert. It's an amazing combination of mango, sticky rice and coconut. To make AIP Mango Sticky 'Rice,' replace the sticky rice with plantain 'rice.' It's still full of sweet coconut flavor and topped with the juicy mango. It's a delicious AIP/Paleo treat.
One of my husbands' favorite desserts is Mango Sticky Rice. We don't go to Thai restaurants very often and making sticky rice is surprisingly complicated. Not to mention, rice isn't AIP.
I kept seeing plantain rice recipes on Pinterest and had an epiphany. Plantains lend themselves so well to desserts. I thought it would be the perfect substitute for sticky rice. I've been thinking about the ingredients in this recipe for weeks. So when I finally made it, I nailed it on the first try. My husband was so excited about this AIP Mango Sticky 'Rice' recipe and it was all I could do to stop him from eating the 'rice' right out of the pan. I usually make a recipe a few times to tweak the recipe before I feel confident enough to shoot and post it online. However, my husband loved it so much and insisted that I leave the recipe alone. 'Don't change a thing,' was repeated multiple times.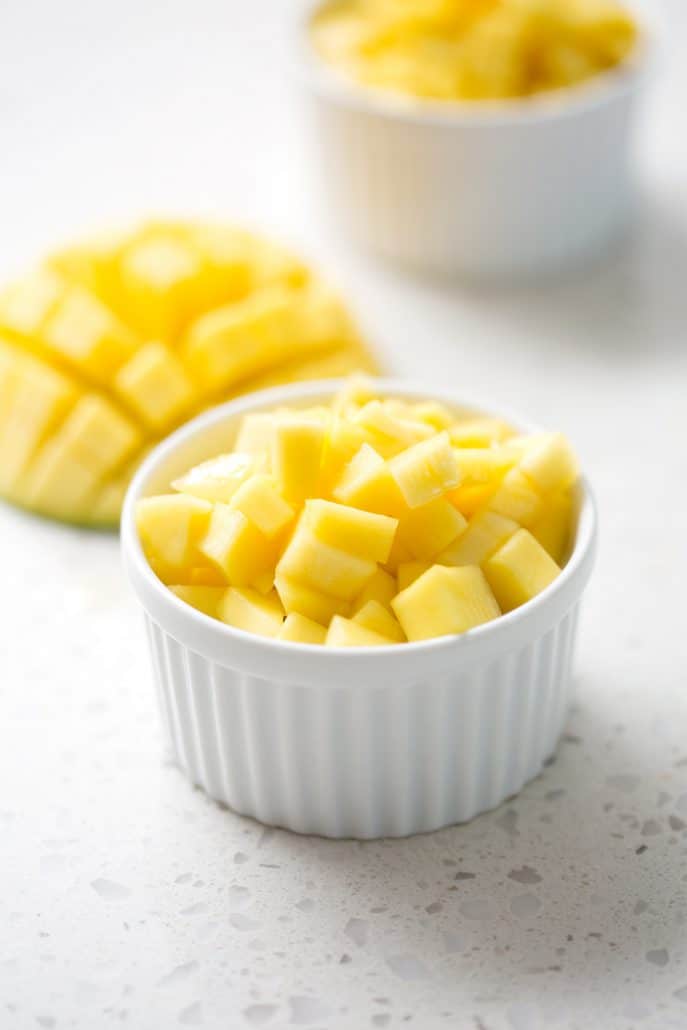 My husband doesn't have to eat AIP. He can eat anything he wants. It makes me feel really good when he chooses to eat the food I make not out of obligation but because it tastes good. He actually wants me to make this AIP Mango Sticky 'Rice' for his family; he loves it that much. There's no better compliment.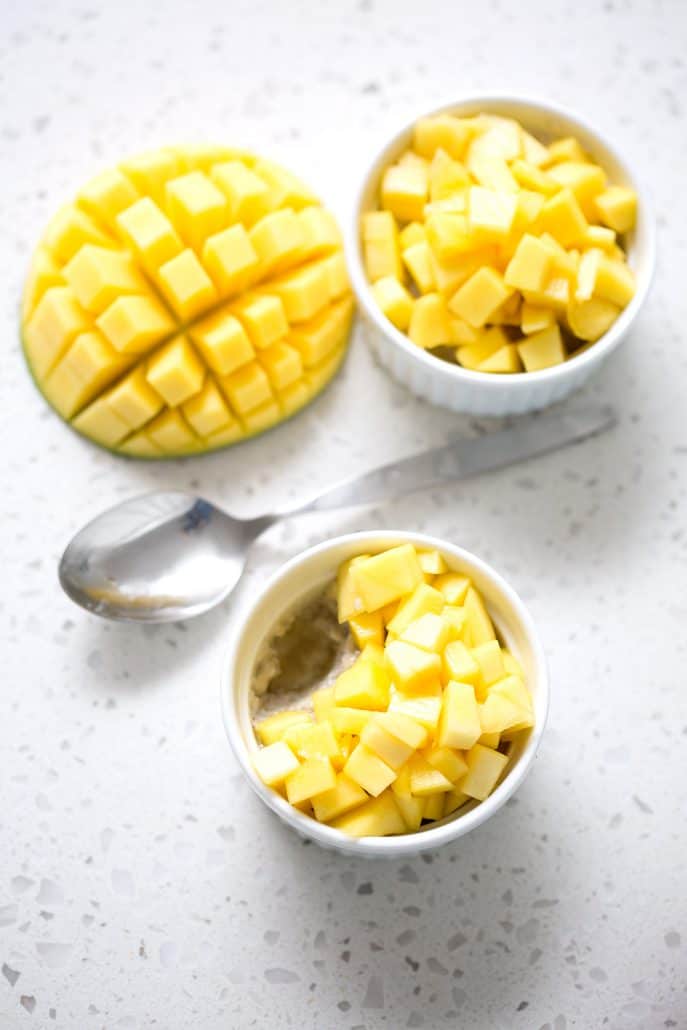 Full disclosure. I can't tolerate coconut just yet. As I write this, I just tried to reintroduce it and it did not go as planned. My reaction wasn't as bad as it has been in the past, which is progress, but I'm not quite there yet. This recipe was created completely from my memory of coconut and used my husband as my taster. I was kinda hoping that my reintroduction of coconut would go better and I would be able to enjoy this recipe as well. I may have jumped the gun but I'm glad to know that this AIP Mango Sticky 'Rice' recipe (and my Coconut Panna Cotta) will be waiting for me when I finally reintroduce coconut. In the meantime, I hope you enjoy.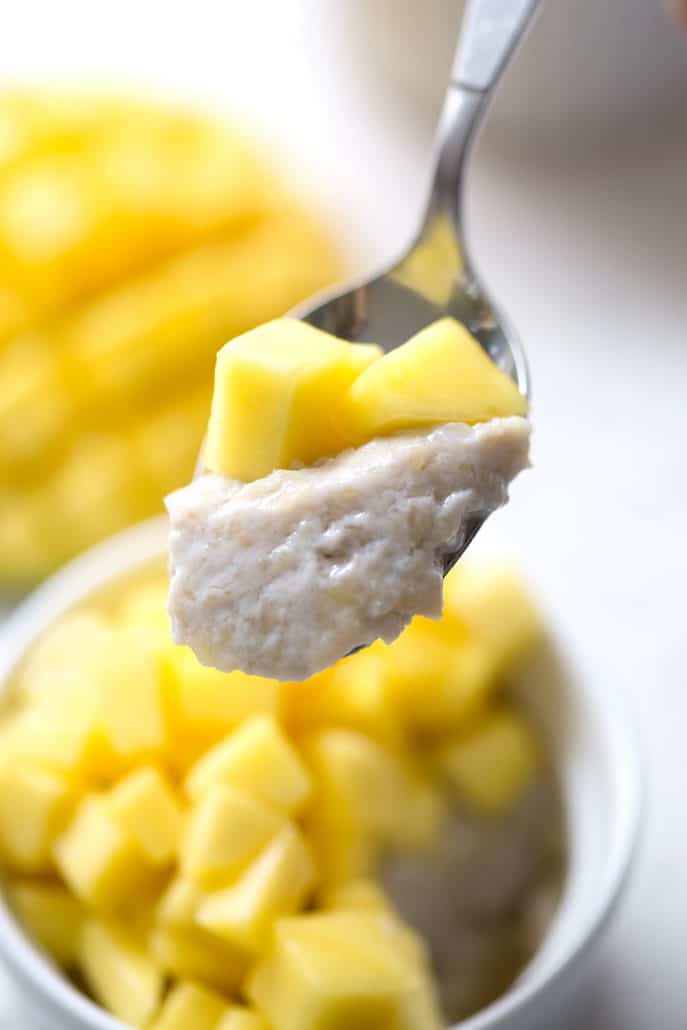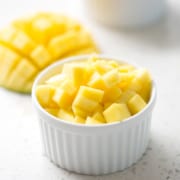 Print Recipe
AIP Mango Sticky 'Rice'
Here's a Mango Sticky 'Rice' that's full of coconut flavor, just minus the rice. Plantains replace the rice in this recipe to make it AIP-friendly. This recipe is allergy friendly (gluten, dairy, shellfish, nut, egg, and soy free) and suits the autoimmune protocol diet (AIP) and paleo diets.
Instructions
Sprinkle the gelatin over the coconut cream in a small bowl or measuring cup and then set aside.

Remove the peel from the plantains and then roughly chop them before adding them to a blender.

Blend the plantain until it's in a rice-like form. You may need to pulse for a few seconds and then using a spoon loosen the plantain before pulsing again. Do that a few times to ensure that plantain pieces are all about the same size.

Add the coconut oil to a saucepan over a medium heat.

When the oil has melted, add the plantain and stir to combine.

Next add the coconut cream mixture, pinch of salt and honey to the saucepan.

Cook the mixture over a medium-to-medium low heat while stirring for about 6-8 minutes when the mixture has thickened and the plantains are cooked.

Once cooked, remove from the heat and spoon equal amounts into 4 ramekins.

Next, pour equal amounts of the mango to top off the 'sticky rice' in the ramekins.

If using, pour coconut milk over the mango and then serve immediately.
Nutrition
Serving:
1
cup
|
Calories:
524
kcal
|
Carbohydrates:
56
g
|
Protein:
7
g
|
Fat:
35
g
|
Saturated Fat:
31
g
|
Sodium:
12
mg
|
Potassium:
878
mg
|
Fiber:
5
g
|
Sugar:
33
g
|
Vitamin A:
1901
IU
|
Vitamin C:
49
mg
|
Calcium:
22
mg
|
Iron:
3
mg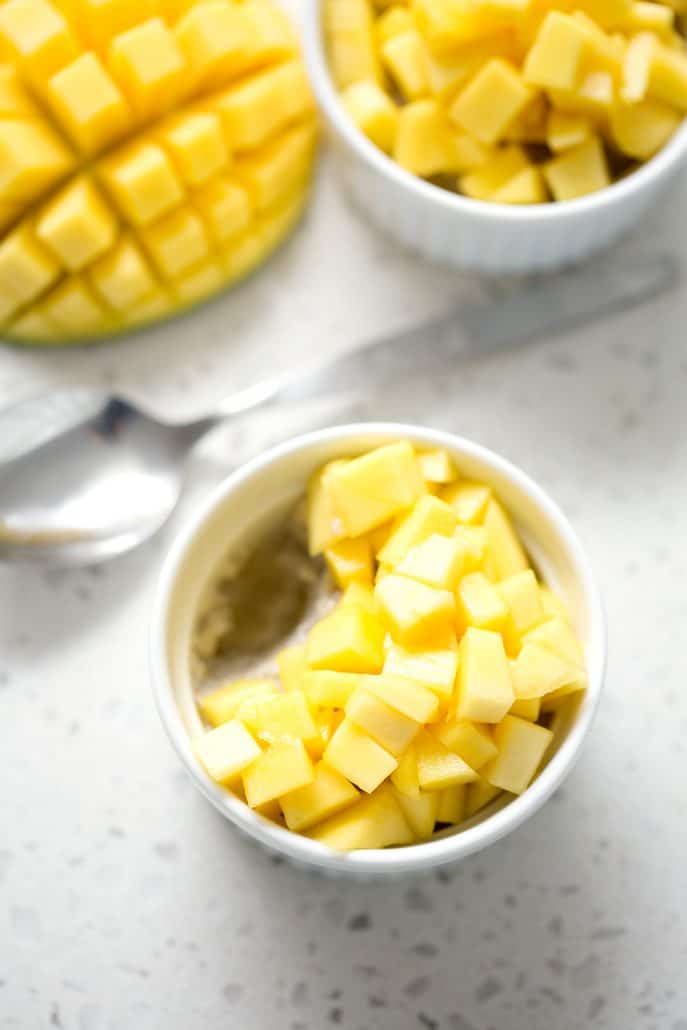 If you like this recipe, be sure to share it on Pinterest or leave a comment below!