This Baked Meatballs, Cauliflower Rice and Sautéed Spinach Meal Prep is three delicious dishes rolled into one easy to follow recipe. Each recipe is delicious on its own but together they make a really amazing meal. It's a hearty and nutritious meal that comes together in under an hour.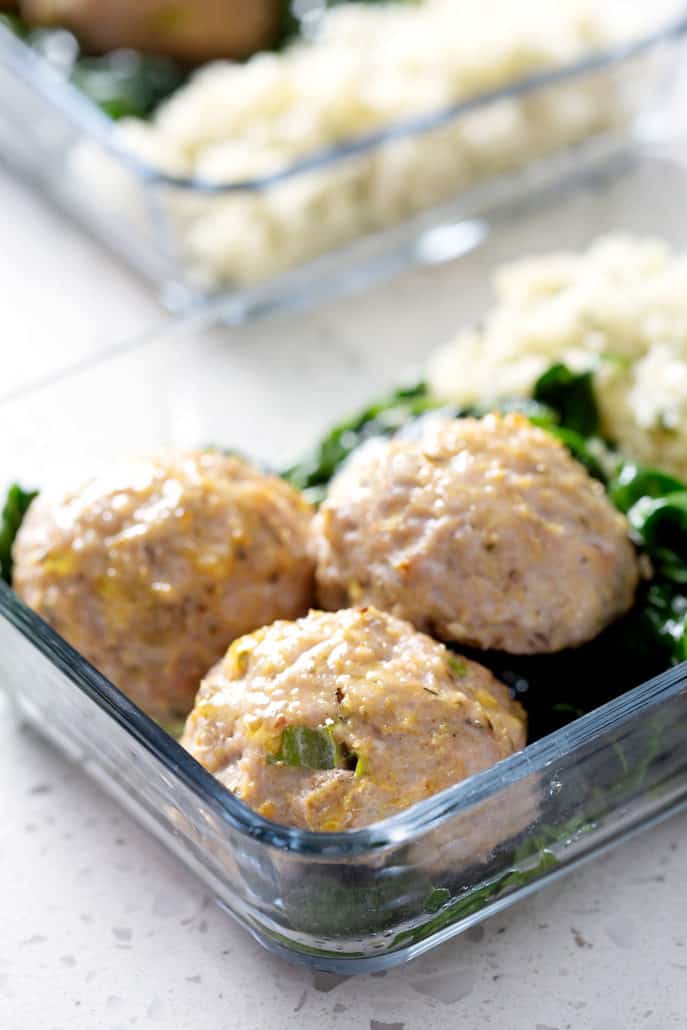 Why meal prep?
Meal prep is essential to sticking with the AIP diet. When your health is unreliable and you don't know how you're going to feel from one day to the next it's really important to have meals ready.
I've combined a few of my favorite recipes to create one delicious meal. One of these dishes I make on a regular basis for my family but never shared the recipe.!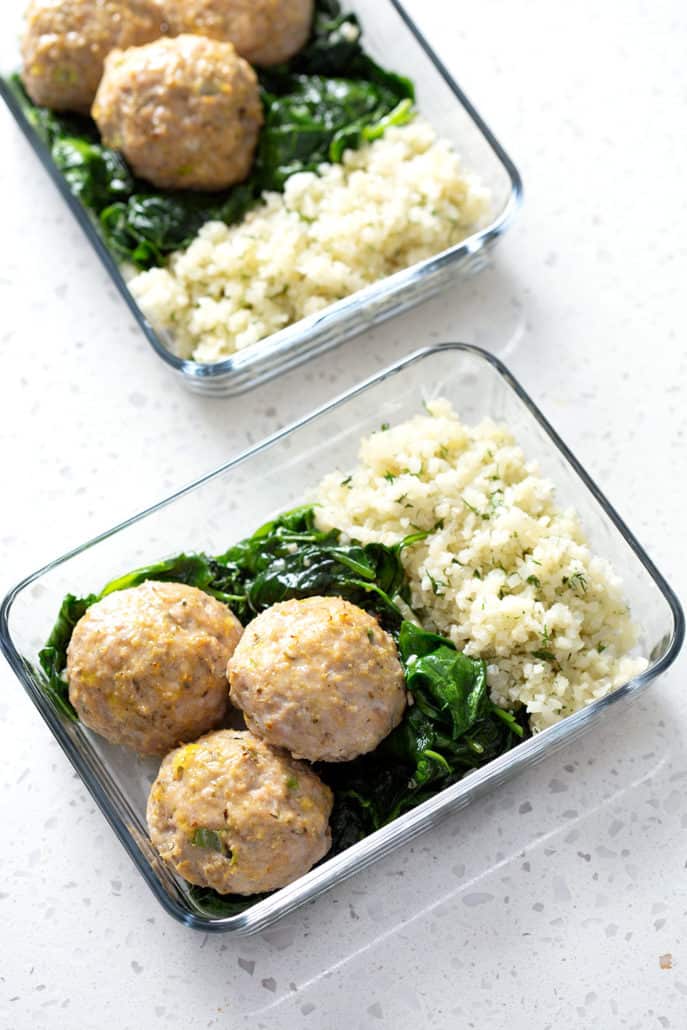 My Sautéed Spinach with Garlic is a staple in my home. We eat it regularly and was one of the few ways I can get my picky toddler to eat veggies. It's so easy that I never though to share it. I've included it in this meal prep recipe for you to enjoy.
The Herbed Cauliflower Rice is my favorite way to eat Cauliflower. The shallots and herbs add so much flavor. I switched out the cilantro for dill for the meal prep recipe but you really could do whichever leafy herb you prefer (like parsley).
The Baked Italian Meatballs are my new favorite meatballs. It reminds my of the meatballs my mom used to make as a kid but this one has some hidden veggies in there. If you have a picky eater at home, then trick them into eating veggies (acorn squash) by serving this recipe. I also have another meatball recipe with veggies called Turkey and Spinach Meatballs. It actually includes an entire pound of frozen spinach!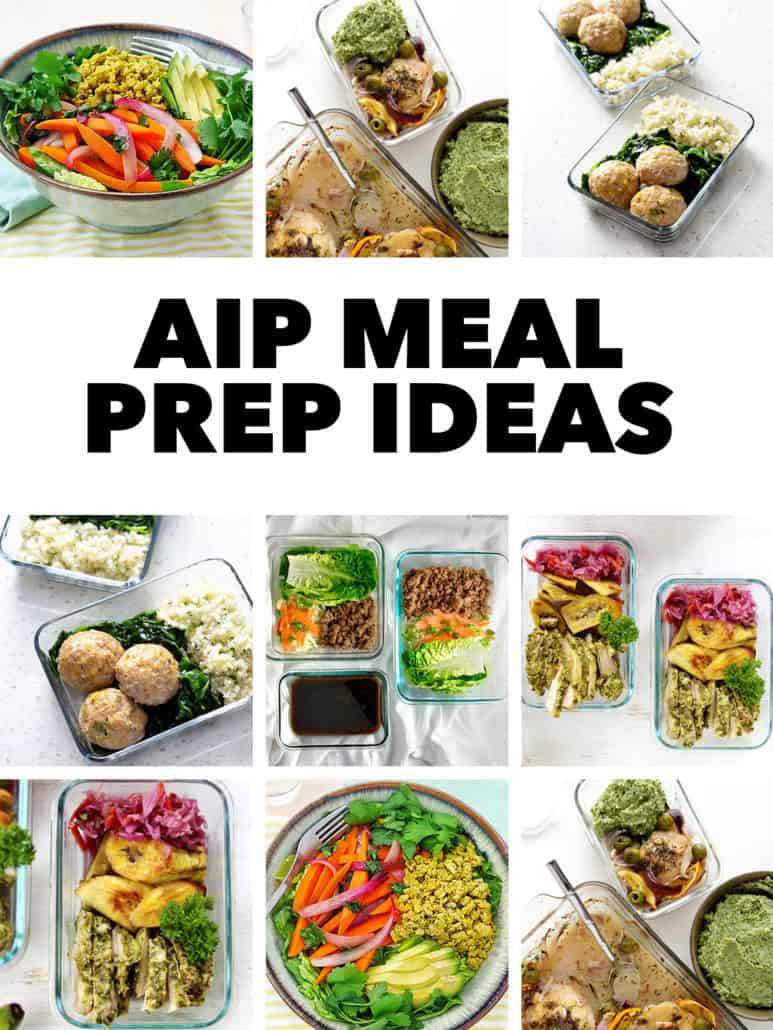 MORE Meal Prep Ideas
If you need more meal prep ideas for the AIP diet, I've got some suggestions from four of my AIP blogging friends. We hope that these meal prep ideas will help you succeed in your kitchen and make being on the AIP diet a little easier!
Amanda from Unrefinedjunkie.com
Teriyaki Pork Lettuce Wraps: These Teriyaki Pork Lettuce Wraps are an easy fake-out take-out that's AIP friendly! This recipe is a double batch, perfect for make ahead meal prepping!
Sophie from ASquirrelintheKitchen.com
Mediterranean Chicken Bake Meal: All the flavors of French Provençal cuisine are present in this Mediterranean Chicken Bake. Paired with a rustic broccoli mash, this easy meal is definitely a crowd pleaser! If you are lucky and have any leftovers, it will taste even better the next day!
Samantha from TheUnskilledCavewoman.com
Chimichurri Chicken, Plantain & Red Slaw Meal Prep: Parsley, garlic, olive oil, oregano & vinegar give this Chimichurri Chicken a magnitude of Argentine flavor. Served with simple oven-toasted plantains and a tangy slaw, this prep makes for a nutrient-dense trio that keeps your taste buds hopping for 4 days worth of meals for 1. Bonus: It's a coconut-free sheet pan recipe!

Kat from hopehealcook.com
Chicken Taco Fajita Bowls: These Chicken Taco Fajita Bowls have it ALL: anti-oxidant rich colorful vegetables, alkalizing greens, healthy fats, and medicinal herbs and spices. They're part fajita, part taco, part salad and 100% yum!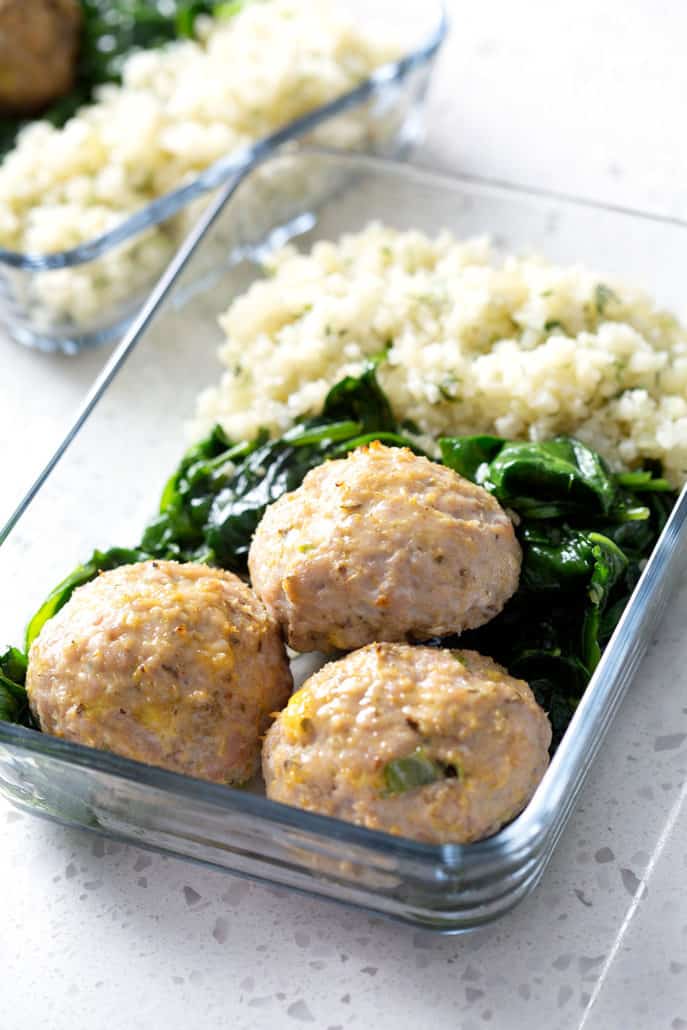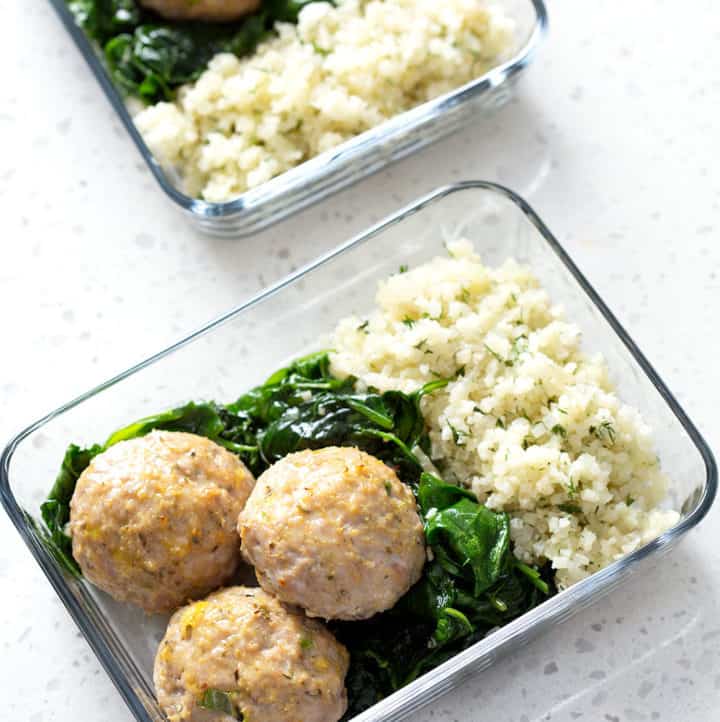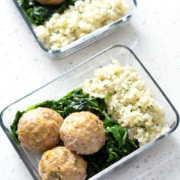 Print Recipe
Baked Meatballs, Cauliflower Rice and Sautéed Spinach Meal Prep
This Baked Meatballs, Cauliflower Rice & Sautéed Spinach Meal Prep is three delicious dishes rolled into one easy to follow recipe.
Ingredients
For the Baked Italian Meatballs
1

pound

Ground Chicken

1

pound

Ground Pork

1

cup

Cooked and Mashed Acorn Squash

1-2 acorn squash, butternut squash or canned pumpkin is a good substitute

3

teaspoons

Italian Seasonings

Homemade is best

2

teaspoons

Salt

1

teaspoon

Onion Powder

1/2

teaspoon

Sage

3

Green Onions, chopped
For the Herbed Cauliflower Rice
1

Whole Cauliflower

(about 5 cups cauliflower rice or 2 bags of Frozen Cauliflower rice)

2

Shallots, chopped

1/4

cup

Fresh Dill

(Cilantro and Parsley great substitutes)

1/2

teaspoon

Garlic Powder

Salt to taste
For the Sautéed Spinach and Garlic
16

ounces

Spinach

10-12

Garlic Cloves

chopped (about 1 head of garlic)

Salt

to taste
Instructions
Preheat oven to 350 degrees.

To make the meatballs, combine all the ingredients into a large mixing bowl.

Take a baseball-sized amount of meat and then roll it in your hand.

Place on a baking sheet.

Put into the oven for 30 minutes.

While the meatballs are cooking, start cooking the sides.

To make the cauliflower rice, add the olive oil to a large sauté pan over high heat.

Next add the onions and sauté until translucent.

Add the cauliflower rice, garlic powder and salt to taste.

Cook the rice until heated through then turn off the heat.

Fold in the fresh dill.

To make the spinach, heat oil in a wok or large sauté pan over high heat.

Add the garlic and sauté for about 30 seconds.

Add the spinach in bunches while tossing to coat with oil.

Sprinkle with salt, to taste.

Remove the meatballs from the oven when they are finished cooking and divide the meatballs, cauliflower rice and spinach equally to four different containers.
Notes
To make mashed acorn squash, cut them in half and remove the seeds. Next place them in the oven on a baking sheet flat side down at 400 degrees for 30-45 minutes. Remove the filling and let it cool to room temperature before adding to the recipe.
Nutrition
Serving:
1
g
|
Calories:
454
kcal
|
Carbohydrates:
18
g
|
Protein:
37
g
|
Fat:
27
g
|
Saturated Fat:
9
g
|
Cholesterol:
143
mg
|
Sodium:
1148
mg
|
Potassium:
1791
mg
|
Fiber:
6
g
|
Sugar:
4
g
|
Vitamin A:
8885
IU
|
Vitamin C:
90.7
mg
|
Calcium:
186
mg
|
Iron:
5.6
mg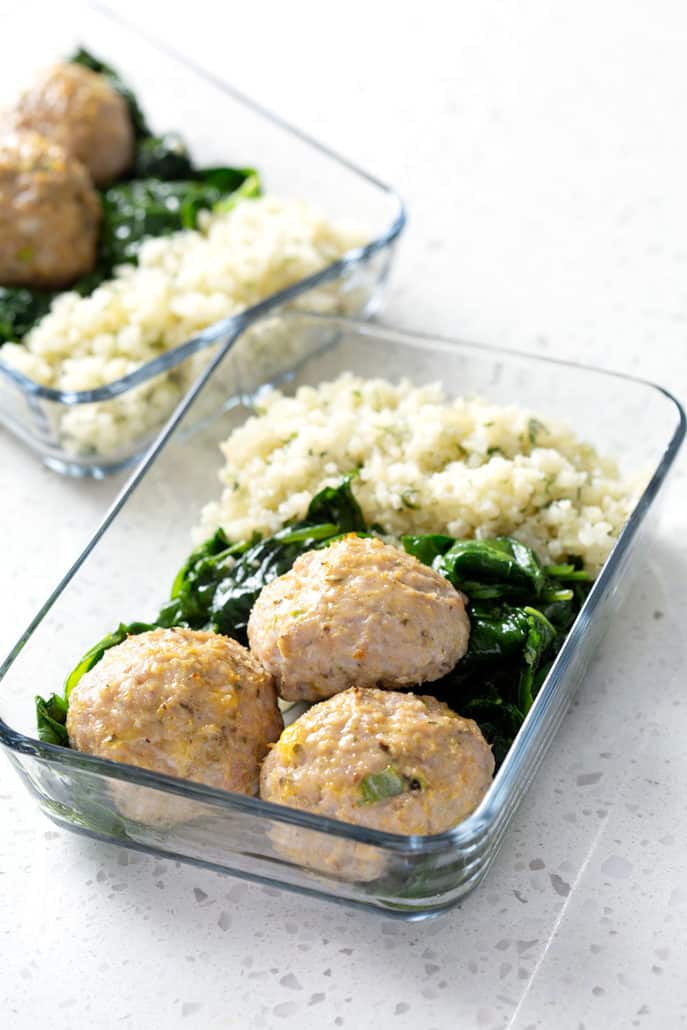 Did you like this meal prep group post? Let me know if you'd like me to team up with other AIP bloggers again!