Thanks to frozen blueberries, widely available fresh bananas and spinach, this Blueberry Banana Smoothie can be made any time of the year. It's a healthy snack or addition to a meal. While it's filled with leafy greens and no added sugar, there's just enough fruit that even your kids will enjoy this healthy drink.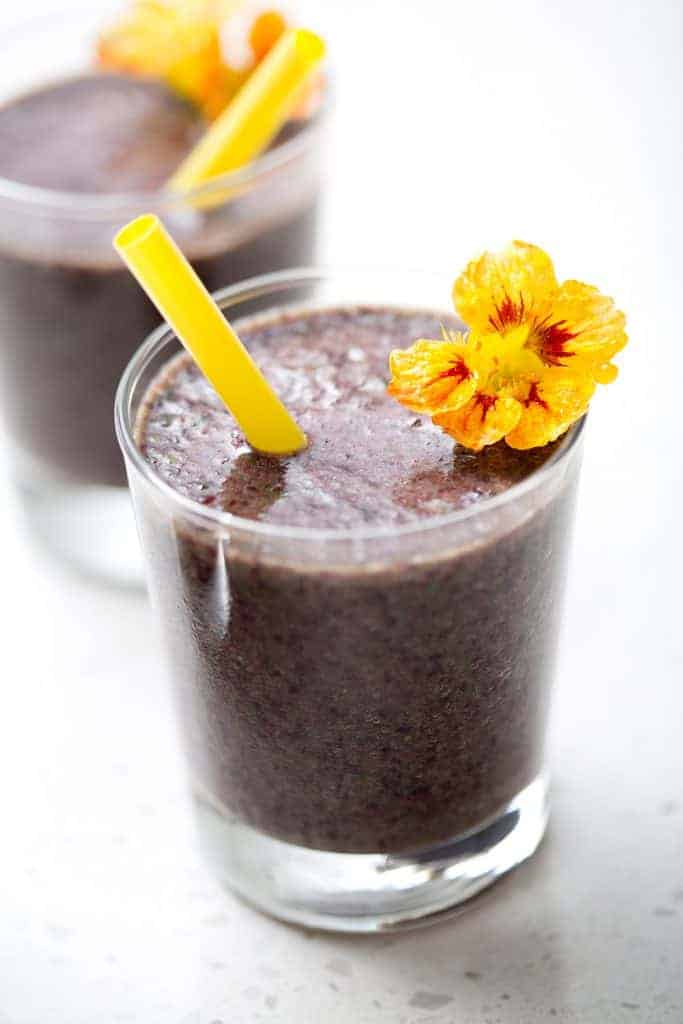 Do bananas go well with blueberries?
Yes! Bananas are a really good base to a smoothie. They offer a lot of sweetness but are versatile enough to go with a bunch of different fruit, like blueberries.
The bananas and blueberries also cover up the flavor of the spinach. I also make this for my son when he's boycotting veggies. He'll drink this up without hesitation!
What makes a smoothie thick?
Speaking of bananas, they also make the smoothie really thick. They are especially thick when the banana is frozen. It makes it cold as well so you don't need to add ice, which will just water down the flavor of your drink.
Are blueberry smoothies good for you?
Berries of any kind are really great for you because they are rich in antioxidants, high in fiber and vitamin c. Blueberries, in particular, can help your heart and brain. [source]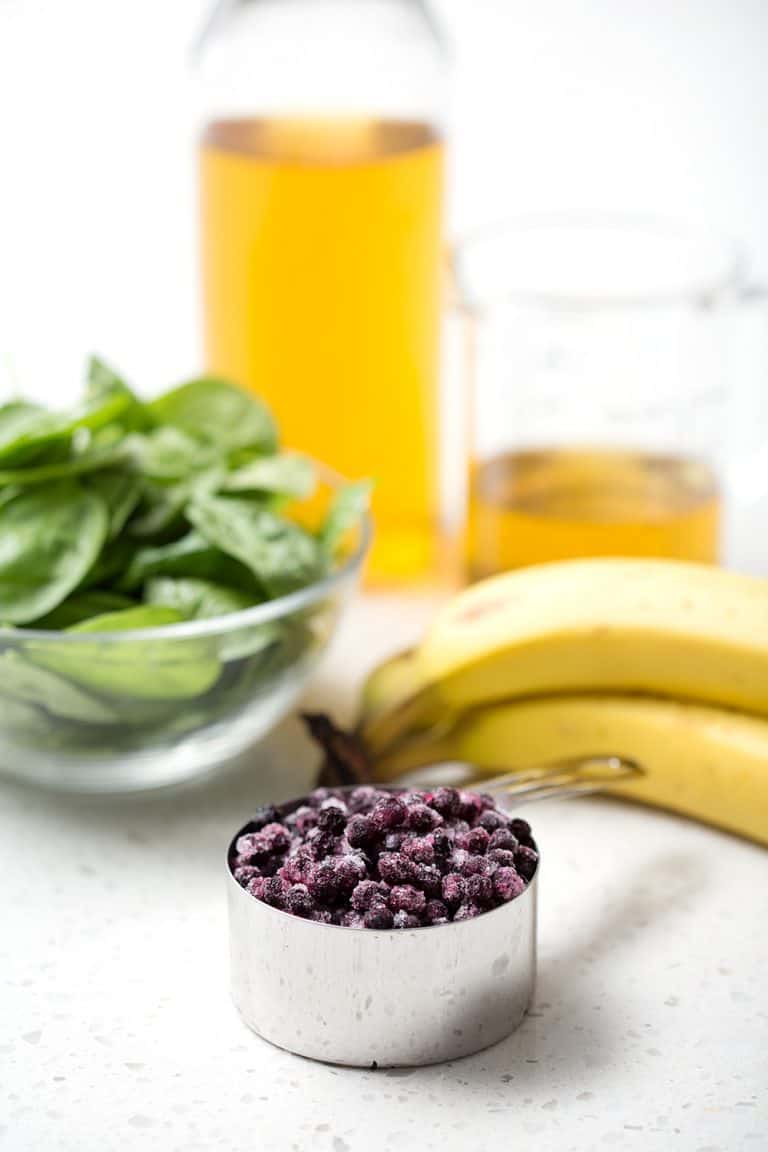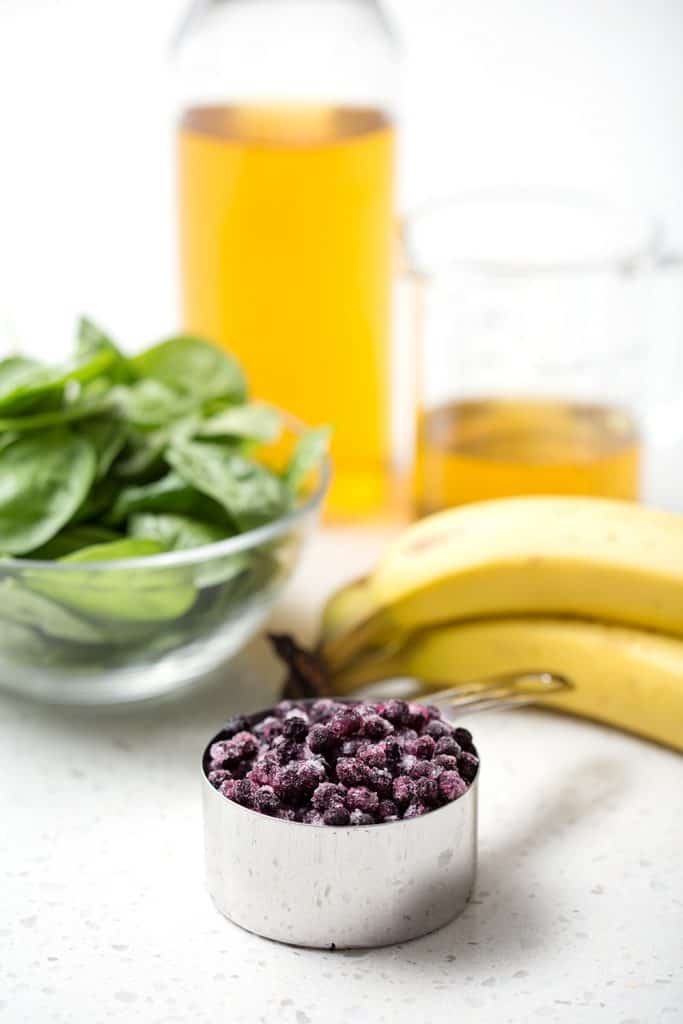 What liquid should I put in my smoothie?
You can add milk, yogurt or other liquid in your drink. I actually have plenty of smoothie recipes that use coconut milk or another liquid. However, I choose chilled peppermint tea for this recipe. Here's why.
Adding coconut milk or yogurt would make this smoothie super heavy.
Adding water would dilute the flavor and I didn't want to end up adding any sweetener.
Peppermint tea adds flavor while loosening up the frozen ingredients.
How to make a smoothie with frozen fruit
It's really easy. Just dump all the ingredients into the Vitamix and then blend. The only note I will give is that it is easier to mix up frozen ingredients if they are in smaller chucks. It's just less work for the blender. In this recipe, the blueberries are already small but the banana should be cut into pieces. I always do this BEFORE I freeze them.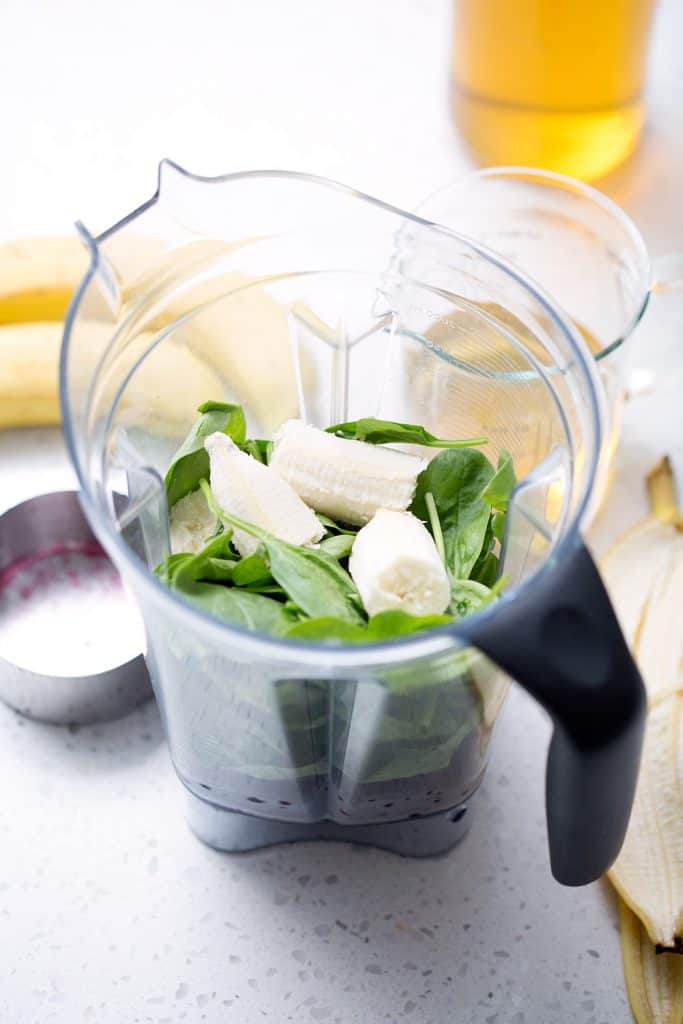 How to make a healthy smoothie
The most important part of making a health smoothie is the smoothie ingredients. Using high quality ingredients always makes for the best smoothies.
I use organic fruit, some of which I freeze myself. I think bananas are the best example of this because everyone has seen bananas go bad just sitting on the counter. Instead of throwing them out, I just cut them up and place them in the freezer until I'm ready to use them.
In regards to berries, I try to buy extra organic berries when they are in season, then freeze them myself. However, frozen organic berries are generally cheaper than fresh so worries if you aren't up to freezing your own.
It's also important to look for recipes that don't include sugar. You can get plenty of sweetness from fruit and you really don't need any added sugar. It's just about the right balance of ingredients.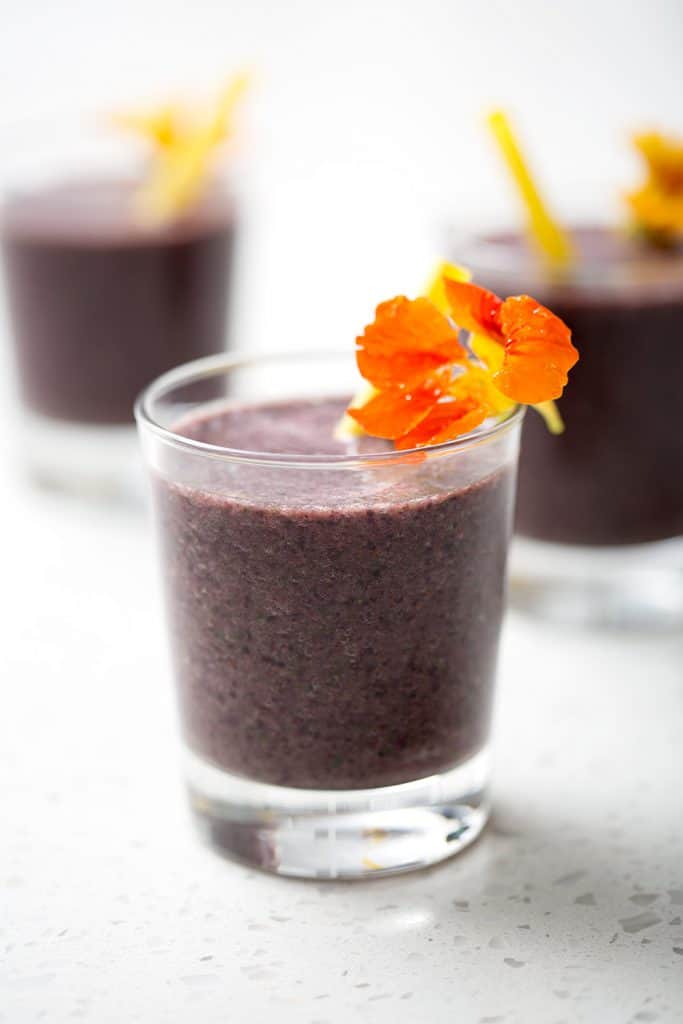 Tips for making the best Banana Blueberry Smoothie:
A high-speed blender is essential for this recipe; otherwise you end up chewing your drink. I find chunky smoothies a huge turn off however there's something to be said for chewing your smoothie [source]. I use a Vitamix, which I love. It's heavy duty and can stand up to the heavy usage in my kitchen. I've had other blenders before but I went through at least two other blenders in the same amount of time that I've had my Vitamix and it's still going strong. It doesn't show any signs of quitting either. It's definitely an investment in your kitchen. I've heard Blendtex are good too although I haven't tried them yet.
Make sure you have chopped up the bananas and they aren't whole. It makes it easier on your blender.
Use high quality ingredients. Organic is best. Good news is that frozen organic berries are usually cheaper!
Don't use sugar or a sweetener. The fruit is plenty sweet.
Make sure to use peppermint tea. Some companies will mix in green tea along with the peppermint. Green tea is fine if you would like a jolt from your smoothie. Keep in mind that peppermint tea is better if you'll be sharing this with your kids. You can also make your own peppermint tea from fresh peppermint leaves by steeping them in water for a few minutes.
Looking for more smoothie ideas? Here are a bunch of smoothies for kids or adults.
This recipe is apart of my AIP breakfast Ideas post. It's packed full with other smoothies and fantastic breakfast ideas for those on the AIP/Paleo diet.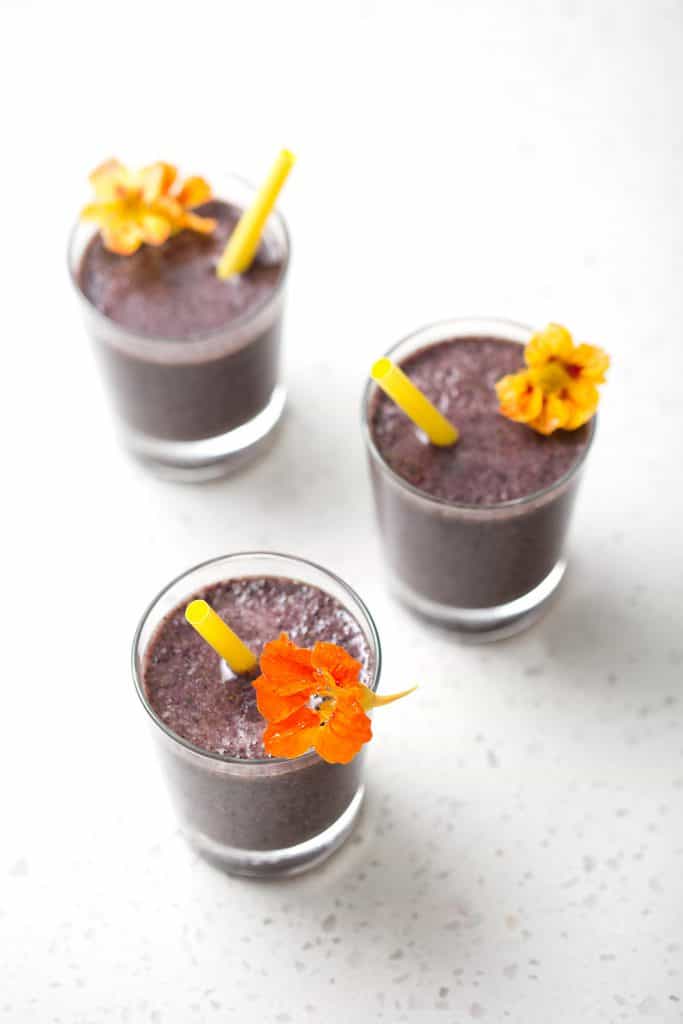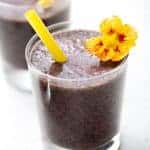 Print Recipe
Blueberry Banana Smoothie
This Blueberry Banana Smoothie is a healthy snack or addition to a meal. It's a fruity smoothie filled with leafy greens that your kids (big or small) will enjoy. This recipe is allergy friendly (gluten, dairy, shellfish, nut, egg, and soy free) and suits the autoimmune protocol (AIP) and paleo diets.
Equipment
High Speed Blender (for example, Vitamix)
Ingredients
2

Bananas, fresh or frozen

1

cup

Peppermint Tea, chilled

1

cup

Blueberries, frozen

1

cup

Spinach, fresh
Instructions
Combine all ingredients into a high-speed blender.

Blend until smooth then pour into two glasses to serve.
Notes
Using a high speed blender while ensure that the spinach is fully chopped up and blended into the drink. I personally use and love my Vitamix.
Make sure you're using peppermint tea that isn't mixed with green tea if you are avoiding caffeine or want to serve this to kids. Also organic is best.
You can also make your own peppermint tea from fresh peppermint leaves by steeping them in water for a few minutes.
Don't use sugar or a sweetener. The fruit is plenty sweet.
Nutrition
Serving:
1
g
|
Calories:
151
kcal
|
Carbohydrates:
38
g
|
Protein:
2
g
|
Fat:
1
g
|
Saturated Fat:
1
g
|
Sodium:
14
mg
|
Potassium:
563
mg
|
Fiber:
5
g
|
Sugar:
22
g
|
Vitamin A:
1520
IU
|
Vitamin C:
21.7
mg
|
Calcium:
21
mg
|
Iron:
0.9
mg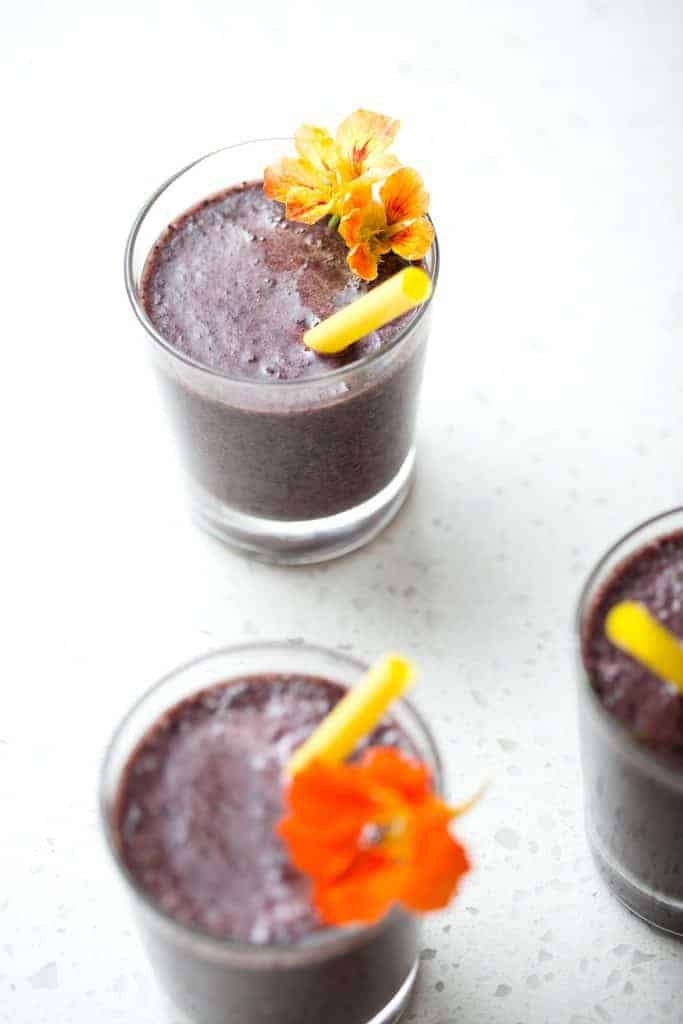 Do you like smoothies? Be sure to share this recipe on Pinterest or leave a comment below!