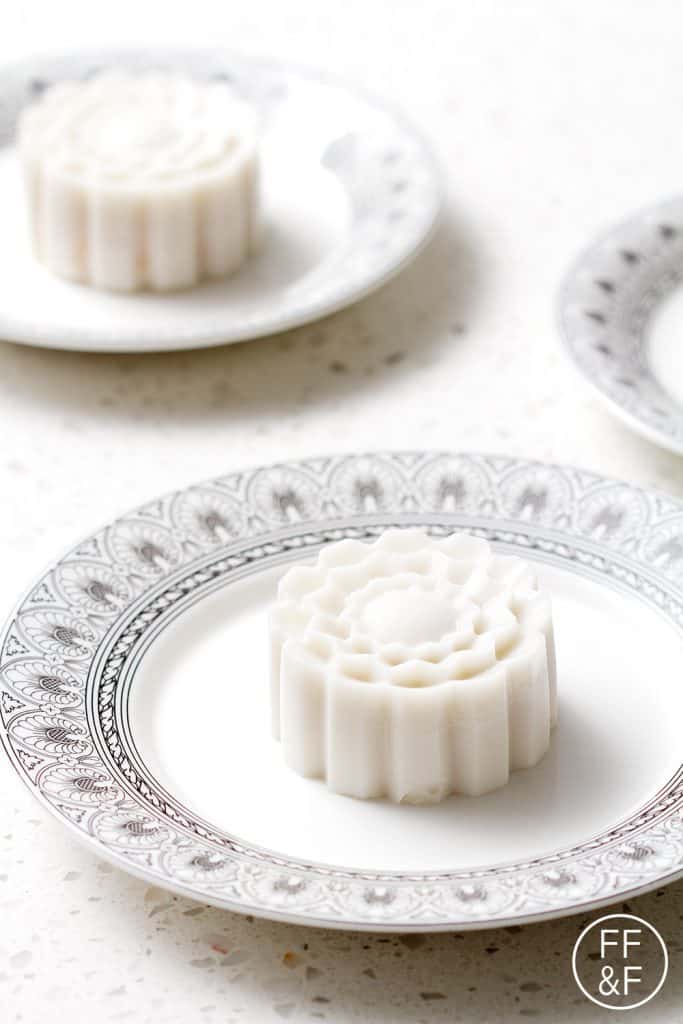 As Chinese New Year approaches, I see mooncakes all over my local Asian market, as they are the traditional dessert this time of year. It's like pumpkin pie at Thanksgiving. They clear out an entire aisle at Ranch 99 for mooncakes as the New Year approaches. Even though the New Year isn't until February 8 this year, the grocery stores start getting crazy almost a month in advance. I went to Ranch 99 the first week in January and it was so packed that I couldn't even park in the parking lot. I had to park a block away and walk to the store. It puts the craziness of Thanksgiving grocery store shopping to shame!
Mooncakes are beautiful pastries that are usually filled with red bean paste and egg yolks or nuts and seeds. The filling is thick and somewhat sweet. Chinese desserts are never as sweet as American desserts. Given my American tastes, I find them to be surprisingly good. The pastries are always stamped with a beautiful design.
My sister can make the traditional pastry mooncakes but they seemed a little too complicated for me to bake. I recently fell down the rabbit hole that is pinterest and discovered snowy mooncakes, which are made with mochi or agar agar. I've never seen these in stores so I was excited to give it a try.
Agar agar is the vegan version of gelatin. It's actually made from seaweed. It handles differently than gelatin. One of the major differences is that it firms up rather quickly and at room temperature. I've never seen agar agar at my local grocery store. I've only found it at stores like Whole Foods and Ranch 99 or other Asian markets. It's still considered a specialty item to American grocery stores but it's gaining in popularity.
You can't use a traditional mooncake mold since this isn't a pastry. It's best to use a flexible mold to make removing the mooncake easy. I used this mold. Even though it's not the traditional design, it still looks beautiful. It's also made of food grade, bpa free plastic.
I have a million ideas and flavor combinations for jelly mooncakes. My husband loves mango and coconut milk so I tried using fresh mango with coconut milk for these mooncakes. There are a lot of instructions but it's not really that complicated. Since the agar agar firms up quickly, this process goes fast. I'd make sure to have all your ingredients ready to go. Make sure to set aside a time where you won't be interrupted. If you start pouring the coconut milk and then step away for what feel like only a few minutes, you may come back to a saucepan filled with solid coconut milk instead of liquid coconut milk. There's no coming back from something like that. I did that exact thing and thought I could reheat the coconut milk back into its liquid form. No such luck. It does liquefy somewhat but it's a lumpy mess. You just need to start over.
Print Recipe
Mango Coconut Jelly Mooncakes
Snowskin mooncakes made with agar agar, coconut milk and fresh mango to celebrate the Lunar New Year.
Ingredients
For The Fillings

1

teaspoon

Agar Agar Powder

1/4

cup

Honey

1/4

cup

Coconut Milk

1/2

cup

Mango Puree

about 2 mangoes

For The Outer Layer

3 3/4

teaspoons

Agar Agar Powder

1/2

cup

Honey

2 1/4

cups

Coconut Milk

1/2

teaspoon

Vanilla Extract

or 1/4 teaspoon Vanilla Powder
Instructions
To make the filling, combine the agar agar powder and honey into a small saucepan and stir to combine.

Add the coconut milk and then stir again, making sure that all the ingredients are combined.

Bring it to boil over a low heat and let it boil for at least a minute.

Remove from heat and then add the mango puree. Stir to combine.

Pour evenly into six muffins tins and leave to set for about 15 minutes.

In the meantime, make the outer layer by combining the agar agar powder and honey in a saucepan, then stir to combine.

Next add the coconut milk to the dry ingredients and stir to combine, making sure that all the ingredients are combined.

Next bring the coconut milk mixture to a boil over low heat and then let boil for at least a minute.

Add the vanilla extract to the coconut milk and then stir to combine.

Immediately fill about 1/3 of the moon cake molds with the coconut milk.

Let the moon cake molds sit for about 5 minutes so that the coconut milk will cool and firm slightly. The coconut milk should be tacky and still warm. Don't let it sit any longer, as the mixture will get firm fast and become impossible to pour.

When the coconut mixture has cooled and firmed slightly, next you can add the mango filling.

Using a knife loosen the edges of the mango filling from the muffin tin.

Place one filling in the center of each moon cake mold.

Stir the coconut mixture to make sure that it's still smooth and warm. You don't want any lumps or it won't pour smoothly.

Next spoon the coconut mixture over the mango filling in the moon cake molds. Make sure the coconut mixture fills in any open spaces.

Let the moon cake mold sit at room temperature until they are no longer hot and then transfer them to the fridge to chill.

Once they are chilled they are ready to serve.
Nutrition
Serving:
1
mooncake
|
Calories:
328
kcal
|
Carbohydrates:
41
g
|
Protein:
2
g
|
Fat:
20
g
|
Saturated Fat:
18
g
|
Sodium:
14
mg
|
Potassium:
265
mg
|
Fiber:
1
g
|
Sugar:
38
g
|
Vitamin A:
230
IU
|
Vitamin C:
9
mg
|
Calcium:
21
mg
|
Iron:
3
mg
If you make this recipe, be sure to snap a photo and hashtag it #FOODFASHIONANDFUN. I'd love to see what you make!