The Dynamic Neural Retraining System is a drug-free, self-directed program that helps rewire the brain to help regulate your body's stress response. This is my story and review of the DNRS program.
What is DNRS therapy?
The DNRS program is short for Dynamic Neural Retraining System. Basically, our brains change and adapt to life experiences. Sometimes it's a positive change, but often it's a negative one. With chronic illness, symptoms can become wired into our brains, even when the triggers for those symptoms have been removed. This program is a treatment that is done at home and allows you to rewire your brain for healing. It treats conditions is that they are often called 'mysterious illnesses,' meaning there's no clear cause or effective treatment.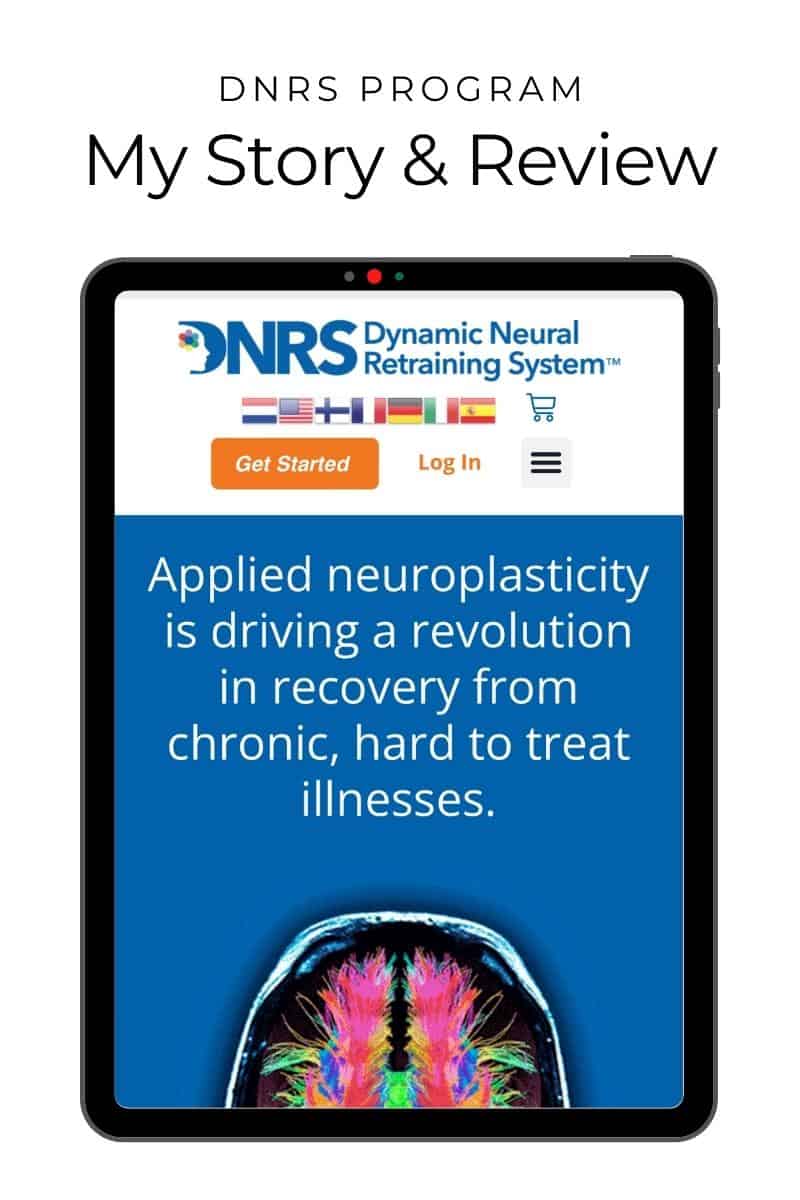 How did I discover the DNRS program?
One day I was having a total meltdown from my health issues. I have food sensitivities and at this point everything I ate was making me incredibly ill. I was living on squash, meat, and cucumbers, as they were the least painful foods to digest. My weight had also dropped, and I was teetering at 100 pounds (I'm 5' 4" so this is very thin). My doctor told me that my cholesterol was almost 600 (although my bad cholesterol was fine). She said she's only seen lab results like these in PTSD patients or patients that had experienced extreme trauma. She was concerned and told me she was stumped.
Have you ever been driving and looked over and saw a woman sobbing into her steering wheel? Well, that was me on my way home from the doctor's office.
I was also listening to the Phoenix Helix podcast during the drive home. It was episode 104 about DNRS (Dynamic Neural Retraining System) with Annie Hopper (click here to listen). It was a sign. And it felt like a bolt of lightening. My mindset about my illness completely changed by the end of the podcast.
What is the DNRS Program?
With the understanding that some illnesses can cause trauma to your brain, this program allows your brain to heal itself. Thus, allowing your body to heal as well.
Who is Annie Hopper?
The Dynamic Neural Retraining System is a program developed by Annie Hopper (click here to go to the program website). She's not a doctor nor does she pretend to be (but her program is recommended by many medical and functional doctors). She's not even a therapist. And she's very honest about that fact. She's just someone that was once as desperate as I was to live a normal life. She had severe chemical sensitivities that completely disabled her. Through her own research she learned about the limbic system. She developed the DNRS program after using these techniques to heal her own chemical sensitivities.
As I listened to the podcast, I had an epiphany. Maybe the years of being sick and fear of food had developed into something more. Trauma. This was the first time I had associated my illness with trauma. My head was spinning.
I went home and ordered the DVDs right away. *Please note that the program no longer available on DVDs. It's completely online now.
What does brain trauma mean?
It doesn't mean brain damage. I never hit my head and damaged it in that way. It also doesn't mean that your symptoms are 'all in your head,' aka not real.
The best way I know how to explain it would be to compare it to nerves. When you're in pain, your nerves send messages to your brain that tells your body that you are hurting. If your body is in constant pain, then your nerves are always telling your body that you are in pain. Sometimes the nerves will continue to send pain signals to your brain even after your body has healed. That's kind of how the trauma works. Your brain is still receiving signals that you're sick, resulting in chronic inflammation and other issues. Once the brain is operating properly, then the body can function optimally too. Your brain and body can shift from a fight or flight mode to a one of growth and repair.
Who can benefit from the program? What does DNRS help with?
The program was original developed to help people with chemical sensitivities but has been found to help people with leaky gut, food sensitivities, anxiety, PTSD, Lyme disease, and the list goes on. There's a complete list of chronic illness over on the DNRS website (click here).
What does the DNRS program entail? How do you train the limbic system?
The best way I can describe the program is that it's a combination of self-guided meditation, visualization, and movement. It can be adapted if you are bedridden. To retrain your brain, it will require about an hour of your time every day for 6 months. Although in the beginning it takes a few hours a day as you learn the program via the DVDs (keep in mind the program is completely online now).
Is the program difficult? What do you do in DNRS?
The program is easy to learn but retraining your brain is emotionally difficult and felt awkward. This was a surprise to me. I wasn't expecting to have such strong emotions around visualizing a stronger and healthier version of myself in the future. And I certainly wasn't expecting to have trouble remembering what it felt like to be happy and healthy. I've gotten married and had a baby in the last few years so this should have been easy. It wasn't. That was crushing. It took some time for me to find some happy memories that I could use in my daily practice. There were a lot of tears, but I pushed past it, and it became easier.
As the program went on it became less emotional. I found it to be relaxing. I've always responded well to guided meditation and this feels the same to me.
However, the time commitment became difficult. Life gets busy and finding a quiet hour to be alone during the day is tough. I ended up splitting up the program and did it throughout the day. And some days, well, it just doesn't happen. I just get right back to my practice the next day because you need to be consistent to see results.
How long does it take to see results?
I started to see results within two weeks of starting the program. Once I was able to reintroduce a few foods, I stopped doing DNRS. I got cocky and thought I was cured. You see, I also stopped listening to my doctor. I started getting into some very bad habits and then all the problems came back. This program is not necessarily a substitute for ALL medical treatment and good common sense. It's merely a tool to be used in conjunction with the guidelines laid out by your doctor.
However, I started doing it again and I started to see results again. It took a solid two weeks before I saw results, but they seem to be more permanent this time around. Each time I started the program, it took about two weeks to see a change. The healing didn't happen overnight, and it happened slowly.
How has the DNRS program helped?
I've been able to reintroduce food. This is the first time in 8 years that I've been able to do that and have it stick for more than just a few meals.
I've also seen a HUGE difference in my stress and anxiety around being sick. My head is clear of the brain fog that lingered even on my good days (before the DNRS program). I believe that's because I'm not carrying this low level of anxiety with me every day. Removing the anxiety has created a lot of free time and mental space, which I fill up with topics that give me joy not pain.
Speaking of joy, I decided to write this post after I found myself so happy that I couldn't stop smiling. I was grinning for no apparent reason. After a few minutes of this I stopped and realized that this was because of the DNRS program. I was just folding laundry, watching my son play on a Friday afternoon. I'd never been that happy without a reason or special event. Even then it was usually more of an adrenaline-fueled happiness not genuine happiness.
My last blood test showed my cholesterol was down over 300 points and a few of my other health issues were improved. My health is not perfect but I'm improving, and things are going in the right direction for the first time in a long time.
Pros vs Cons
Cons
The program is all DVDs or in-person seminars. The DVDs are old technology and quite honestly seemed shady. I questioned the legitimacy of the program after seeing the DVDs. However, after speaking to a few people that tried the program (all gave it glowing reviews) I decided to take a leap of faith. Please note that as of September 22, 2022, all the content is online. Due to covid they also stopped in person seminars and put those online as well. Additionally, since all the content is online that eliminates the DVDs but presents another problem. You only have access to the online content for one year. I haven't found it necessary to go back to the original content. The only things I've referred to where the exercises that I did after I finished the DVD content. Also, once you know the basics of the program, you don't need the original content anymore, so this really doesn't matter. However, most companies offer lifetime access to their online courses. This is a con for me.
The content is old as well. It doesn't really matter because the message is good (and I now know, effective) but it's disruptive when you're looking at really bad quality video or completely distracted by someone's dated hairstyle. As of September 22, 2022, the program content has been updated so quality isn't as disruptive or distracting.
The program doesn't work for everyone. It was made for people with chemical sensitivities but can be applied to other ailments like anxiety and food sensitivities however nothing is guaranteed. I wasn't sure how they would adapt the program for someone with my health issues. Once I started the program, I realized that wasn't an issue. It was easy to adapt the program to my needs.
The DNRS program cost is expensive. The DVDs cost hundreds of dollars and the seminars costs thousands (again the program is completely online now but costs are similar). Since there is no guarantee that it will work, it seems like a lot of money to invest. Again, the program is now online but it's still hundreds of dollars and you only have access for one year.
Pros
Since this is a drug free treatment, there are no negative side effects from the treatment.
This program had the potential to allow me to heal.
You follow the program for a limited amount of time and then you never have to revisit it. The fact that I wouldn't have to continue this program indefinitely like therapy was very attractive and a huge pro.
There are a lot of pros and cons, but I had exhausted my list of treatments. My brain was the only thing I hadn't tried to heal. I was too sick NOT to try it.
It's been a very positive experience for me overall. I'm going to continue this treatment for the full 6 months this time. I really enjoy being happy and healthy. I want this to be a permanent change for me.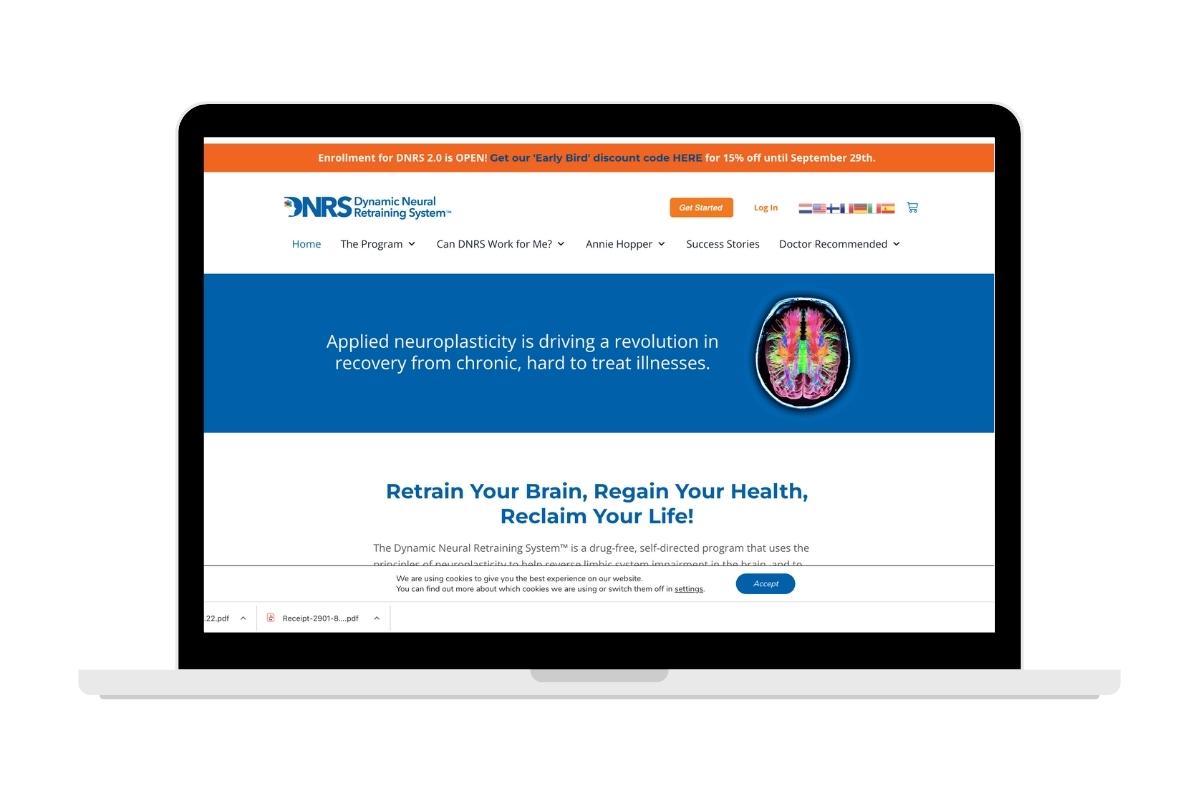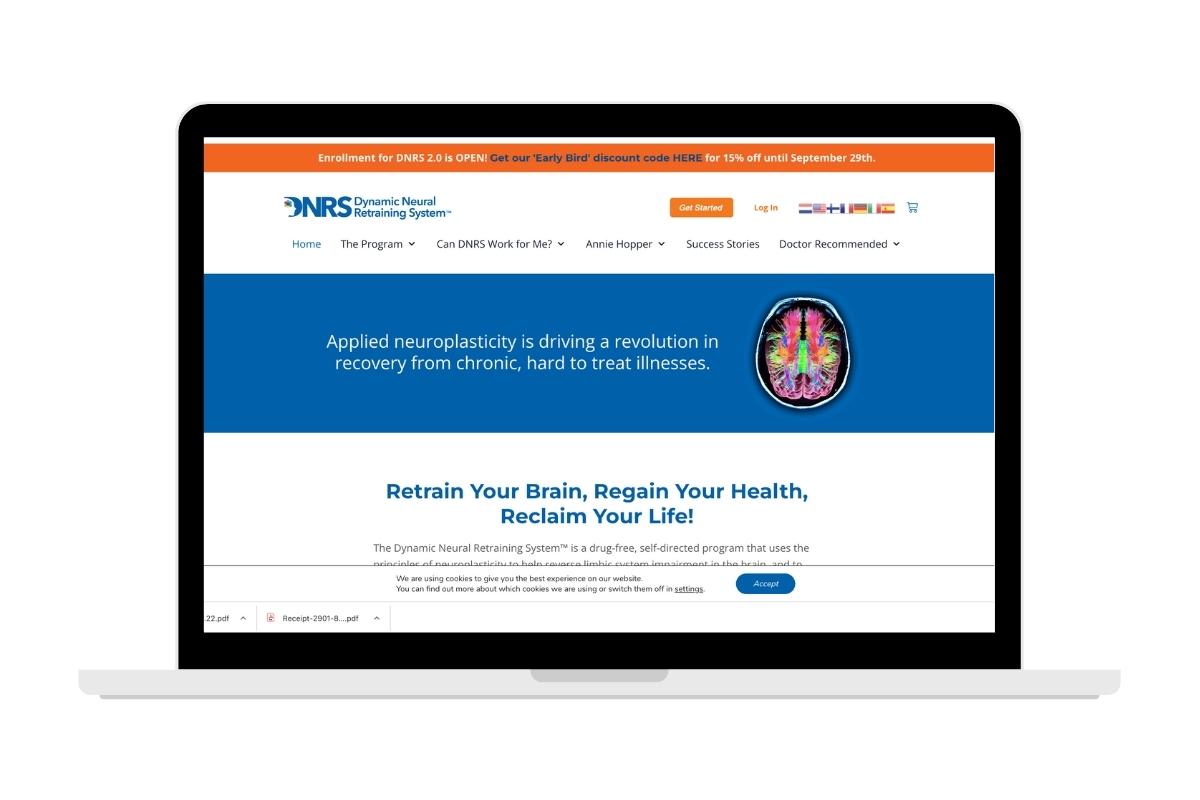 3 Year Update
I wrote this review about three years ago now when I was about 3 months into my DNRS journey. I wanted to give you my review from my perspective now that it's been a few years.
First, due to covid, the program has gone completely online. And they've recently updated all the content as well. This has eliminated two of my major cons about the program. If I were to start the program today, I'd probably go in with more hope and far less doubts.
Is DNRS legit?
Absolutely. It's been life changing. I don't use that phrase lightly. In fact, this is one of the few things in my life that I'd call life changing. I started the program because of my health issues (food sensitivities) which I've had in some form or another for 40 years. The worst of it being the last 10. However, I ended up healing my chronic anxiety which has been terrible my entire life. I thought this was a part of me. I didn't realize how much it was disabling me and keeping me from living a full life. It was like someone lifted off a wet blanket that had been hanging over my head. And finally, I could see colors, hear, and think clearly, move freely. Like I said, life changing!
It's been 3 years and my chronic, daily anxiety hasn't come back. Even with my chronic health issues, I've managed to stay positive. That doesn't mean I don't occasionally feel anxious, but I don't stay in a pattern of negative emotions and thoughts long after the anxiety inducing event has passed.
For example, my father was diagnosed with pancreatic cancer 3 years ago. This was soon after I finished the DNRS program. My family thought that he only had a few months left to live, luckily, we were wrong. He's cancer free and been living a very healthy and active lifestyle these past 2 years. But it was an emotionally charged year that filled me with anxiety about potentially losing my father. I was very concerned that I would be stuck in this trauma loop and it would undo all the hard work I had done in the months before while doing the DNRS program. I did focus on some of the exercises that I learned in the program which you can read about here. I felt like this helped me deal with the acute stress. I was so surprised to realize that I made it out of that period of my life without feeling traumatized by it. I don't think I would have had such a good mindset coming out of something so dire without doing the DNRS program. I truly think it saved my mental health during that time.
That's an extreme example but I've had many health setbacks over the past three years, and I don't feel traumatized by it. I still have a positive outlook. I feel happier. In fact, I think the past few years have been some of my happiest years of my life.
Do I wish I was healthier?
Sure! I'd love not to have chronic health issues. But DNRS can't cure autoimmune diseases.
Do I wish that the program helped with my food sensitivities?
Absolutely. Unfortunately, it did not cure my food sensitivities. But it didn't hurt it either. Not being constantly stressed out because of anxiety is helpful. It's one less thing that can cause flares. It frees up so much space in your brain for other, happier things.
And just because the program didn't work for my food sensitivities doesn't mean that it won't work for you and your health issues. We're all different and healing your limbic system, rewiring your neural pathways may be exactly what you need to feel better.
Join now to purchase the program, by CLICKING HERE to go to the Retraining Your Brain website.
If you're looking for my 'in the moment' updates on the DNRS program, head over to my Instagram page (click here). I've saved them to my story highlights under 'DNRS.'
If you've got questions or want to share your experience with DNRS, please leave a comment below. I'd love to hear your thoughts!