This 5-minute How to make Homemade Disinfectant Spray is my go-to cleaning product in my home. It's cheap, easy and completely non-toxic. Perfect for this clean living mama! This post also includes instructions on How to Make Lemon Vinegar for cleaning!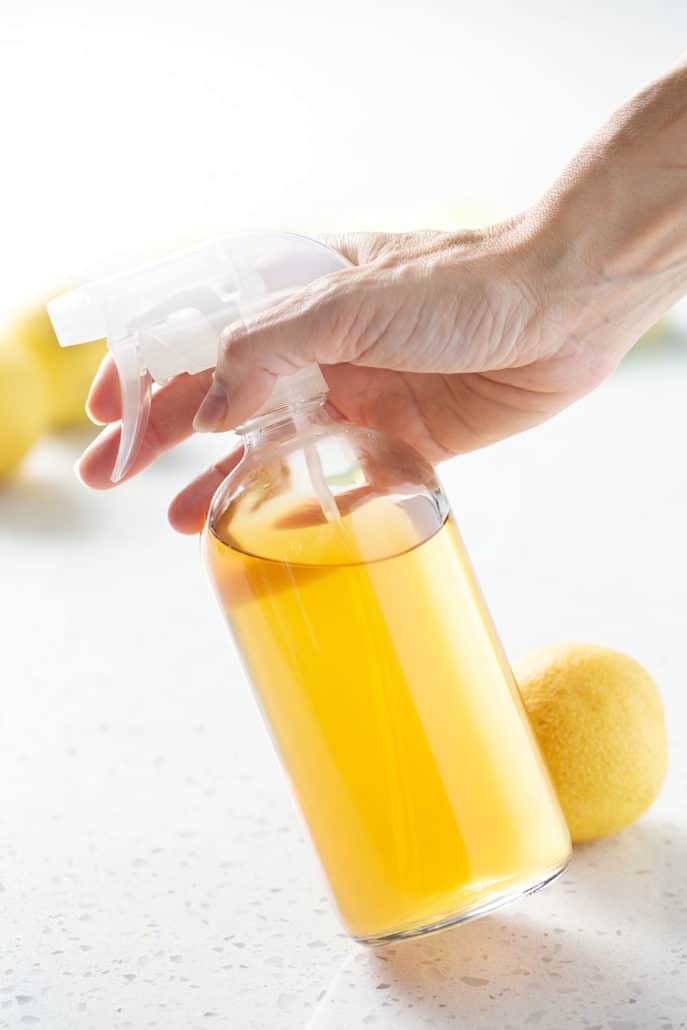 I used to spend tons of money of chemicals to clean my house. However, I got to a point where I realized that I shouldn't be putting toxic chemicals to surfaces where I can breathe and absorb them. So I switched them out for vinegar, lemon and water. Yep, super cheap vinegar does an amazing job of cleaning. It's acidic so it helps dissolve soap scum, hard water stains and other types of icky buildup.
Vinegar alone isn't a disinfectant so I like to add lemon rind to the vinegar, as lemon is a natural and mild disinfectant.
What type of vinegar for cleaning?
I use distilled white vinegar for cleaning. I wouldn't ingest distilled vinegar because it's made from grains.
Is distilled white vinegar gluten free?
Yes. [source] You can feel comfortable using distilled white vinegar even if you are high reactive to gluten.
Can I use apple cider vinegar to clean?
Absolutely. If you want to avoid grains altogether you can substitute the Lemon Vinegar for apple cider vinegar.
I use distilled white vinegar because it's substantially cheaper than apple cider vinegar. The good news is that if you decide to use apple cider vinegar you don't even need to scent by adding lemons it as it's already got a more pleasant smell.
Is cleaning with vinegar safer for babies?
Absolutely. In fact, vinegar is much safer than other conventional chemical based cleaners that you would get in a store.
The vinegar acts as a disinfectant and the lemon is a mild antibacterial and antiseptic.
How to Make Lemon Infused Vinegar for Cleaning
To make lemon infused vinegar, fill a mason jar with lemon rinds and then pour in vinegar until the rinds are covered. Let sit for at least a week. Once you start using the vinegar you can just keep refilling until the rinds run out of juice.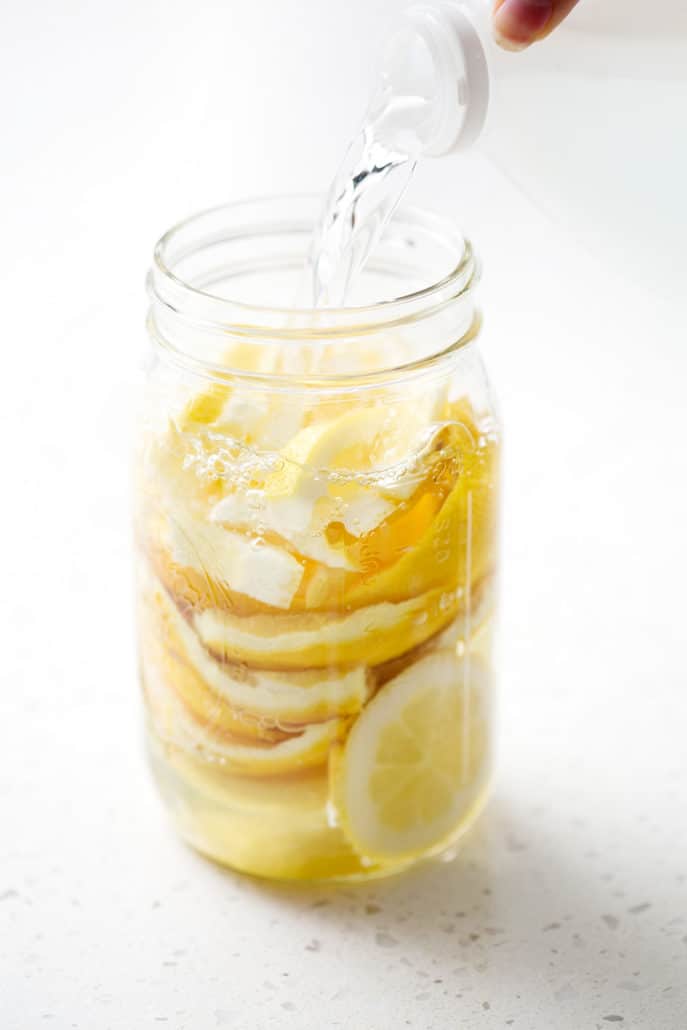 How to Make Disinfectant Spray
Combine the ingredients into a spray bottle using a funnel. Take care to strain out the lemon solid that may be in the vinegar. Screw the spray top back on and use immediately.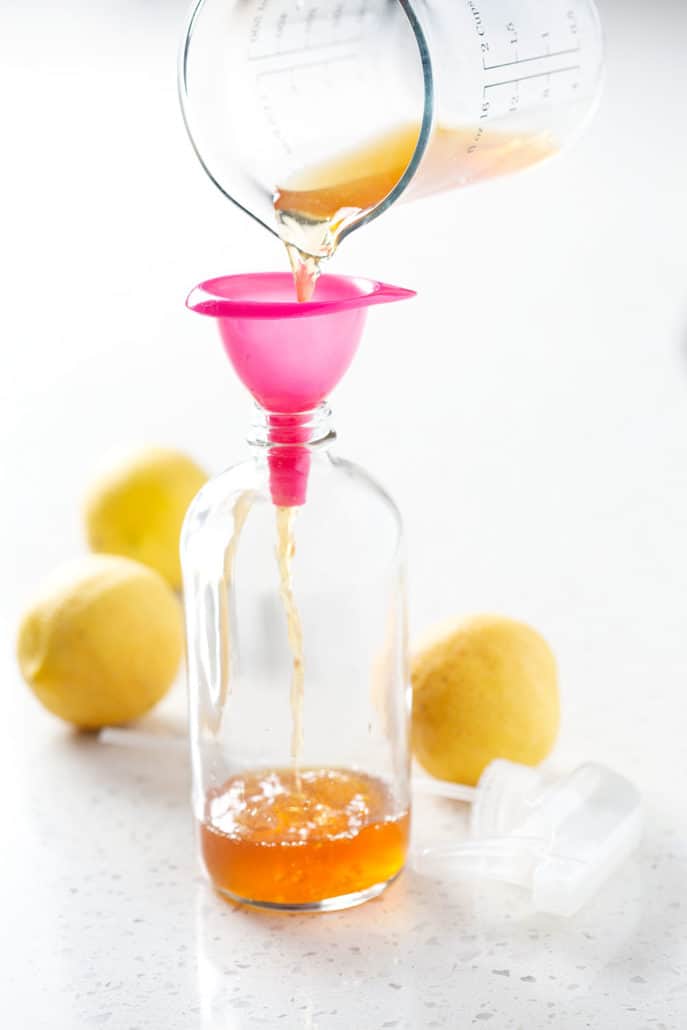 Tips for Making the Best Homemade Disinfectant Spray
Products with vinegar and citrus are not recommended for use on marble because it will just damage it.​
Don't ever mix vinegar with bleach! The combination will create toxic chlorine gas. So before using vinegar-based cleaning products, make sure you aren't mixing it with any bleach-based cleaning products. A few things to consider would be drop-in toilet bowl cleaners or bleach cleansers.
Be careful with the concentration because vinegar that is too concentrated can stain delicate fabrics.
Looking for other 'how to' post, try these!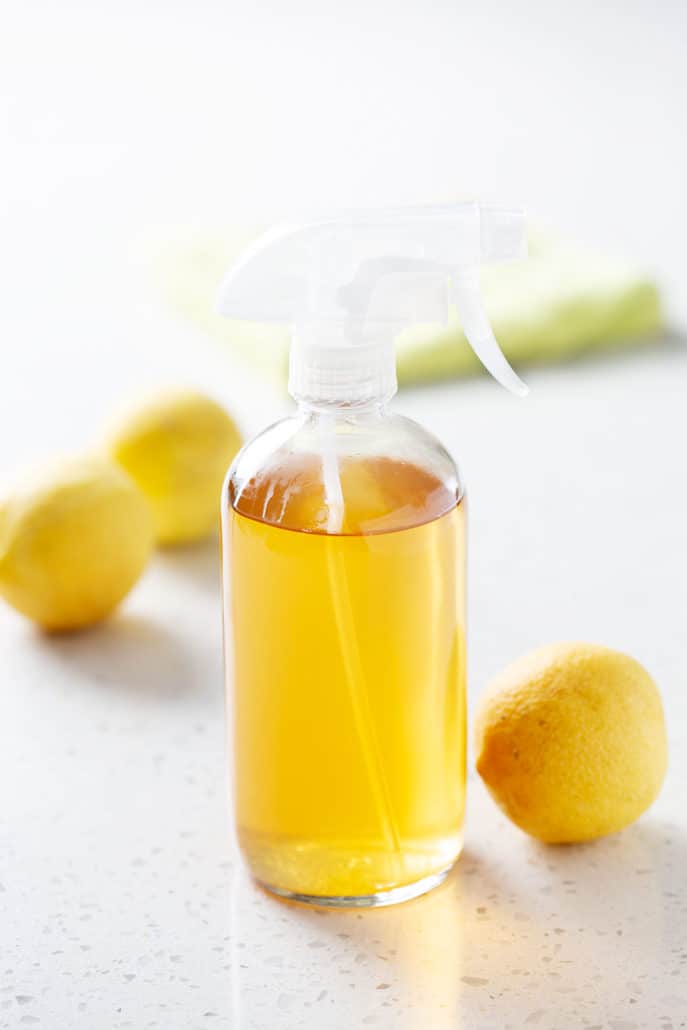 Love seeing my photos and clean living tips? You can also FOLLOW ME on FACEBOOK, INSTAGRAM and PINTEREST to see more delicious food and what I'm up to.
[mv_create key="18" type="diy" title="Homemade Disinfectant Spray" thumbnail="https://thehonestspoonful.com/wp-content/uploads/2014/08/Lemon-Vinegar-for-Cleaning-7sm.jpg"]
Did you make this recipe? I love hearing your thoughts on my recipes so please rate and comment below.