This Homemade Laundry Detergent (no borax) uses much safer ingredients than store bought toxic laundry detergent. It's the one of the safest laundry detergents according to the ratings of the ingredients on EWG.
Is laundry detergent toxic?
Laundry detergent uses chemicals that are allergenic and endocrine disrupting. If you're interested in finding out exactly which chemicals are in your laundry detergent and if they are dangerous, I'd recommend checking out the ewg.org [source https://www.ewg.org/guides/categories/9-Laundry]. They rate laundry detergent and other personal care products. Most detergents you find in the grocery store are poorly rated which is why I make my own.
Also, my recipe for Homemade Laundry Detergent (no borax) is SO MUCH CHEAPER! Here's the price breakdown:
1/2 cup Epsom Salts $0.15
1 1/2 cup Washing Soda $0.52
1 1/2 cup Baking Soda $0.33
1/4 cup Sea Salt $0.19
20 drops Essentials oils $0.60 (varies)
Total Cost: $1.79
Cost per tablespoon: $0.03
Saving money like this makes me so happy. I swear this is why my husband married me. I'm. So. Cheap.
Does Homemade Laundry Detergent (no borax) really work?
Yes! I honestly don't see a difference between this detergent and the store bought versions. My only tip is to use warm water when washing your clothing. I've also used this on my delicates and whites without a problem. Again, you just have to use warm water. I have an eco warm setting on my washing machine, which helps conserve energy.
What is washing soda used for?
Washing soda is the cleaning agent. That's the main ingredient that is cleaning your cloths.
You typically find borax in homemade laundry detergent as well. While borax is a more effective cleaning agent, it's also pretty toxic. My dad told me when he was a kid, borax was used for killing rats. If borax can kill rats, it could kill my toddler. No thank you! It makes sense that it has a poor rating with the Environmental Working Group (EWG). [source]
Is washing soda safe?
According to the Environmental Working group, it is safe to use. It's got the green light! [source]
How to store homemade laundry detergent
I store the detergent in a glass container and use a stainless steel spoon to scoop it. I use glass and stainless steel because they are non-porous and won't absorb the detergent, just in case I'd like to use the container and spoon for food down the line. While it is safer than store bought detergent, I do keep this out of reach of tiny hands. It's safer but I don't want my kiddo to be playing around with it. All you mamas know that tiny hands almost always end up in mouths. No one should be ingesting laundry detergent. Store bought or otherwise.
How to Make Homemade Laundry Detergent
Combine all the ingredients into a large bowl or the container you plan on storing your detergent. Then stir or shake to combine.
Pour into the storage container, if needed.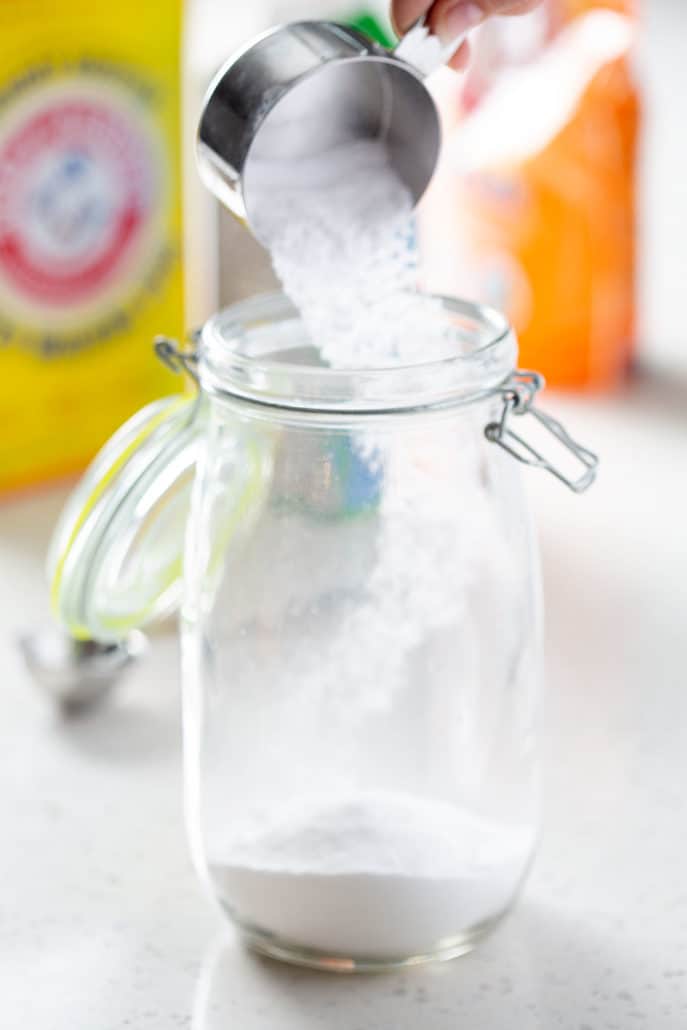 Tips for using making my Homemade Laundry Detergent (no borax)
Use it with warm water. Since this isn't a liquid, you need the warm water for it to dissolve. My washing machine has a eco warm setting which I use to help conserve energy (and my cloths).
While all these ingredients are significantly safer to use, I do have dedicated measuring cups for making detergent. It's really being overly cautious. They are also stainless steel so that I can easily throw them in the dishwasher and know that they will come out clean.
This detergent is safe to use on darks, towels, and even your white and delicates. Just make sure that the water is warm.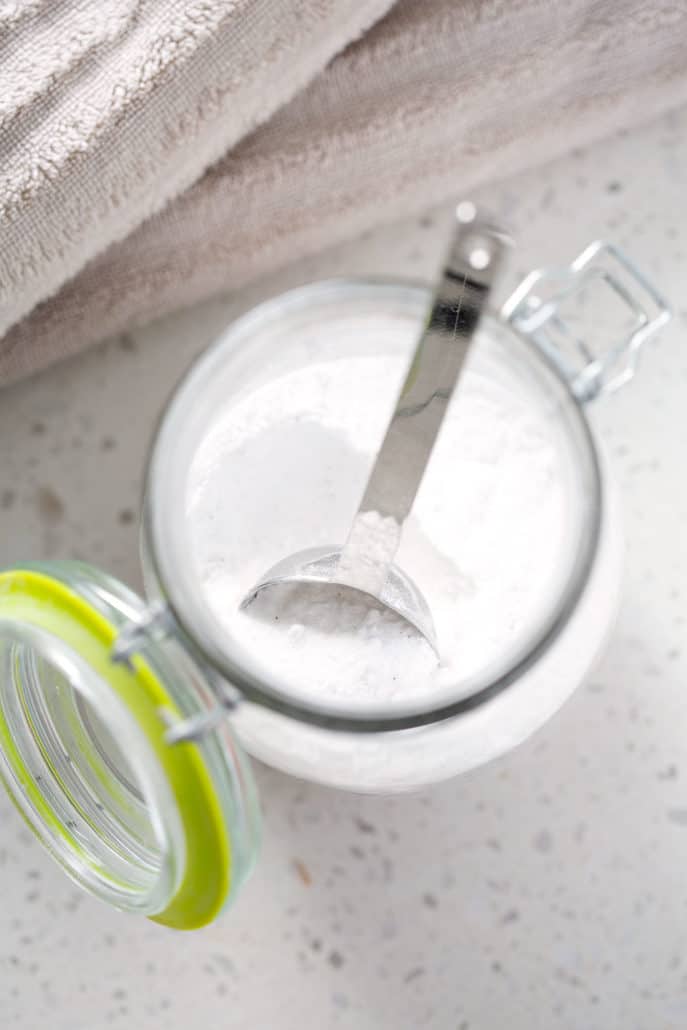 Love seeing my photos and how tos? You can also FOLLOW ME on FACEBOOK, INSTAGRAM and PINTEREST to see more delicious food and what I'm up to.
[mv_create key="19" type="diy" title="Homemade Laundry Detergent (no borax)" thumbnail="https://thehonestspoonful.com/wp-content/uploads/2019/10/Homemade-Laundry-Detergent-31Homemade-Laundry-Detergent-31sm.jpg"]
Did you make this Homemade Laundry Detergent? I love hearing your thoughts on my recipes so please rate and comment below.