Artichokes can be somewhat intimating. They are a strange looking vegetable. Once you get past the their looks and learn how to cook and eat artichokes you'll realize how delicious and special they are as a springtime treat. This post also includes a video to help simplify the process.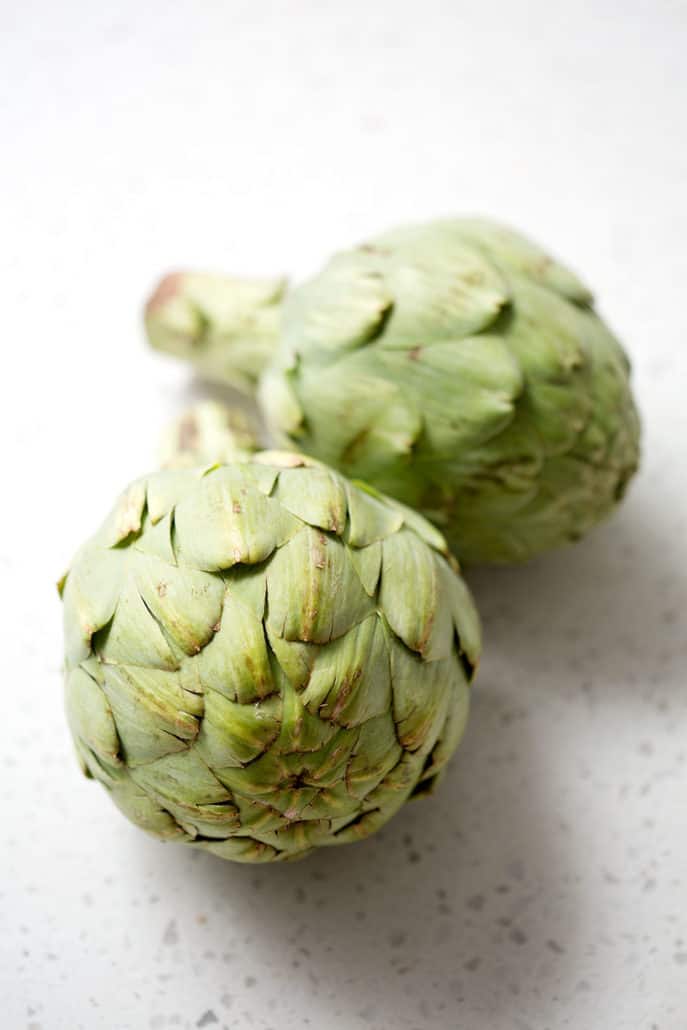 What is the best time to buy artichokes?
The artichoke season is a short one so I generally start buying them as soon as I see them in stores. The season is usually Spring through early summer and then sometimes again at the end of the summer in the US.
How to buy fresh artichokes?
When buying fresh artichokes, look for tightly packed leaves. They should also be firm and pale green. If they are covered in black spots that means they are on their way to being past their prime. Sometime when they are really ripe and fresh, they will actually squeak when you squeeze or rub them together.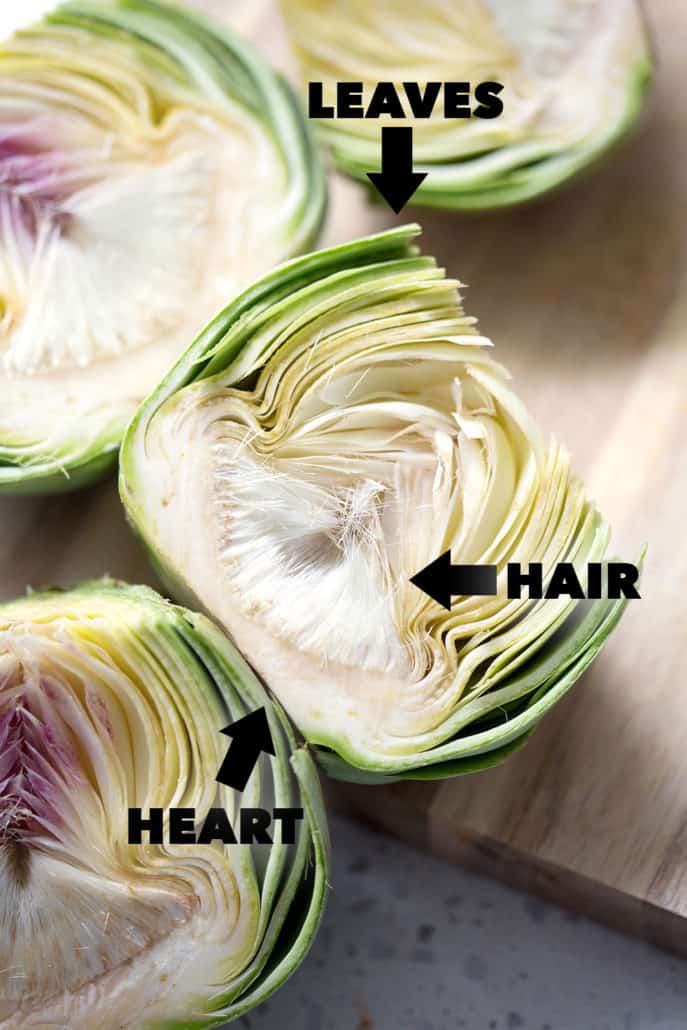 How to prepare artichokes?
It's very easy to prep an artichoke to cook. First, you need to trim the stem but take care not to cut too much into the artichoke. You want to trim just above the stem. Second, you'll want to trim the top of the artichoke to make it easier to handle. The leaves have sharp points, which can poke at you when you handle it. Lastly, you can cut in half. This step is optional depending upon how you plan to cook your artichokes. However it does make cook times less when steaming or boiling and it's necessary when grilling.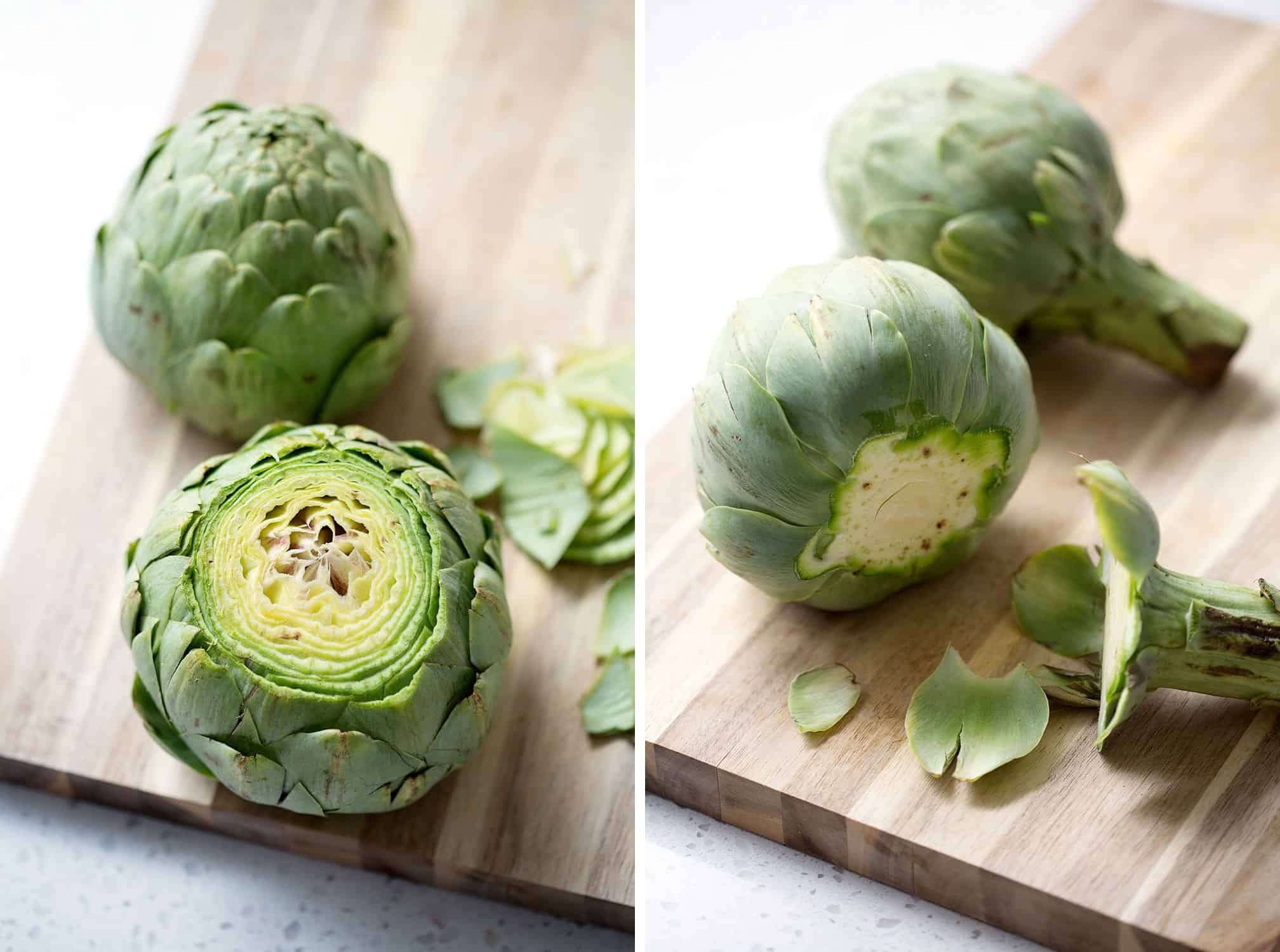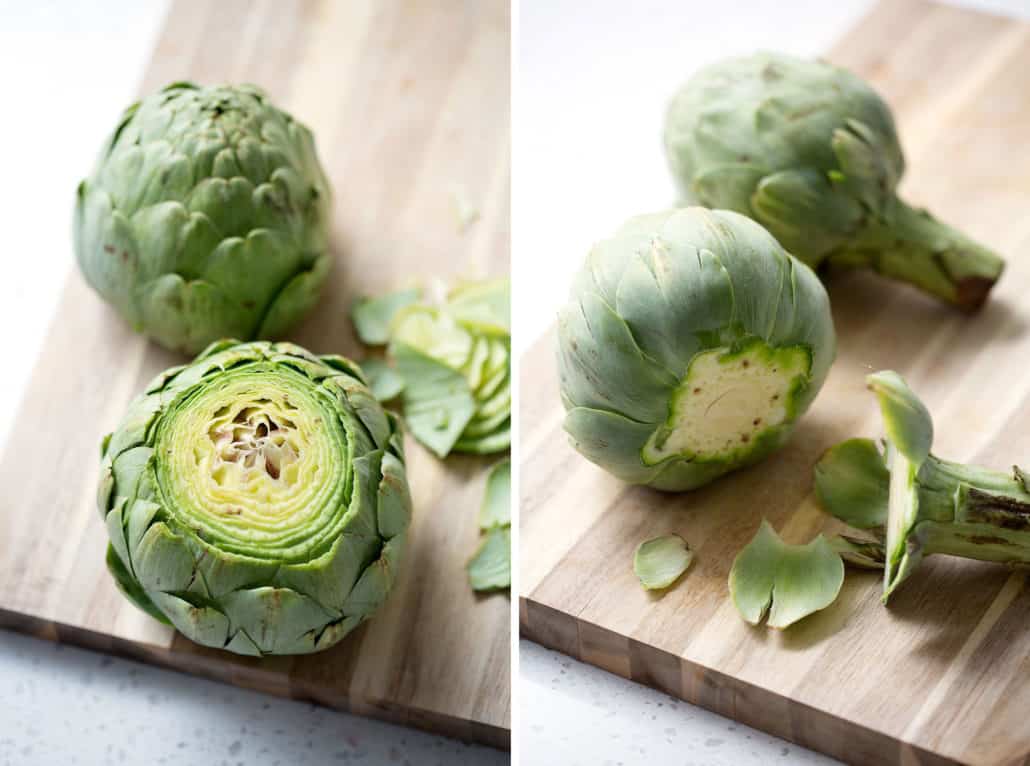 How to cook artichokes?
There are a variety of ways to cook artichokes.
Boil
Steam
Braise
Stuffed
Baked
Grilled
The easiest way is to either steam, boil or bake. The cook times will vary depending upon the size of your artichokes and whether you cut them in half or not. It can range from 15 to 30 minutes. You'll know it's done when you can easily pull a leave from the artichoke. It really should just fall off.
To boil, bring a pot of water to boil. Add the artichokes and the boiling water. Let them cook for 30 minutes to an hour. You'll know the artichokes are fully cooked when the outer leaves come off very easily.
If you're interested in baking, try my Baked Artichokes recipe.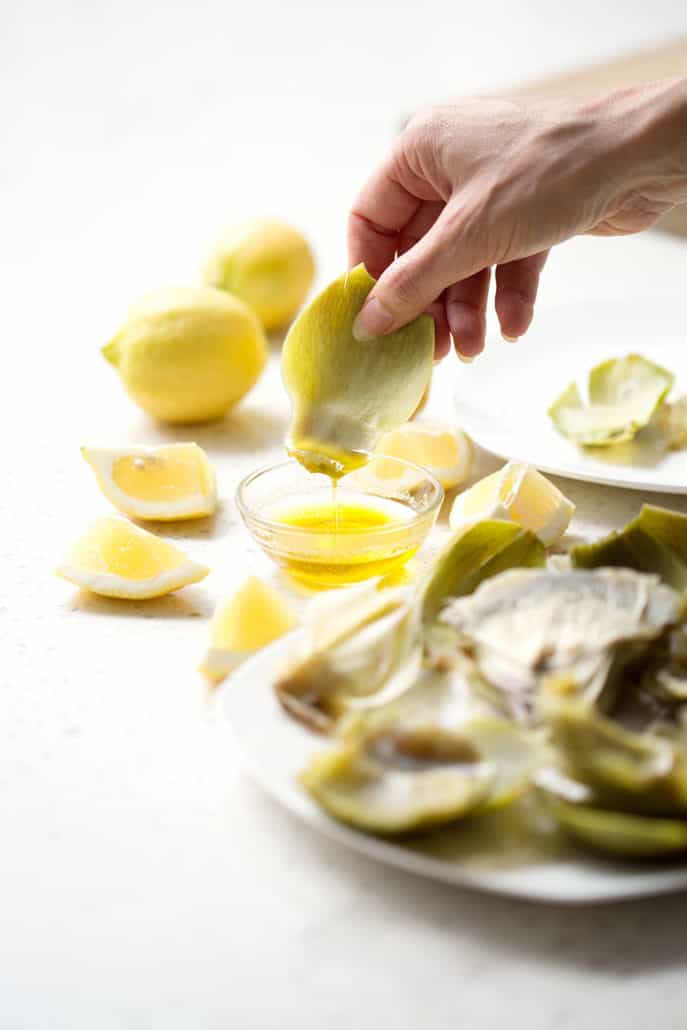 How to eat artichokes?
To eat artichokes, you need to know the anatomy of an artichoke. There are the leaves, the hair and the heart. The ends of the leaves and the hair are not edible. The heart is edible and the parts of the leaves that touch the heart are also edible.
The outer leaves are a bit tougher so you'll need to scrape the 'meat' off the leaf. The leaves get much softer as you get closer to the heart. You'll be able to bit off the ends of those leaves.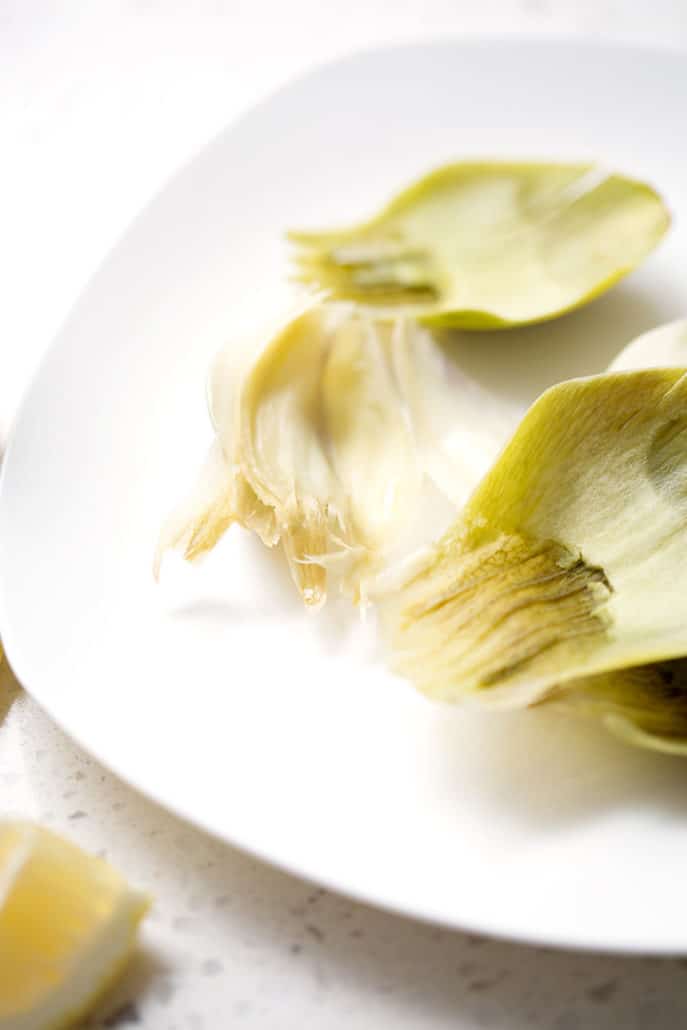 Once you eat through the leaves, you need to remove the hair and small leaves surrounding (that parts called the choke) before you can eat the heart. Cup the heart in your hand and using a spoon, carefully remove the hair. Try not to remove any of the heart, just the hair. The heart is the tasty stuff and you don't want to waste it.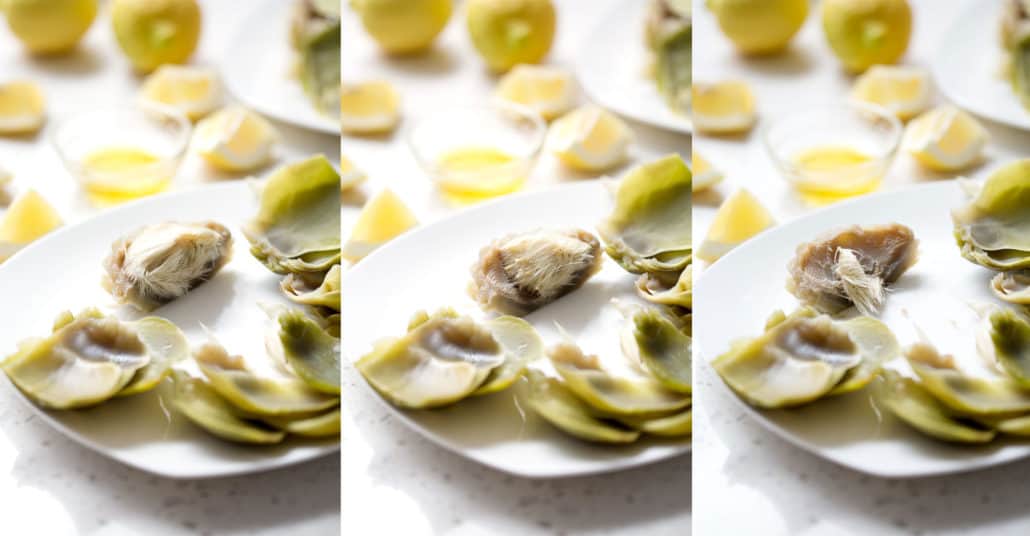 What do you eat artichoke with?
As you're eating your artichoke, I always like to eat artichokes with a dip. There are a few different dips you can use.
Artichoke Dipping Sauce (The recipe can found along with my Grilled Artichokes)
Mayo (Primal Kitchens has an avocado mayo although you'll need to check the ingredients to ensure that they are AIP)
If you're looking for fresh artichoke recipes (also the BEST artichoke recipes), try these!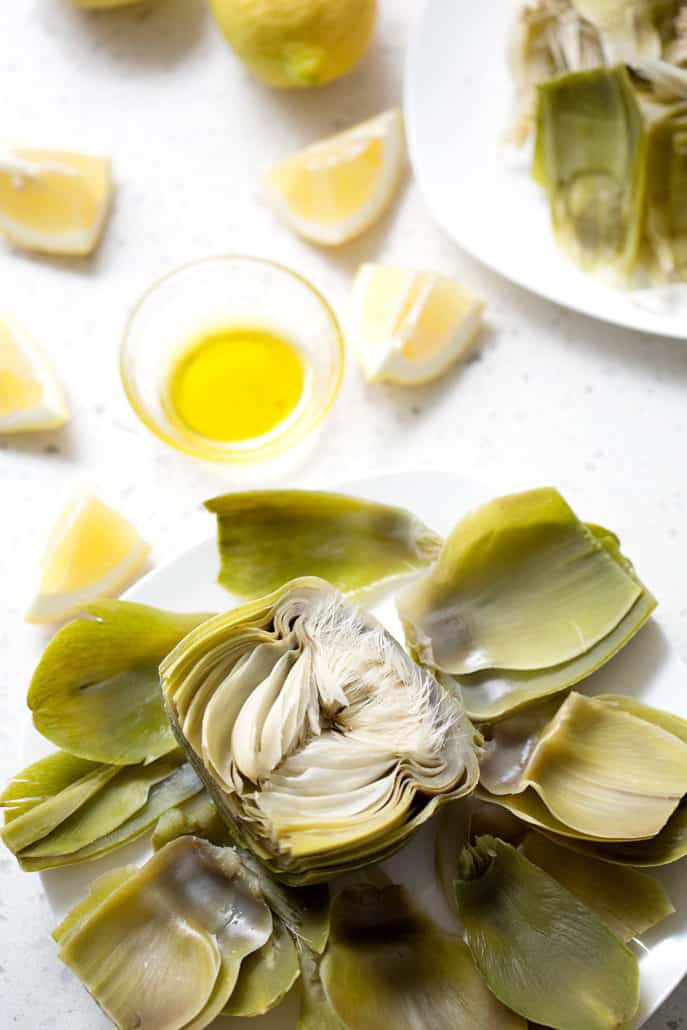 Love seeing my delicious photos? You can also FOLLOW ME on FACEBOOK, INSTAGRAM and PINTEREST to see more delicious food and what I'm up to.
[mv_create key="11" type="diy" title="How to Eat an Artichoke" thumbnail="https://thehonestspoonful.com/wp-content/uploads/2019/03/how-to-buy-prep-and-eat-artichokes-5sm.jpg"]
Did you use this how-to? I'd love to hear your thoughts so please comment below.