Squash blossoms are a delicious edible flower that you can find in your garden or occasionally at the farmer's market. It's serious impossible for me to pass them by as I absolutely love the idea of eating flowers. There is nothing more beautiful and girly that to have that bright yellow flower on your plate. That being said, they can be somewhat intimidating so here's how to clean and prepare squash blossoms.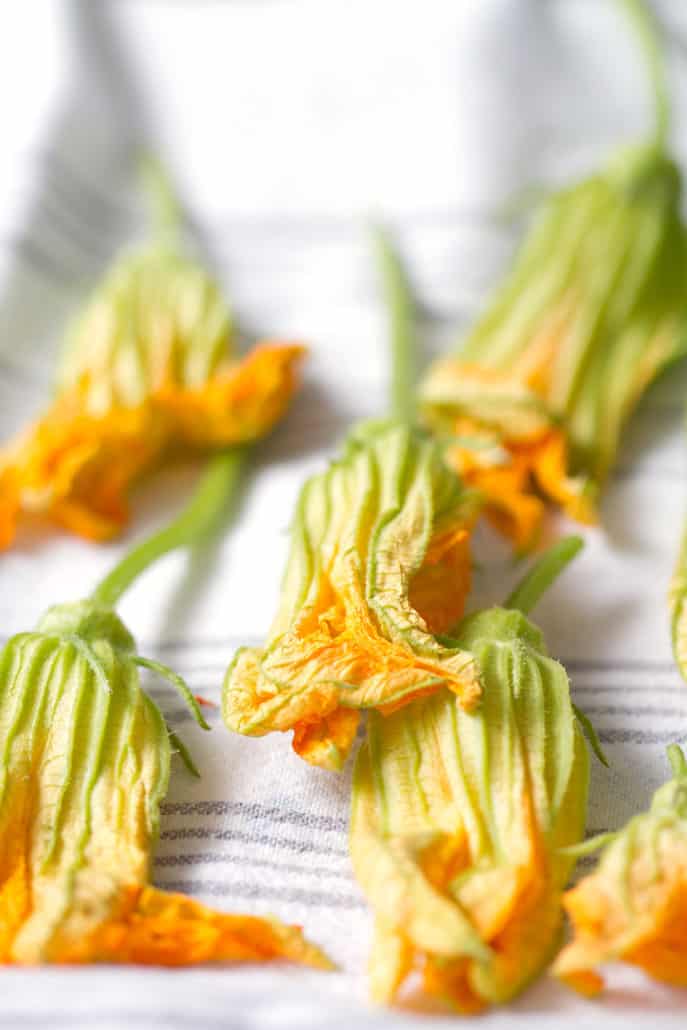 What is a squash blossom?
Squash blossoms are also known as zucchini blossoms. They are the flower from which zucchini grows.
What do squash blossoms taste like?
Squash blossoms taste faintly of zucchini. It's a very mild flavor, which is why you often see it paired with mozzarella cheese or eggs. Trust me, they taste great too. My husband will gobble up a few pieces of my Squash Blossom Pizza without hesitation. It's definitely for everyone.
What part of the squash blossom is edible?
Technically, the entire squash blossom is edible. However, the stem, pistil and stamen have a different texture. They won't harm you but for a more refined dish, they are usually removed.
Where to buy squash blossoms?
The best place to get squash blossoms is from your backyard. Zucchini are pretty hardy in most places so if you get sick of zucchini then you can just start picking and eating the flowers instead. If you don't have a garden, try picking up squash blossoms at your local farmer's market.
It's rare to find squash blossoms are your local grocery store as flowers since flowers are so delicate.
How do you keep squash blossoms fresh?
Store them in the refrigerator to keep them as fresh as possible. Just place them on a baking sheet that is lined with paper towels or a towel. The towel will soak up any excess moisture. Then place additional paper towels on top of them.
How long do squash blossoms last?
Like most flowers, squash blossoms don't have a very long shelf life so it's something that you won't find very far from the farmer. You will need to use them within a few days of bringing them home. They will start to wilt and shrivel after about 24-48 hours. They are really best when prepared the day they were picked.
How do you clean squash blossoms?
Squash blossoms are delicate so be careful when washing them. Fill a bowl of water and gently submerge the blossoms. Take care to remove any insects or dirt from the flowers. Wait to wash the blossoms until right before using them to retain their freshness.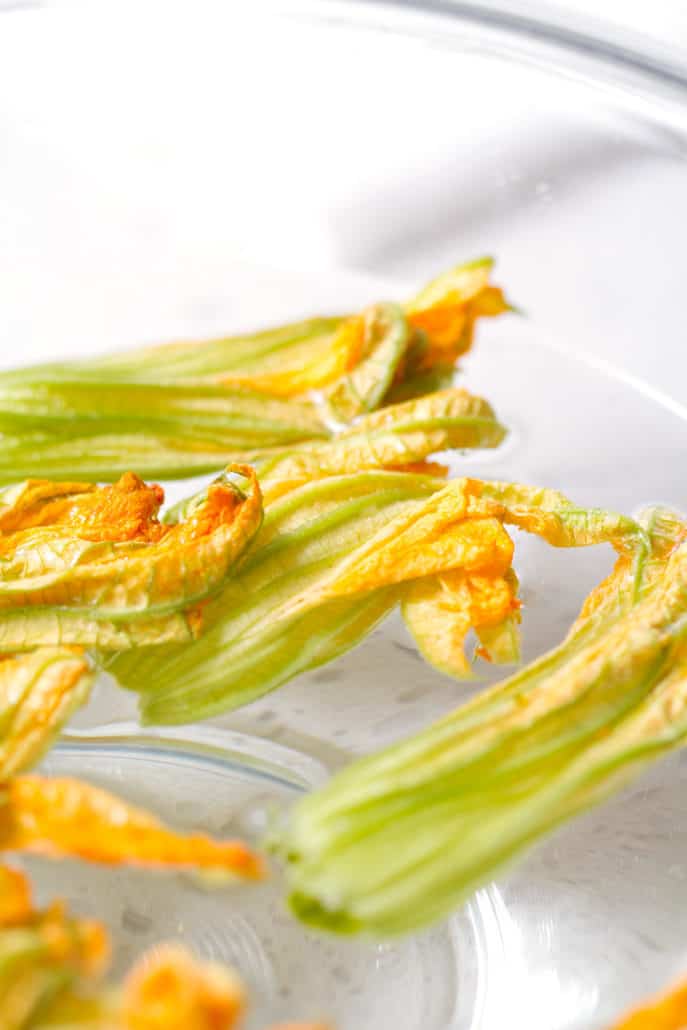 How do you prepare squash blossoms?
To prepare the blossoms you'll need to trim the ends of the flower near the stem to remove the flower. You'll also need to remove the stamen or pistil from within the blossom.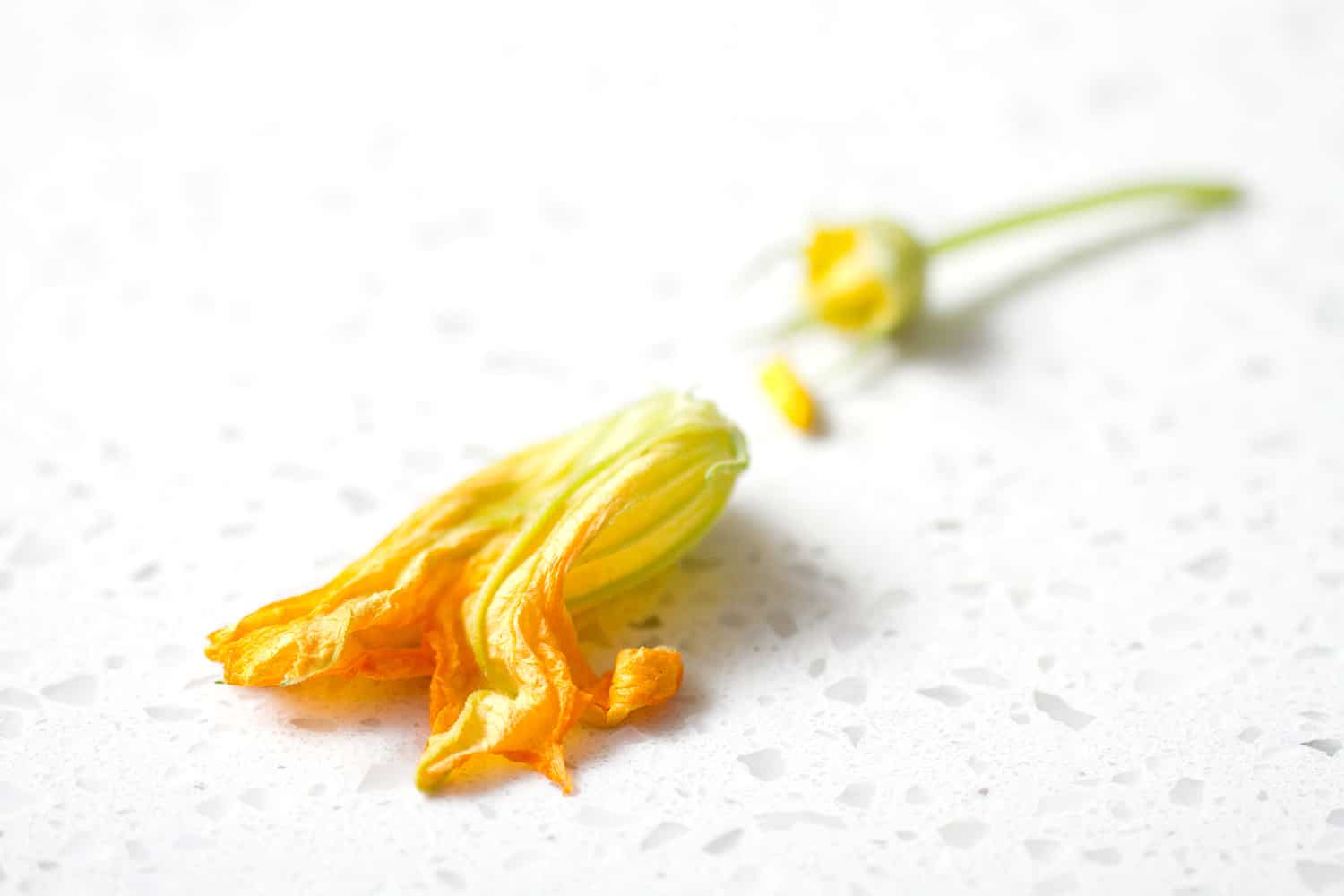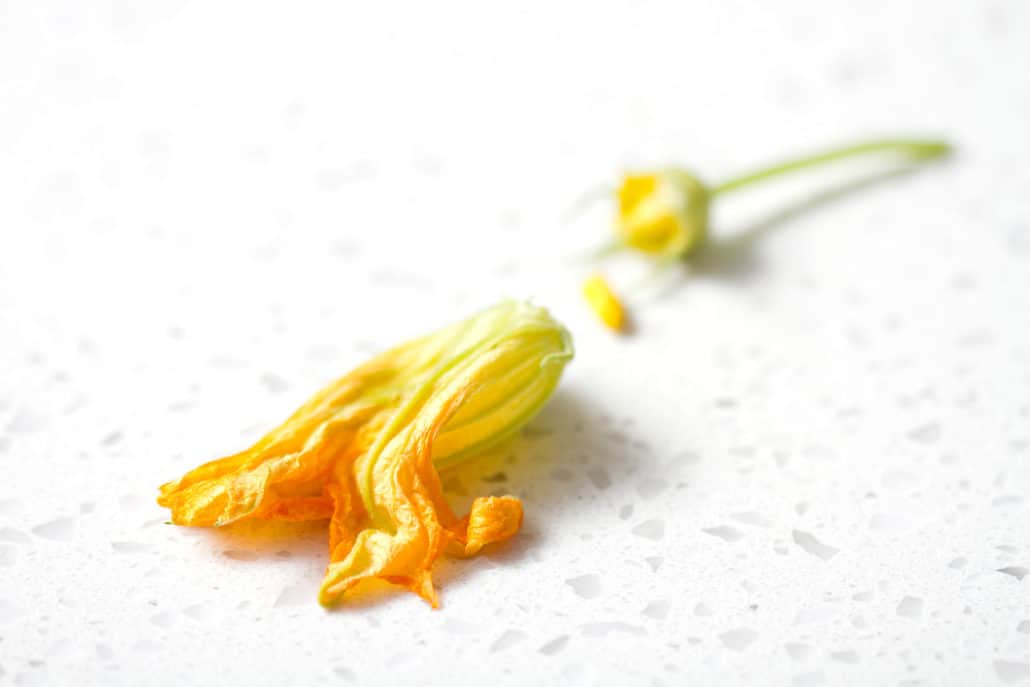 How to cook squash blossoms?
The most traditional way of cooking squash blossoms is stuffing them with cheese and then to make deep fried squash blossoms.
Looking for squash blossom recipes? Try these.
Love seeing my delicious photos? You can also FOLLOW ME on FACEBOOK, INSTAGRAM and PINTEREST to see more delicious food and what I'm up to.
[mv_create key="7" type="diy" title="How to Clean and Prepare Squash Blossoms" thumbnail="https://thehonestspoonful.com/wp-content/uploads/2019/06/Squash-Blossom-Fritatta-13sm.jpg"]
Did you use this how-to? I'd love to hear your thoughts so please comment below.
*Please note that this is how I was shown to prepare squash blossoms. If you were shown something different, that's fine. You don't have to follow my instructions. However, there's no reason to leave rude comments in the post.