Lychees are a delicious and exotic fruit. At first glance, it looks more like a prehistoric golf ball but this post will show you how to eat lychee like a pro.
What is lychee?
Lychee is an exotic, tropical fruit that's similar to a rambutan or longan. It's a golf ball sized tree fruit that grow in bunches with bumpy reddish (most common variety) skin. You need to peel away the dinosaur like skin to get to the delicious white flesh. Just beware of the seed.
Lychees are native to Southern China but popular in many tropical climates especially Southeast Asia. When in season, lychees can be found in most Asian grocery stores.
What does lychee taste like?
Lychee tastes like a tropical grape. It's a light, crispy flavor that is very unique to lychees. It's also very fragrant. It reminds me slightly of just a hint of lavender.
Lychees are commonly found in cans but the texture and fragrance are completely lost once canned. Additionally it's almost, if not impossible to find canned lychee that isn't in heavy syrup. Fresh lychees are AIP compliant however; canned lychees in syrup are not.
Are lychees in season?
Lychee season typically begins in late spring or early summer and generally ends in September.
Is Lychee safe to eat?
The fleshy white fruit inside the peel is not only safe to eat but totally fragrant and delicious. The only inedible parts of the fruit are the seed and peel. The seed is actually poisonous so take care not to ingest it.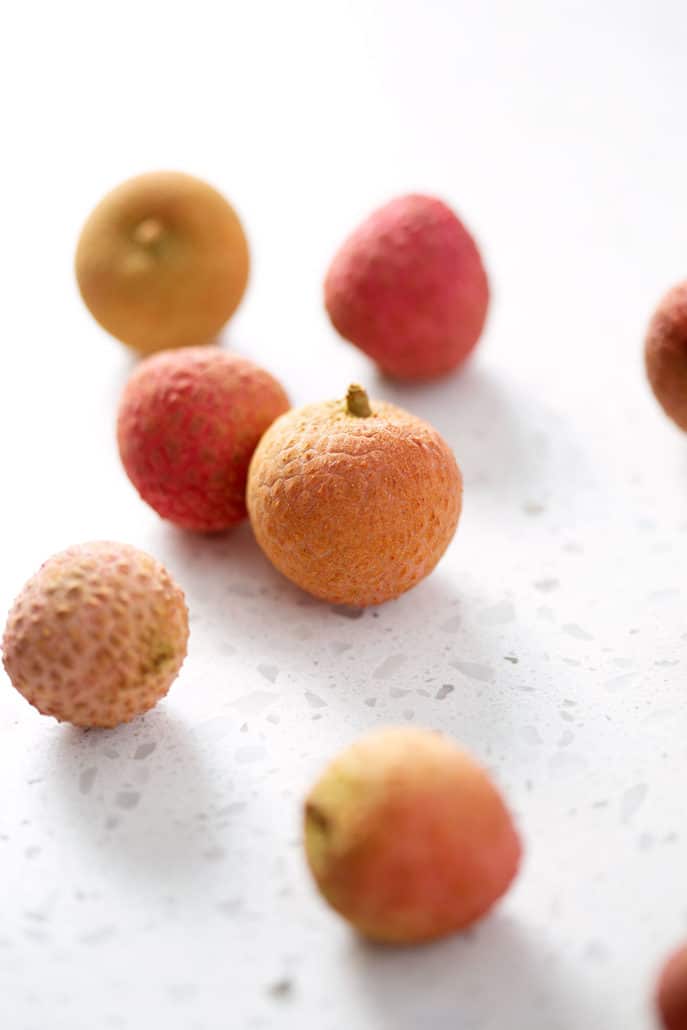 How to peel lychee.
Grab the end of the fruit and peel back the skin. You may want to do this over a bowl to catch the juice that drips. The translucent white flesh is the edible part of the fruit. Peeling the fruit should be easy when it's at the peek of ripeness. If the white edible flesh has turned transparent, mottled, or yellow-brown then it's most likely fermented or rotten. Do not eat!
You can then pop the white flesh from the peel. And take care to remove the seed, as it's slightly poisonous. Throw away the seed and the peel, as both are inedible. The peel can also be composted.
There is a thin, brownish membrane lies on the interior of the flesh that surrounded the seed. This is not dangerous and is totally edible. It's difficult to remove you end up crushing the fruit and the juice goes everywhere but your mouth. I'd recommend just eating it and enjoy every drop of the delicious juice.
How to tell if lychee is bad.
If the fruit feels really hard, then it's probably not ripe. However, it is edible but won't have as strong a taste. If the fruit is wet or really soft then it's probably overripe and may be fermented (edible with a different, strong taste) or rotted. If the fruit has a peel that is crushed or soaked that means that it is probably rotted.
Additionally, different varieties have peels that may be reddish, yellowish, etc. when ripe however a brown peel almost always means that it's past it's prime.
How long can you keep lychees in the fridge?
Fresh lychees can be stored in the fridge for 5-7 day but they also last on the 2-3 days at room temperature.
How to store lychee
It's best to store place them on a towel to help absorb moisture and give them some air to breath.
What to do with lychee?
Eating fresh lychee while sitting on the back porch watching the world go by is one of the many pleasures in life, especially summertime. While they are delicious all on their own, you can also use them as a topping for my Coconut Panna Cotta or my Bao Bing (kinda like a Chinese Sunday but without ice cream). You could also add them to a simple fruit salad.
Love seeing my delicious photos? You can also FOLLOW ME on FACEBOOK, INSTAGRAM and PINTEREST to see more delicious food and what I'm up to.
[mv_create key="14" type="diy" title="How to Eat Lychee" thumbnail="https://thehonestspoonful.com/wp-content/uploads/2019/08/How-to-eat-lychee-29sm.jpg"]
Did you make this how to? I love hearing your thoughts so please comment below.