You can't tell by looking at it but passion fruit is a delicious tropical fruit. In this post I'll tell you everything you wanted to know about this fruit including how to eat passion fruit.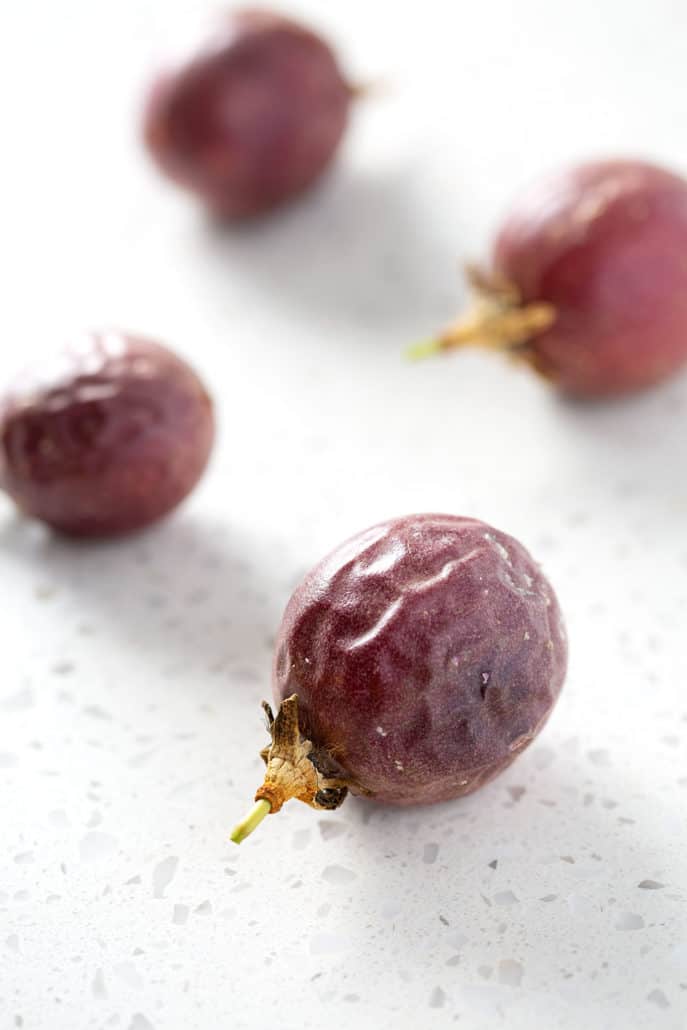 What is passion fruit?
Passion fruit is a tropical and exotic fruit that is native to southern Brazil through Paraguay and northern Argentina. However is can be found in southern parts of the US during late summer. However, in Hawaii passion fruit can be found all year round.
There are different varieties of passion fruit and the color of the fruit varies. The most common variety found in the US is purple on the outside and has yellow fruit on the inside. I'll be referring to the most common purple fruit in this post.
How can you tell if a passion fruit is ripe?
The passion fruit is ripe after it's fallen off the vine, heavy, turned purple and somewhat wrinkly with a little give to it when squeezed.
Here are a few things to keep in mind when picking the best passion fruit
You can eat a smooth passion fruit that's turned purple but it may be more tart. Passion fruit is the sweetest and more ripe when it's dark purple and somewhat wrinkly.
The greener the fruit, the less ripe it is. Green fruit can ripen and still taste good but it's not as likely. However, it's ok if a portion of the fruit is green and parts are beginning to darken. Just put the fruit on the counter for a few days and give it time to ripen.
Make sure to choose heavy fruit as well. That means the fruit inside is super juicy. Sometimes fruit can fall from a vine because of harsh weather or not enough water. I've actually cut into fruit that were empty inside. It's incredibly disappointing so make sure that the fruit doesn't feel super light.
Avoid super hard or excessively wrinkled passion fruit. That usually means that they are past the peak of ripeness. If you wait too long to eat them, then they can mold. They usually last a week as peak ripeness if you keep them in the fridge.
Is the skin of a passion fruit edible?
The skin is tough and most consider inedible.
Is passion fruit high in sugar?
There are about 2 g of sugar in one piece of medium sized fruit. That's the equivalent of the amount of sugar in 2 strawberries. [source]
What does passion fruit taste like?
Passion fruit tastes like a super sweet, somewhat tart cousin of citrus. It's a very unusual tropical tasting fruit. I don't have any passion fruit recipes but they would be great to flavor plain kombucha or as a topping for my Coconut Panna Cotta.
How to cut passion fruit
You'll need a sharp knife to cut through the tough outer shell of the passion fruit. Make sure to hold the passion fruit in place while you cut it down the center.
Make sure to keep it together until you're finished cutting otherwise some of the juicy will seep out. Trust me, you don't want to waste any of that sweet sweet nectar!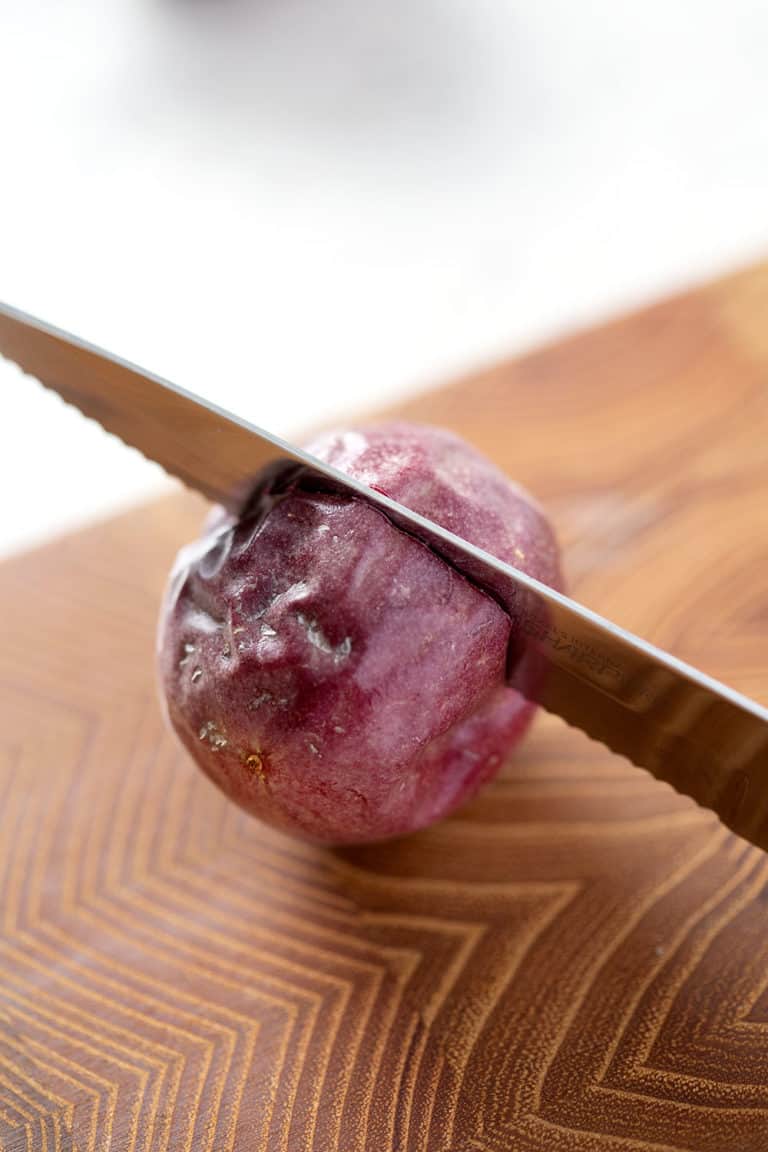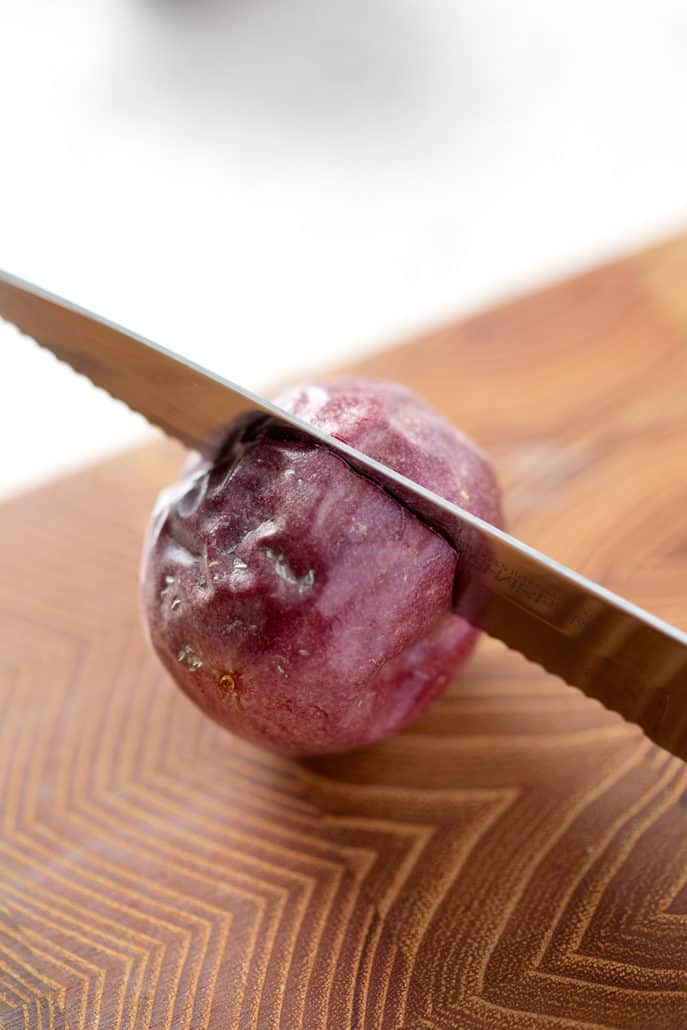 How do you eat passion fruit?
Once the passion fruit has been cut, separate the two sides.
Using a spoon, scope out the juicy flesh and seeds and enjoy.
You can eat it right out of the shell or use it for juice, to flavor plain kombucha or as a topping for my Coconut Panna Cotta.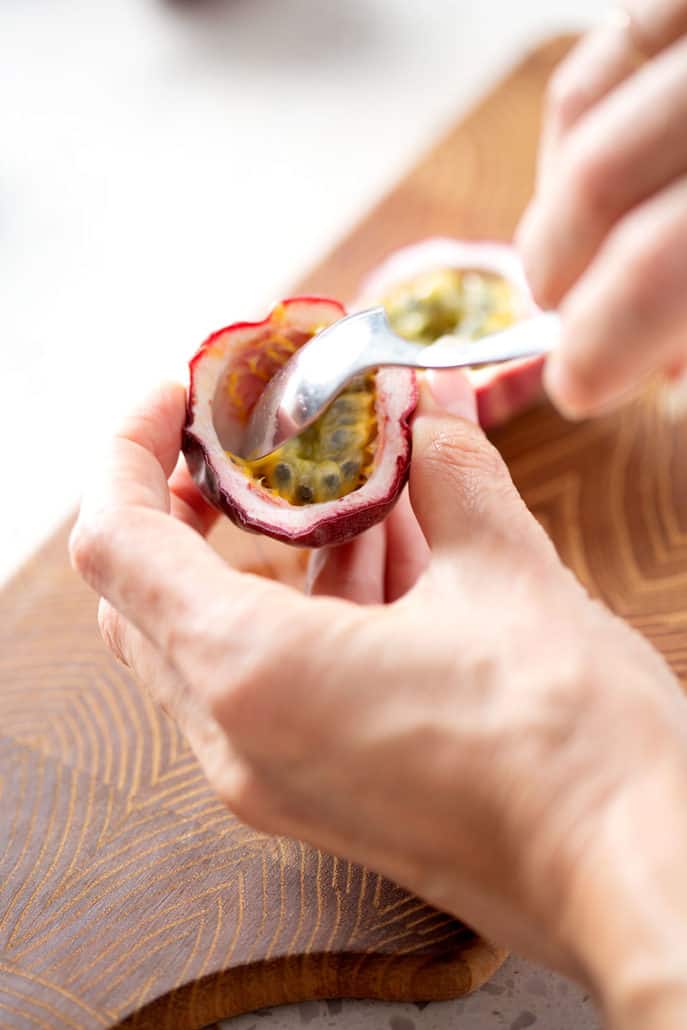 Are you supposed to eat passion fruit seeds?
The seeds are not harmful. You can scope out the fruit from inside the shell and eat the juicy part as well as the seeds.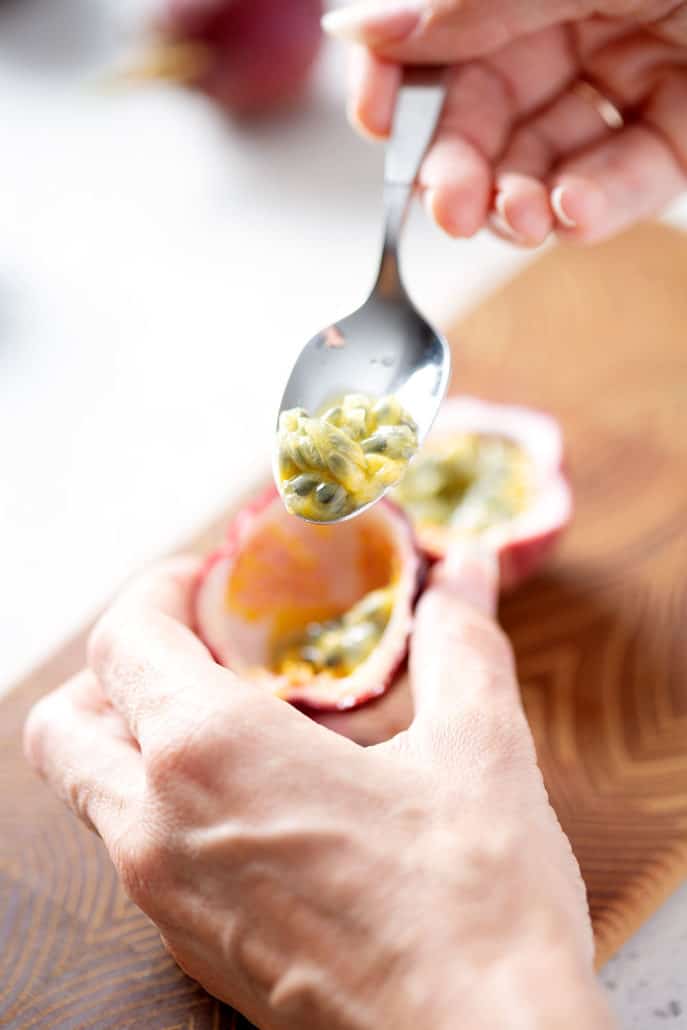 If you're looking for more 'how to' posts, try these: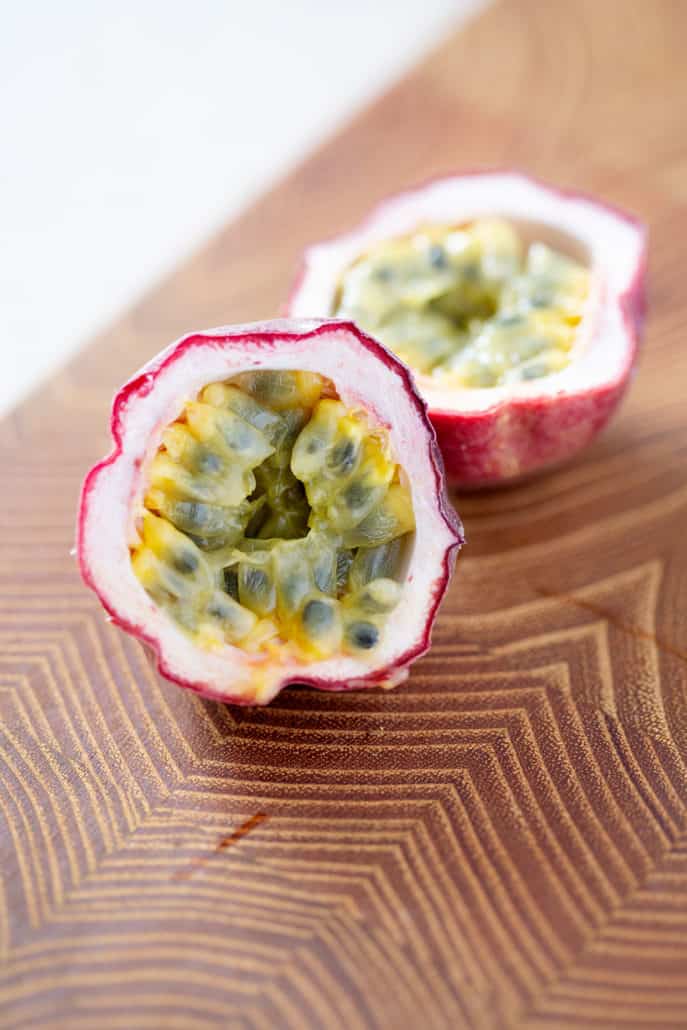 Love seeing my delicious pictures? You can also FOLLOW ME on FACEBOOK, INSTAGRAM and PINTEREST to see more delicious food and what I'm up to.
[mv_create key="15" type="diy" title="How to Eat Passion Fruit" thumbnail="https://thehonestspoonful.com/wp-content/uploads/2019/09/Passion-fruit-31sm.jpg"]
Did you use this how to? I love hearing your thoughts so please rate and comment below.