There are so many 'clean' mascaras on the market that it's actually overwhelming to try and pick one that balances performance and ingredients. I gathered 13 mascaras to test and review to help your quest for the best nontoxic mascara just a little bit easier. Here are my nontoxic mascara reviews.
How did you choose which mascaras to test and review?
Most of the mascara's I picked are available at Target and Amazon. I noticed that Target has 'wellness icons' below some of their products. Almost all of the products I choose were labeled with the 'clean' icon. That means that the product is formulated without propyl-parabens, butyl-parabens, phthalates, formaldehyde, formaldehyde-donors, nonylphenol ethoxylates (NPEs), Oxybenzone, SLES, retinyl palmitate, hydroquinone, triclosan, triclocarban, BHA or BHT.
Seeing that icon is really great because that means that large corporations are taking notice. They are trying to accommodate people like myself that demand healthier products. But as happy as I was to see the designation, I also wondered how these products were rated by EWG. I know from my own research that just it's easy for companies to pull out one type of harmful ingredients and replace it with another equally harmful one.
Is mascara toxic?
Traditionally, mascara has contained some pretty harmful ingredients like formaldehyde, parabens, etc. Today you do have safer options. You can get EWG certified mascara (and other beauty products) with ingredients that are much safer. However, they don't always perform the way you want them too.
Companies will use terms like 'clean' or 'natural' to trick you into believing that they use safer ingredients but that's not always the truth. Those are just marketing terms. There's no legal standard for those terms. They are honestly meaningless. There's even a term for it called greenwashing.
What is the healthiest mascara?
The best mascara you can get is one that is EWG certified. That means that the Environmental Working Group has tested the product and meets their strict standards for transparency and health.
However, it's impossible to completely chemical free. Or free of all chemicals in mascara or other products. I think it's more realistic to find a balance between budget, performance and ingredients.
The product you find is in this review vary in price, performance and EWG rating. I wanted to show a variety of options so that you can make the best decision for yourself.
Wet N Wild Mega Length Waterproof Mascara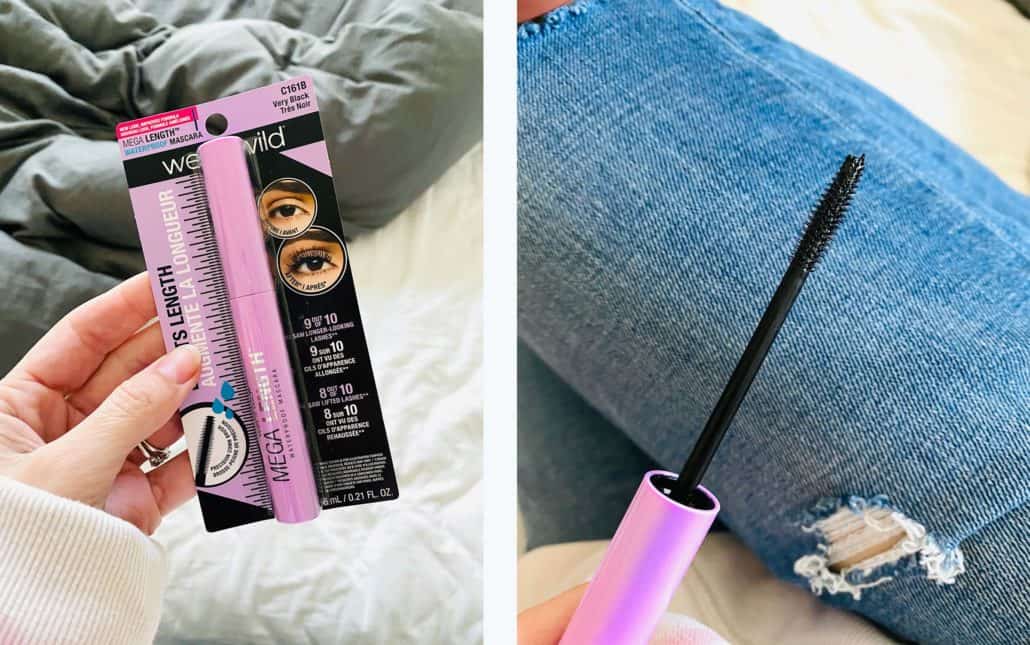 Pros:
Great wand. It has a very thin wand. I wasn't sure if I'd like it, but the wand helps keep my eyelashes from sticking together. The wand is also flexible. I was expecting it to be stiff, but this has a little give, so it moves with your lashes.
The mascara itself goes on really smooth. It looks and feels like any other mascara.
The mascara lasted all day on my lashes. It wasn't super stiff either.
Cons:
The bottle is small though. It doesn't seem like there's much product. I can't see it lasting for very long.
Covergirl Full Lash Bloom Waterproof Mascara
Pros:
The tube is very secure and very effectively keep the mascara in the tube, so you don't have to wipe it down before you apply it.
The product itself goes on rather smooth and thickens the lashes really well.
I do feel like my lashes are very thick and the wand is good at keeping them separate even when layering the product.
Cons:
The wand isn't flexible at all. It's actually very stiff. This wand doesn't allow for lengthening for lashes just thickening.
While this product was good at thickening, I also feel like they are truncated. They aren't as long as I'd like or get from other brands.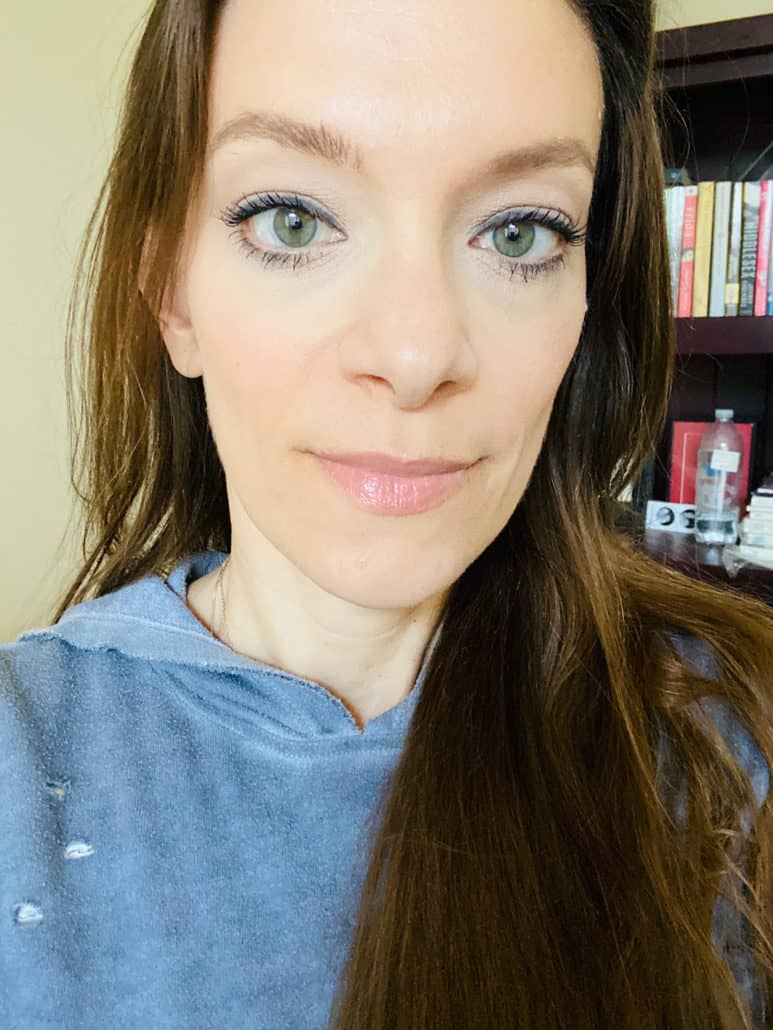 Maybelline The Falsies Push Up Drama Waterproof Mascara
Pros:
The product itself is much thinner than the other mascaras. It goes on smooth and can easily be layered.
The brush helps thicken, lengthen and keep from clumping. This gave very dramatic and long lashes.
I'm really surprised at how well this worked for a waterproof mascara. The performance is fantastic.
Cons:
The rating could be better. The parabens and talc concern me. I try to avoid the parabens at all costs.
Maybelline doesn't market this as a clean product, but Target certainly does. That's a clear example of green washing. Just a good reminder to always dig a little deeper and research the ingredients yourself. And while this product preformed really well, it's not worth the poor EWG rating. There were a few other options that performed well, without the potentially harmful ingredients.
Milani The Waterproof One
Pros:
This product is easy to find at a drugstore.
Cons:
The most offensive ingredient in this is Teflon. I generally don't use products that have this ingredient. But it just goes to show you how toxic ingredients can still show up in relatively good ratings.
The wand feels like an old school wand. It's quite stiff and the bristles are bushy and thick. I don't mind the tapering of the brush.
The product itself is thick and goes on dry. You really need to swirl the wand around in the tube to pick up the most product then clean off the brush before you apply otherwise you lashes will be clumpy mess.
Since the product goes on so dry, it took a lot of swipes before I was satisfied with the look. It didn't help lengthen at all. But it did an adequate job at thickening them.
I much preferred the wand, mascara and performance of other waterproof mascaras with better EWG ratings. I would not recommend this product.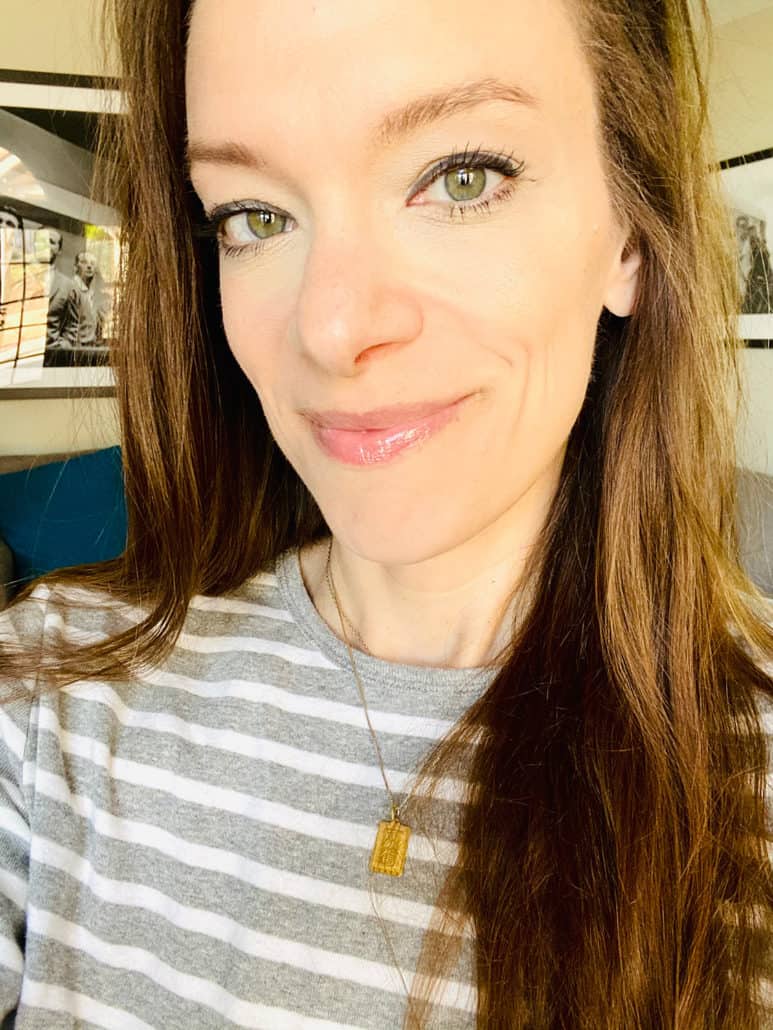 Pixi by Petra Waterproof Lash Booster Mascara
EWG Rating: NR (guess about 2-3)
Price $15
Where to buy: Target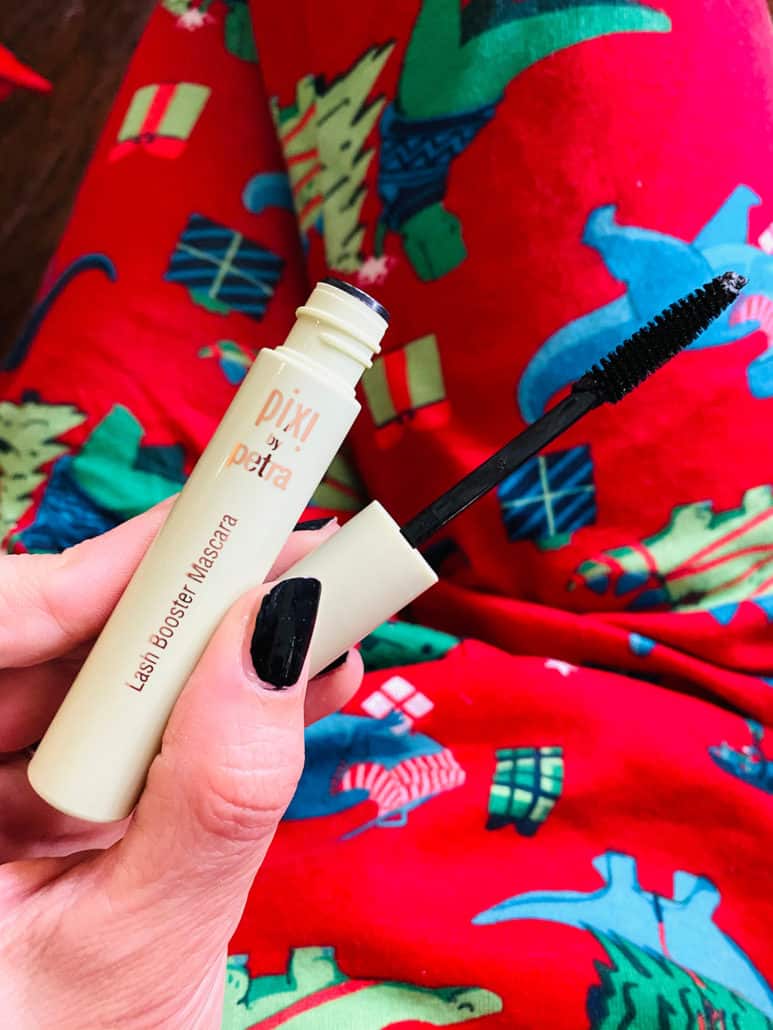 Pros:
The wand was very bushy, almost like a brush. It really helped brush the lashes and keep them separated.
It does take a few swipes of the wand to get a good coating on your lashes but as long as you do it quicky, before your lashes dry you won't have a problem. Your lashes will be thick and long.
Cons:
The wand is stiff, and I don't like the end. I generally like using the tip of the wand to help separate lashes but this one has a weird angle that makes it hard. I think that's because of the bristles which is a sacrifice I'm willing to make because I love the bristles.
Once the mascara dried, it was harder to apply. The lashes started to clump. If you want to layer it, do it while it's still wet.
I'm shocked that this is a waterproof mascara. The product itself isn't as dry as some of the others. It's impressive. And my lashes look very thick and long.
Covergirl Last Blast Clean
EWG Rating: Not Rated. However, this mascara has a rating of 3 and similar ingredients (minus LAURETH-30, POLYSORBATE-20 or SODIUM LAURETH-12 SULFATE). This means that this product probably has a rating of about 2.
Price $7.99
Where to buy: Target
Pros:
The mascara goes on very thin but is really good at layering. It will definitely take a few swipes of the lash to get you lashes looking long. It really does a good job of lengthening.
The wand is also good at keeping your lashes from clumping up.
Cons:
The wand in super thick so while it's flexible, it doesn't really bend.
This is marketed as a 'clean' product but there's no legal definition of the word and anyone can put it on a label regardless of its ingredients. It states on the packaging that the product doesn't include parabens, sulfates, talc and mineral oil so it does give you some idea of how it's formulated. Even still, it's only rated a 2 (my best guess) due to the ingredients used. While this rating is better than some, it's not the best. This is a negative for me because it's a perfect 'greenwashing' example and takes advantage of people that won't do the research.
Wet n Wild Mega Length
Pros:
The wand is flexible, and the bristles are good at keeping your lashes from clumping.
The wand is thin, so it makes it really effective for bottom lashes.
The mascara is thin and goes on smooth. And it's really great for layering.
Cons:
I don't feel like my lashes get as thick as I like or as long.
It uses SLS which is one of those ingredients that I like to avoid as it's so toxic and can cause irritation. Since this is so close to my eyes, there's a high probability that this going to burn my eyes if (when) it runs.
Physicians Formula Organic Wear Natural Origin Mascara
Pros:
The wand is flexible and probably the most flexible that I've tried.
The bushy shape of the brush also makes it very easy to apply.
The product itself goes on really smooth, is easily layered and gives the thickness and length that I look for in a mascara.
I'm very impressed by this product especially given it's rated so highly by EWG.
It's really long lasting. After 7 hours, it still looked good.
Wet n Wild Mega Protein
Pros:
It was cheap at only $1.99 so I don't feel bad throwing it in the trash.
Cons:
The wand is shorter than most which is confusing so there is a learning curve.
The product itself is surprisingly dry for the EWG rating. It doesn't go on evenly and take multiple coats to see much product on your lashes.
It doesn't thicken or lengthen.
The wand also clumps the lashes together.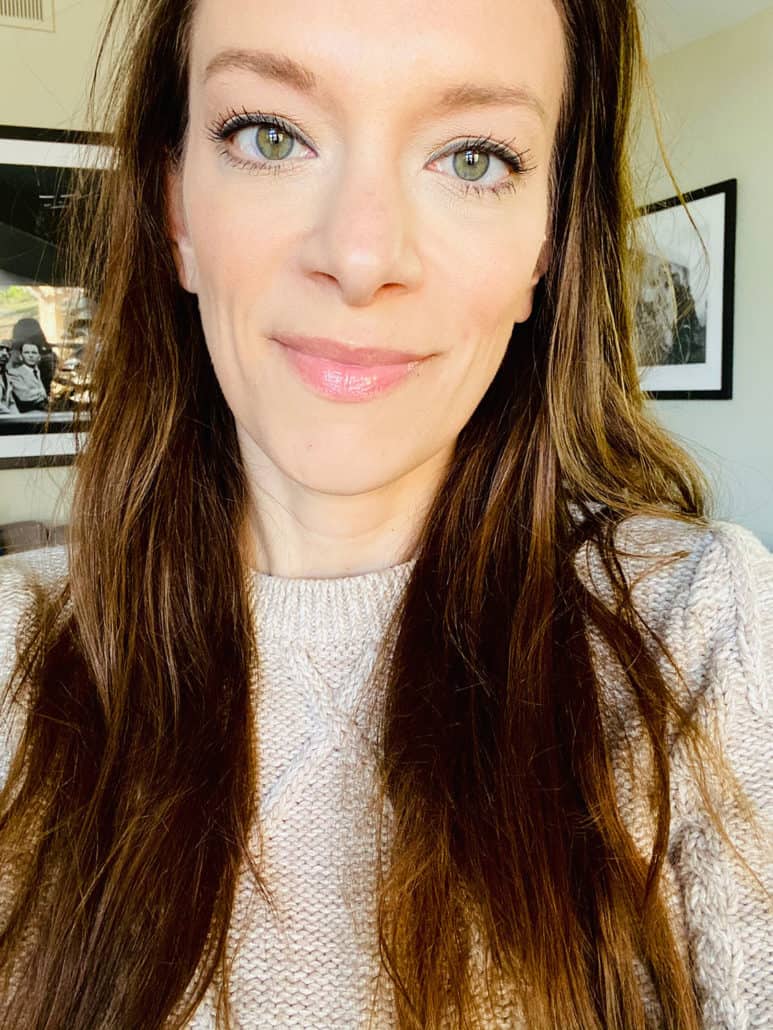 Pacifica Stellar Gaze Length & Strength Mineral Mascara
Pros:
The wand is thick and bushy which is traditionally my favorite kind of wand. It really helps create the 'hairy caterpillar crawled up onto my eyelid look' that I am going for. Overall was really impressed with this product.
Cons:
The product itself is very thick. It takes quite a few swipes of the wand to get a good coating on your lashes.
Beautycounter Volumizing Mascara
Pros:
It takes a few swipes to thicken my lashes. But it gives natural look while thickening. It's not great at lengthening but Beautycounter has a lengthening mascara for that purpose.
This product is clay based (not petroleum which is traditional) and uses the safest ingredients of all the products.
Only one of two products in this review that are EWG Certified.
I've tried other certified products, and none work as well as this one.
Cons:
The wand is disappointing. It curves so the ends are thick but the middle dips inward. It makes it hard to get an even coating. I feel like I end up just using the end of the wand to coat my lashes which require much more work.
The product itself is very thick and takes a lot of swipes to get your lashes coated and giving it that thick and bushy look that I like. I think I could add some jojoba oil to the bottle and loosen it up a bit which would be very helpful. For this test, I didn't want to alter the product. I wanted to give you a true review of how the product works as it's sold.
E.l.f. Volumizing Mascara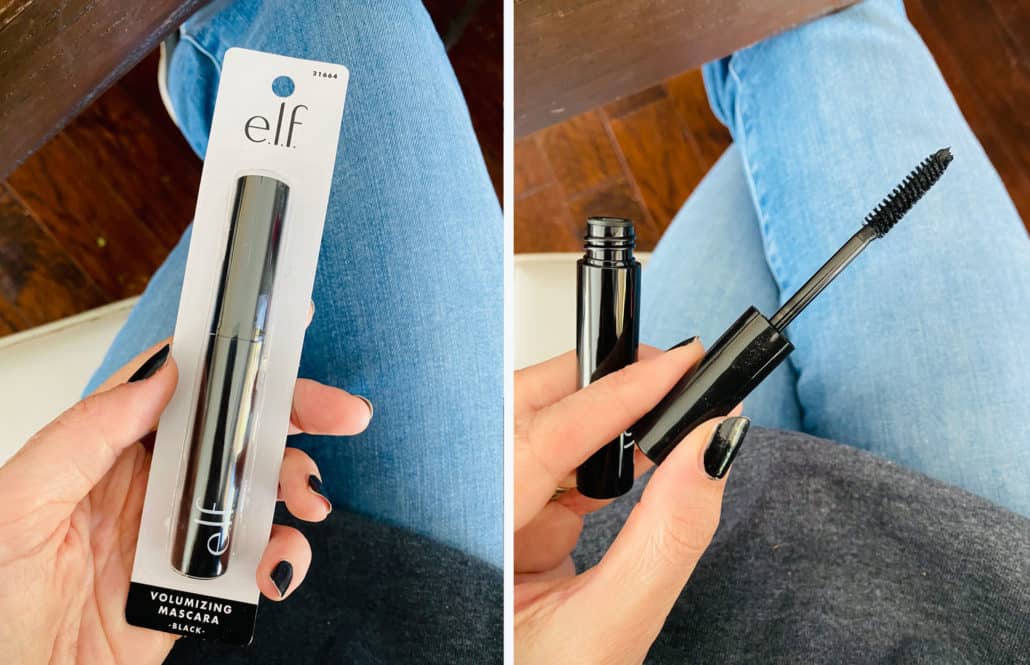 Pros:
The brush is bushy and helps the mascara go on naturally. My eye lashes are thicker but definitely not longer. Since this is a volumizing mascara that's expected.
Cons:
The wand is stiff and not flexible as all.
And it feels like the product goes on thin. It definitely requires multiple swipes of the wand to get enough product on your lashes. And even then they aren't nearly as thick as I'd like them.
This product has DC Black 2 which is one of the worst ingredients that I've seen in the mascaras I've tested. This is only an average performing product. There are a lot of products that perform better with safer ingredients.
Mineral Fusions Volumizing Mascara
Pros:
Even though the product is very thick, it does a good job of thickening. And I also feel like there's some length to my lashes.
The added benefit of this product is that next to the Beautycounter mascara, it's the only other one that's EWG certified.
Cons:
The wand on this product is similar to the Pixi waterproof mascara. It's bushy, stiff and the ends has an awkward spiral that make it hard to use the tip.
Additionally, because the wand is very thick and brush-like you need to apply the product before it dries otherwise the lashes tend to separate and clump.
The product goes on rather dry, so it takes a few swipes to make a difference.
It wears off after about 5-6 hours though. It doesn't flake or run (unless you get it wet) but it's definitely not long lasting. By the afternoon I feel the need to reapply.
*This product is significantly better than the waterproof version which I tried in the past. The waterproof Mineral Fusions mascara and it was so dry that it was mostly ineffective. It's EWG certified so I really wanted to like it, but it just didn't work all that well. I ultimately decided not to include it in this review because I already had a bad experience with it and didn't want to waste money on a product that I knew didn't work.
Love seeing my posts? You can also FOLLOW ME on FACEBOOK, INSTAGRAM and PINTEREST to see more delicious food and what I'm up to.
Have you tried any of these mascaras? I love hearing your thoughts so please rate and comment below.