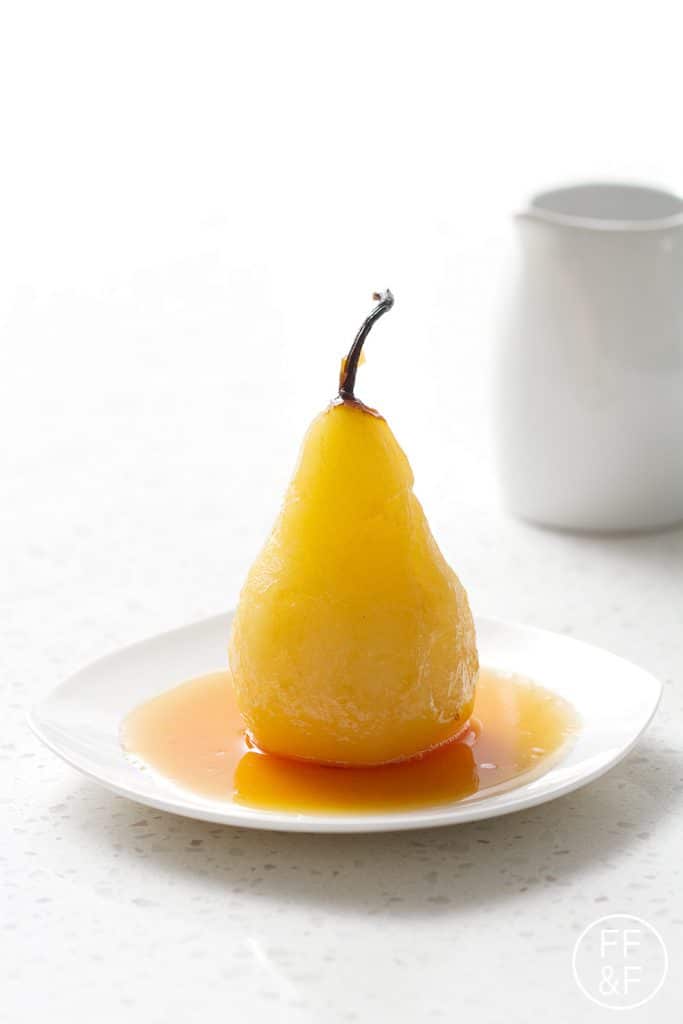 Stemilt Growers sent me a complimentary box of their seasonal fruit. I've been craving fruit throughout my pregnancy so I was happy to accept these delicious pears. As soon as I opened the box, my kitchen filled with the smell of ripe pears. To be honest, they were some of the sweetest pears I've ever had. I don't know how they do it but I find pears can be temperamental. It's hard to get them to taste just right. I find that every time I get them in the grocery store they end up flavorless and/or mealy. I could have just sat down on the couch and pounded all twelve pears but I restrained myself. I saved them for a few desserts. This dessert is seriously good. They're both sophisticated and easy.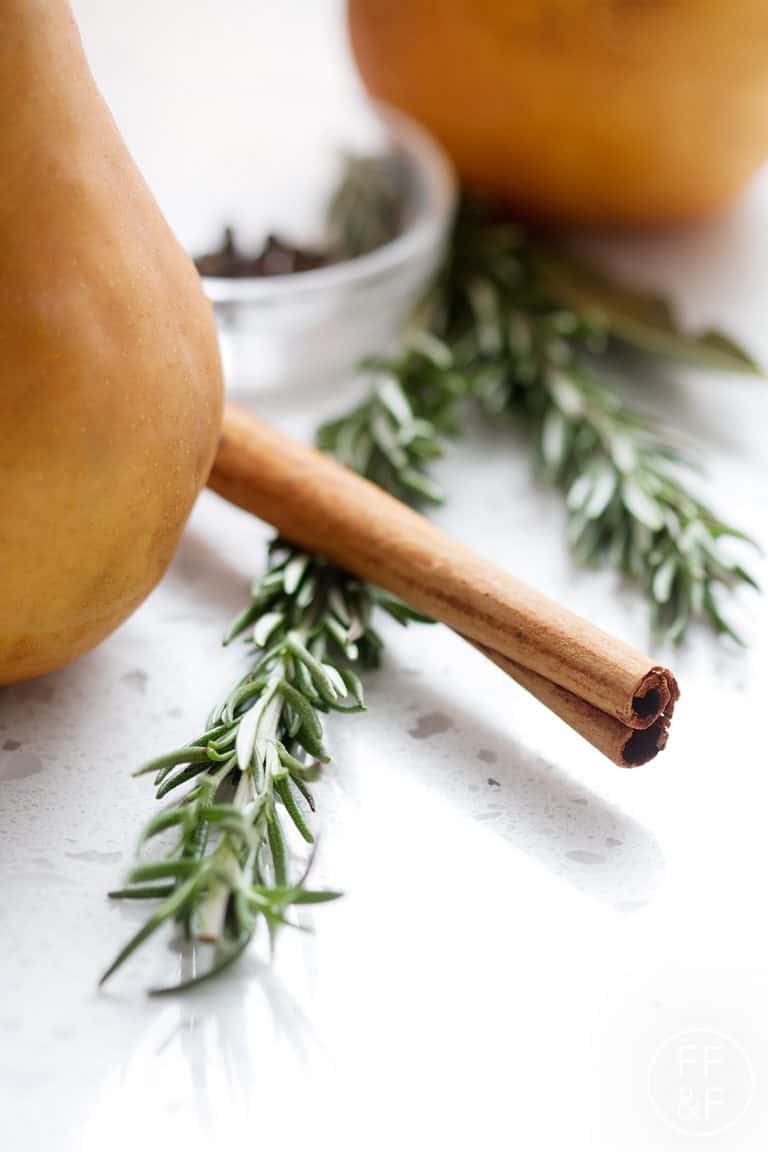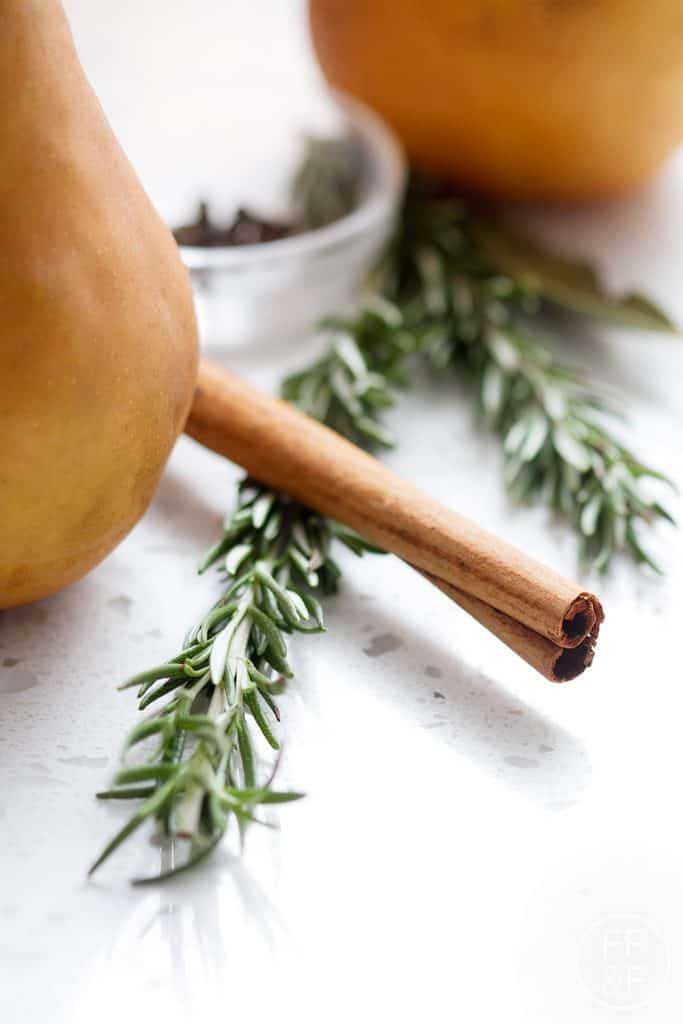 I started with sweet and juicy Bosc pears so the poaching liquid was 'gilding the lily.' My husband and I ended up eating both the pears while standing up at the counter. Our intentions were to bring them to the dinner table and eat them like civilized people but we didn't even make it. I probably would have stabbed him with my utensil if he had tried to steal a spoonful of my pear.
You'll only need a few spoonful's of the syrup. It's almost too sweet to serve a large amount but the liquid creates the most delicious pears.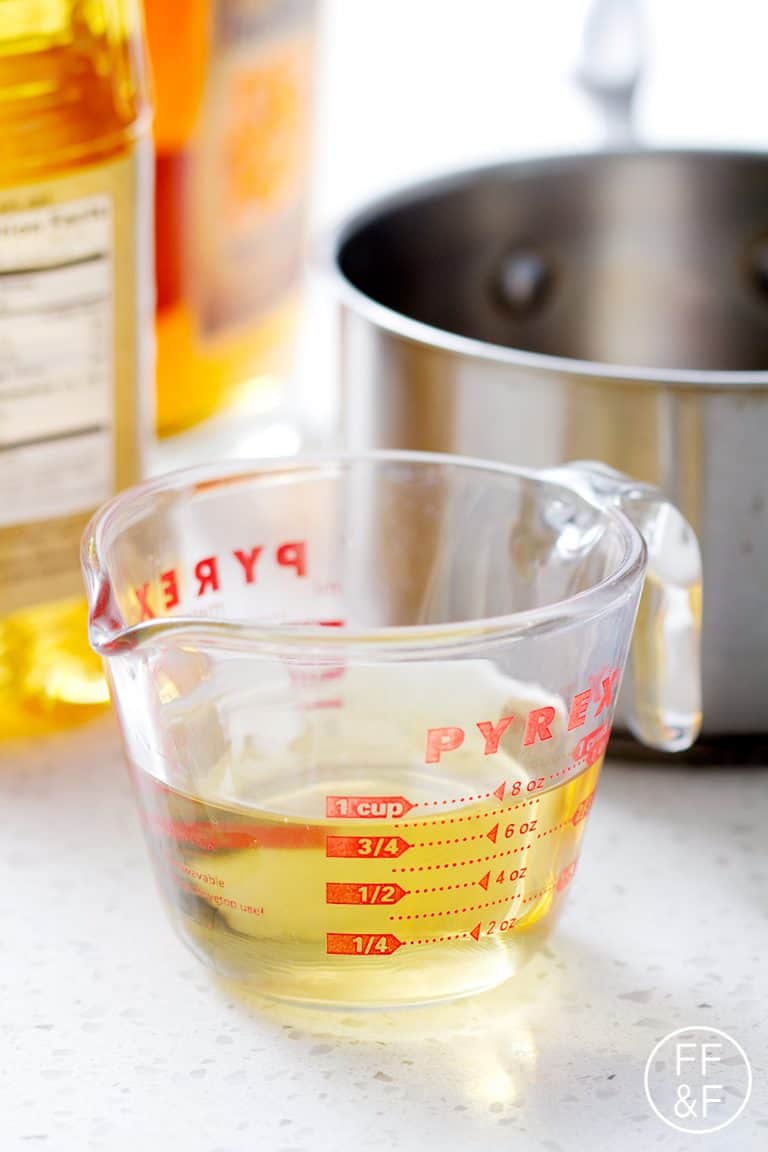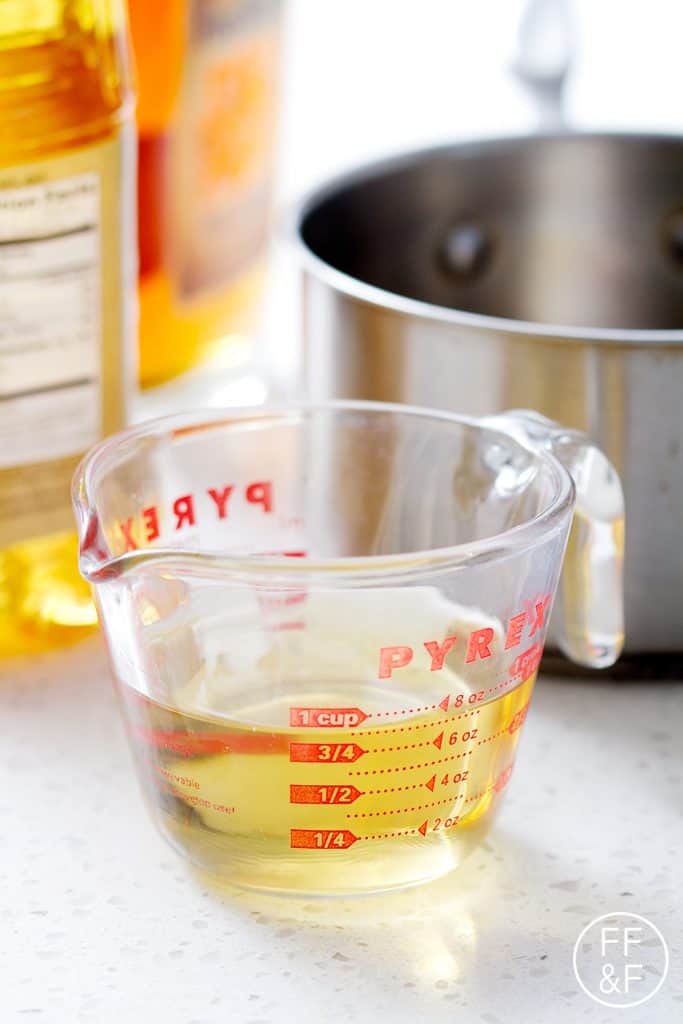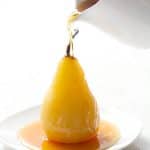 Print Recipe
Poached Pears with Rosemary and Bourbon
Sophisticated and simple dessert made with whole pears, rosemary and bourbon.
Ingredients
1-2

Rosemary Sprigs

1

Cinnamon Stick

2 1/2

cup

White Grape Juice

1/2

cup

Bourbon

3/4

cup

Honey

1/4

teaspoon

Black Peppercorns

1

Bay Leaf

Pinch

of kosher salt

2

firm Pears

peeled, stems intact

1/2

cup

Water
Instructions
Combine rosemary, cinnamon, white grape juice, bourbon, honey, peppercorns, bay leaf and salt in a medium saucepan over medium heat, stirring until everything dissolved.

Bring to a simmer.

Add pears and water, to almost completely submerge the pears.

Cover with lid slightly ajar and simmer, turning occasionally, until pears are tender but not mushy, about 30 minutes.

Using a slotted spoon, transfer pears to a plate. Increase heat and boil poaching liquid until reduced to 1 cup, 10–15 minutes.

Spoon some of syrup over the pears to serve.
Nutrition
Serving:
1
serving
|
Calories:
721
kcal
|
Carbohydrates:
153
g
|
Protein:
2
g
|
Fat:
1
g
|
Saturated Fat:
1
g
|
Polyunsaturated Fat:
1
g
|
Monounsaturated Fat:
1
g
|
Sodium:
25
mg
|
Potassium:
411
mg
|
Fiber:
2
g
|
Sugar:
149
g
|
Vitamin A:
37
IU
|
Vitamin C:
1
mg
|
Calcium:
65
mg
|
Iron:
2
mg