This Prosciutto Wrapped Pork Roast with Brussel Sprouts recipe is a complete meal in one big casserole dish. It's rustic home cooking, which is perfect for Sunday supper with the family but impressive enough for your holiday table with guests.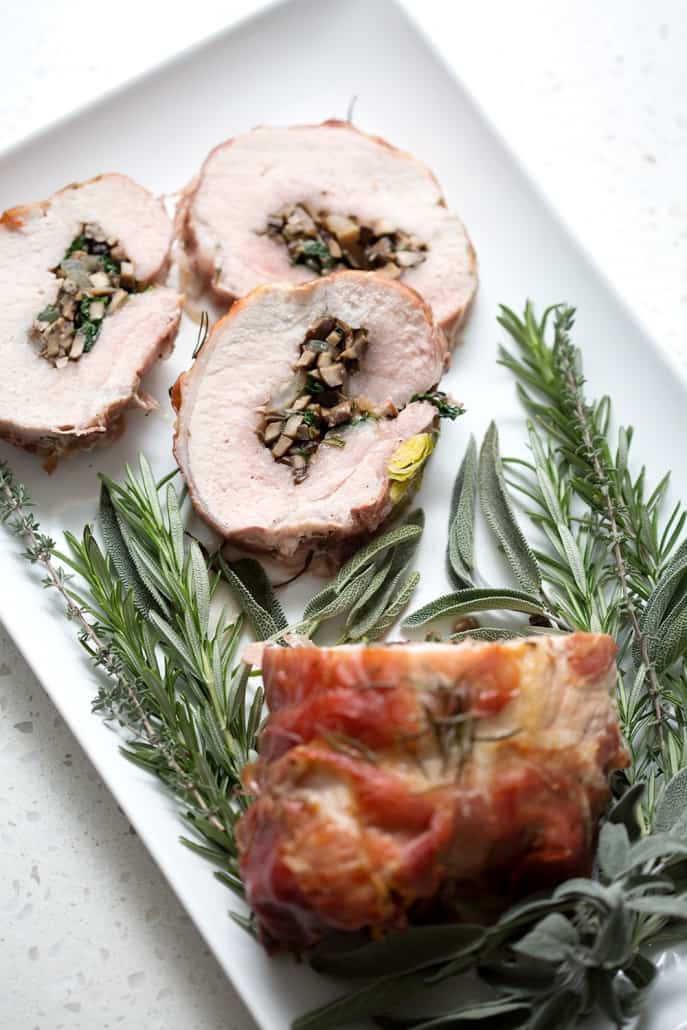 This is a great holiday dinner recipe but my family always ends up eating Chinese for food for Christmas dinner. We actually eat Chinese food for most extended family gatherings so I don't get to make as many traditional holiday foods. However, I've been making this recipe for Sunday dinners. We usually take more time to relax at home on Sundays and it's nice to have a hearty, warm meal that's kinda special. And around the holidays, I'd serve this Gluten and Nut Free Christmas Pudding for dessert.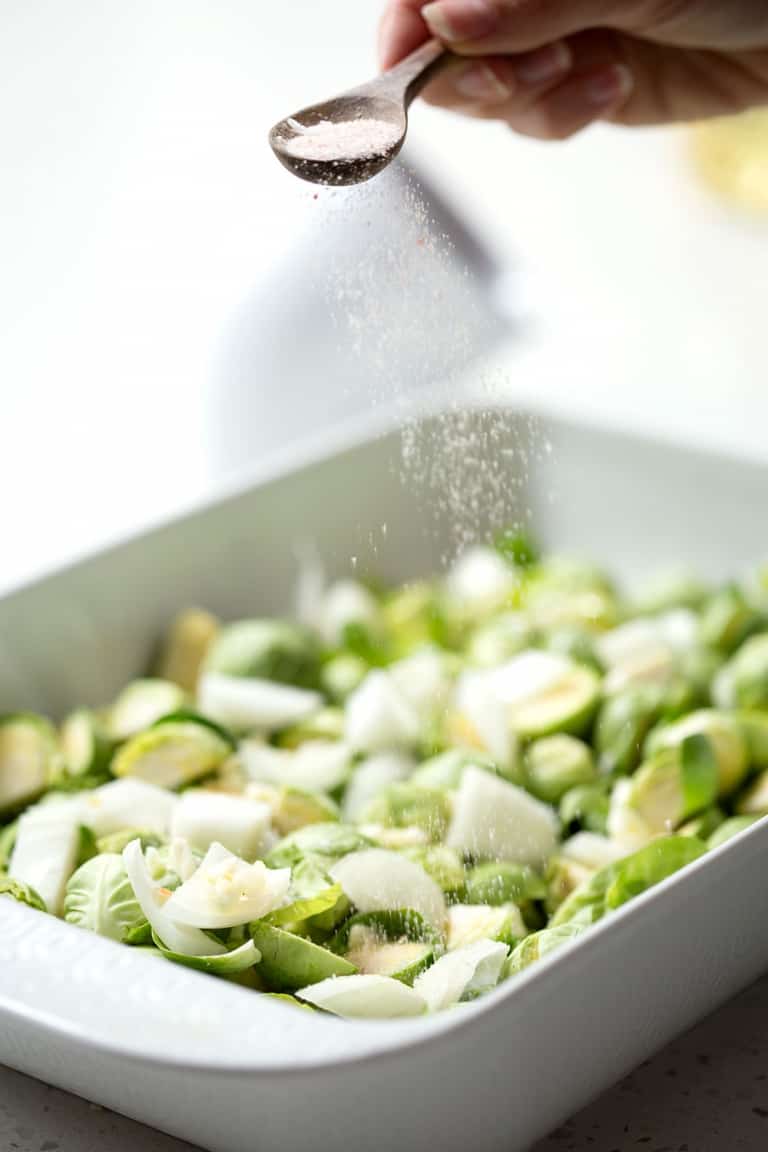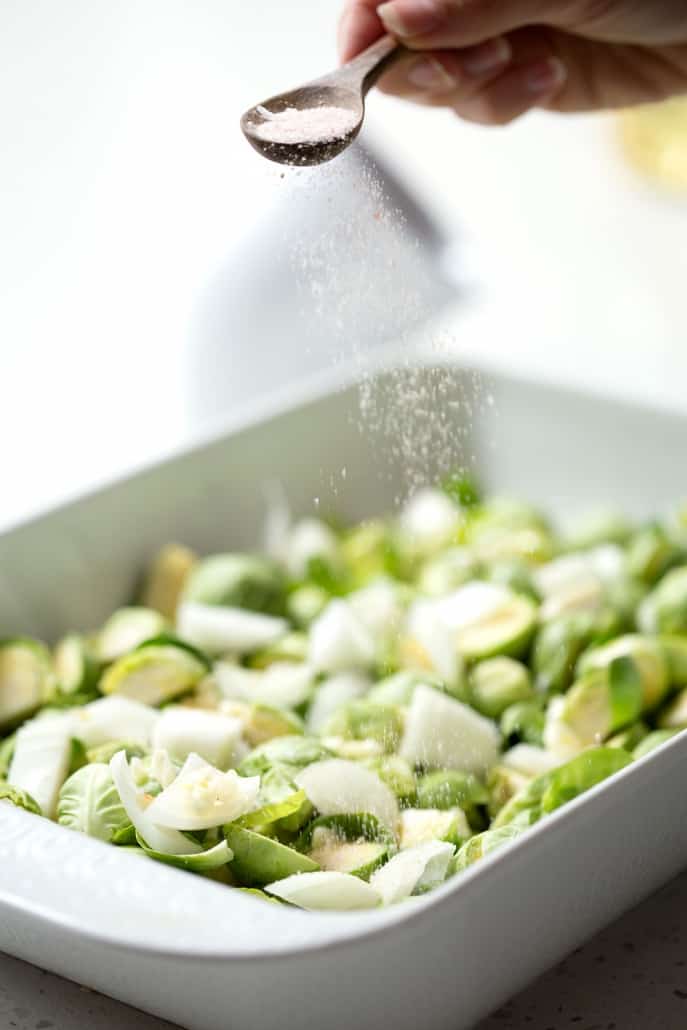 This recipe takes extra time and care to prepare. The stuffing and wrapping of the pork roast can be daunting but with a little bit of instruction, it can be done. Also, you get the hang of it after you've done it a few times.
First thing you need to do is to cut the pork roast. Before you begin, make sure you have a very sharp knife. Then slice into the pork the long way. Keep making long cuts and slowly peel back the pork like you are unrolling it.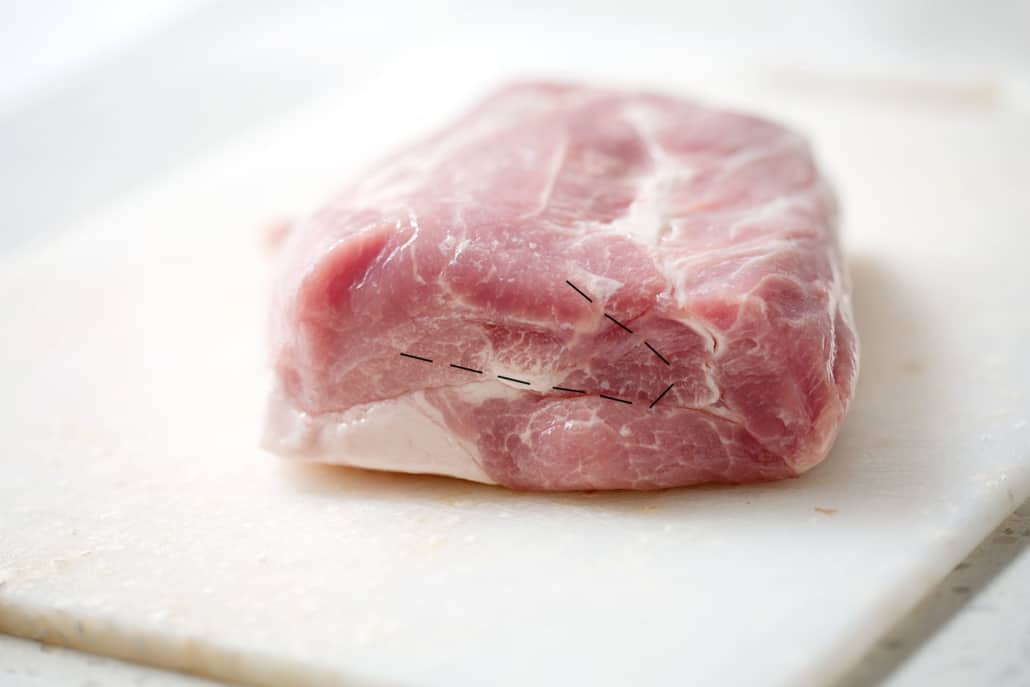 Next place it on a cutting board and cover with a piece of plastic wrap. Using a meat mallet, pound the meat until it's all one thickness and about 3/4 inch thick.
I've tried other, cleaner products to use instead of plastic wrap. None of them have worked quite as well. I've never had an issue where the plastic wrapped broke and there were bits of plastic in my food but I also used a mallet with a flat front. If you absolutely insist on using something that's not a piece of plastic on your food then I totally understand. My suggestion would be to use a clean dishtowel. Just be sure to transfer it immediately to the washer (or trash).
To roll up the pork, lay out prosciutto in a single layer (it's ok of the edges slightly overlap) on a large piece of parchment paper. Make sure that it's slightly larger than the pork.
Sprinkle the chopped sage on top of the prosciutto, season the pork with salt and then place the pork on top. Next spoon the stuffing on top of the pork.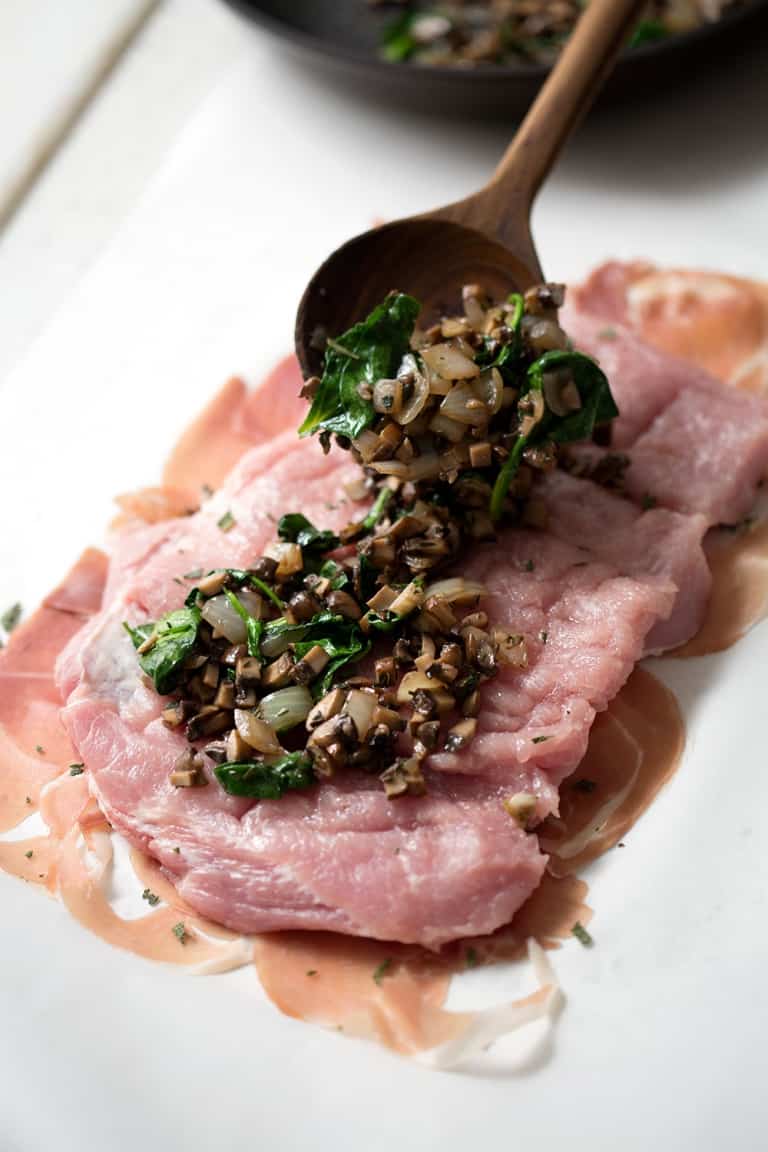 Lift one side of the parchment paper and then begin rolling the pork. Once it's rolled, tuck the prosciutto into the ends and you're ready to tie it up.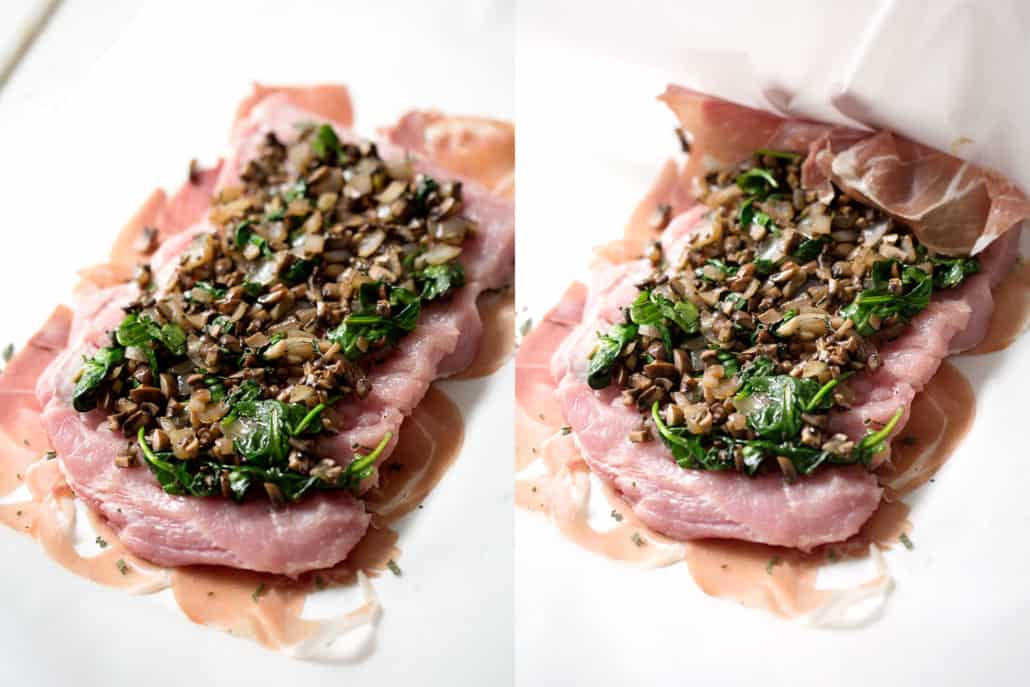 To secure the pork with cooking twine, scoot the twine under the pork, wrap it around the long way (vertical) and then tie it up at one end. The next part is slightly tricky.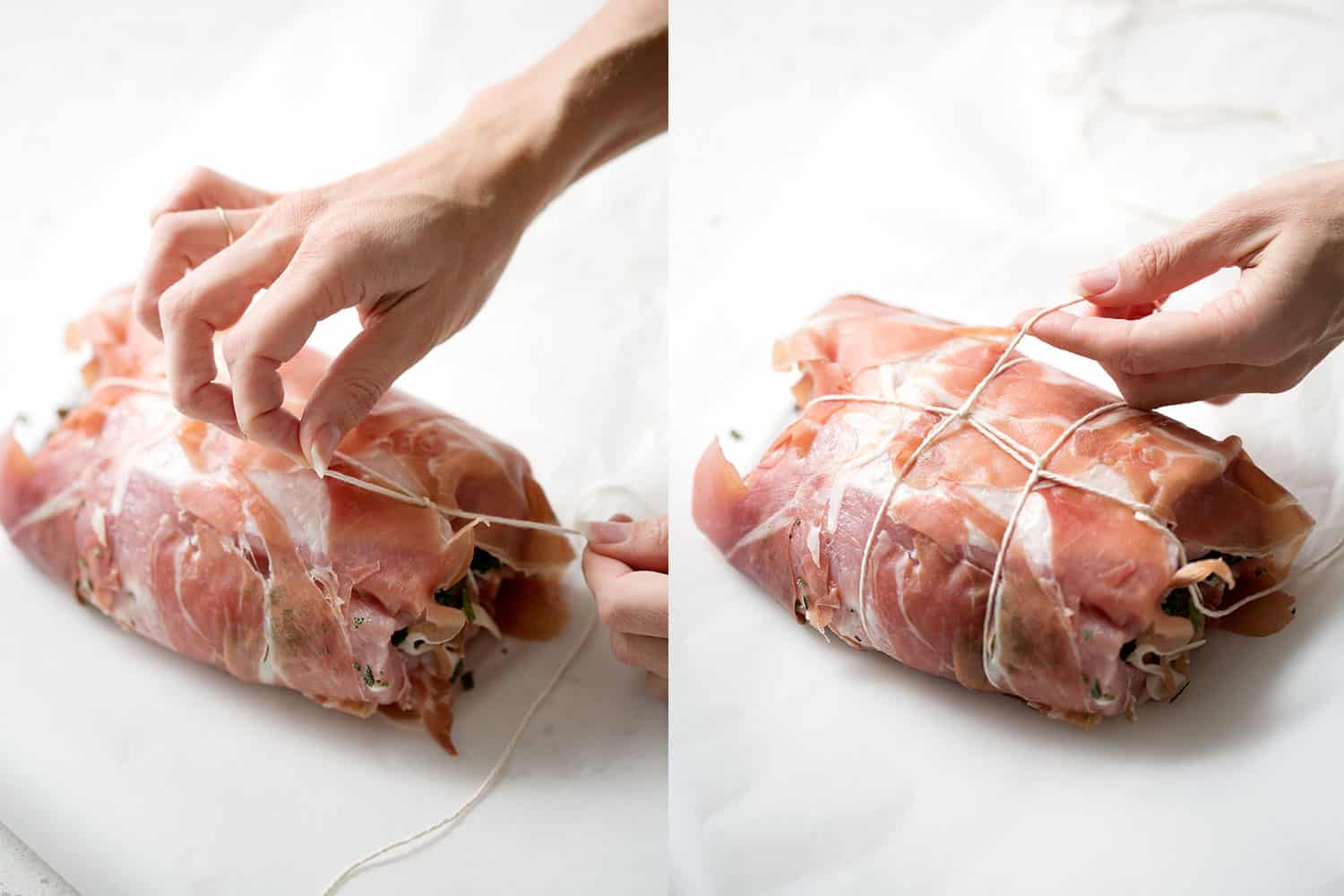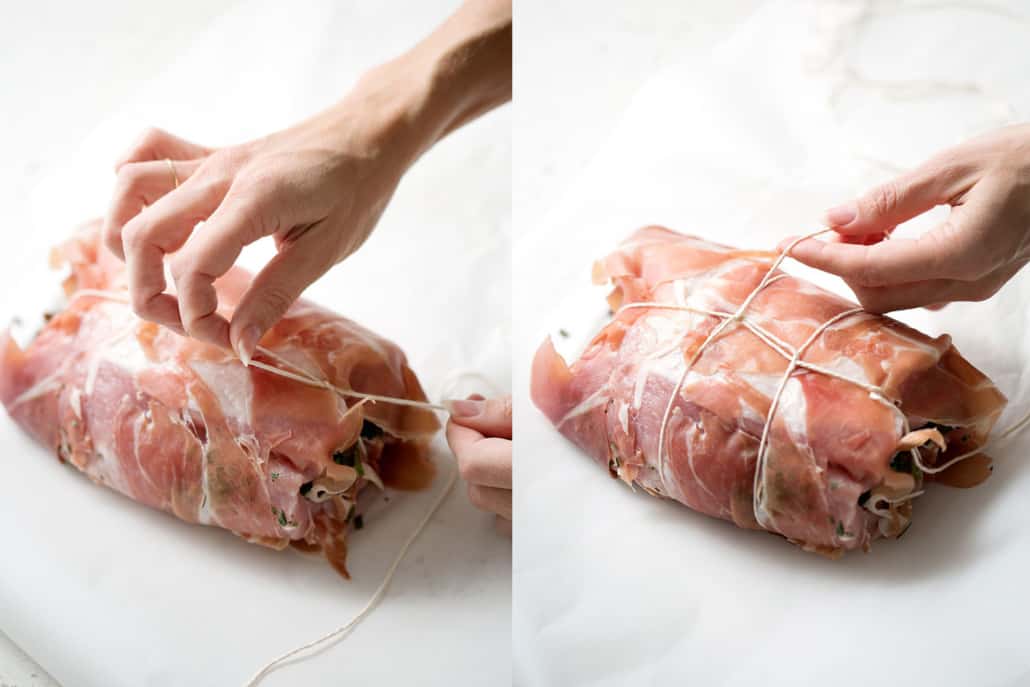 Take the twine and scoot it under the pork the short way (horizontal) and wrap it around and under the vertical line and then tie it in a knot. Scoot the twine under the pork horizontally again but stop about 2 inches above the previous horizontal line, wrap the twine around the pork and then take the end under the vertical line and tie. Repeat until you run out of pork.
Trim the ends of the twine so there's no excess and then tuck a sprig of rosemary into the twine. It infuses the outside of the pork with a little bit of rosemary and looks oh-so-pretty!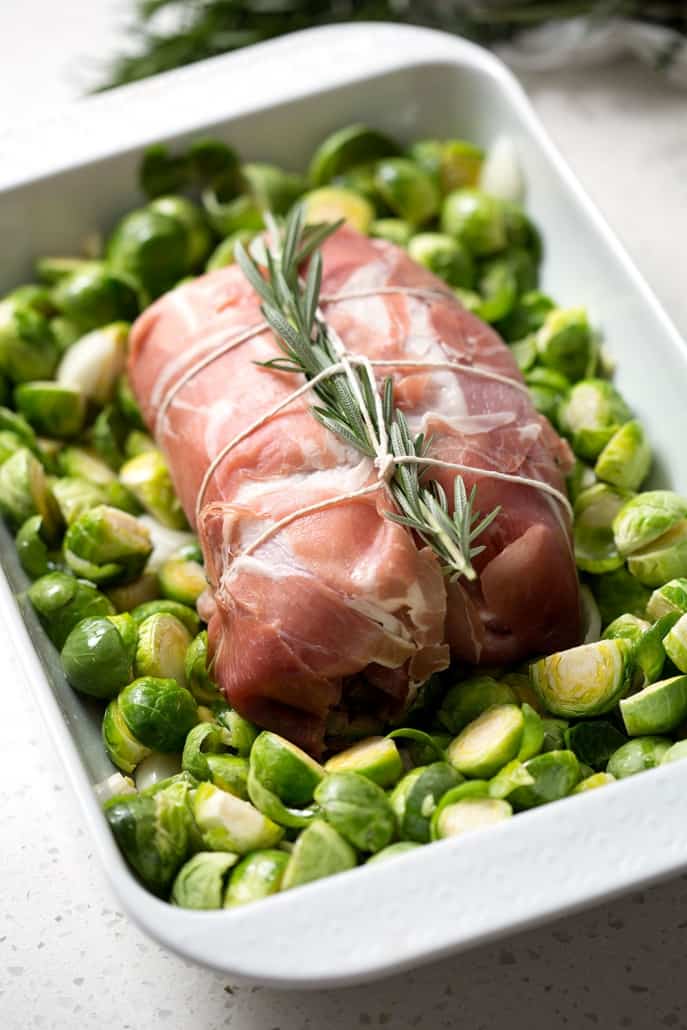 My tip to making this easy is to keep the prosciutto as cold as possible before and during this process. Once prosciutto gets warm, the fat with start to melt, which can make this process a bit harder.
The rest of the recipe is pretty self-explanatory and you can check out those instructions in the recipe below.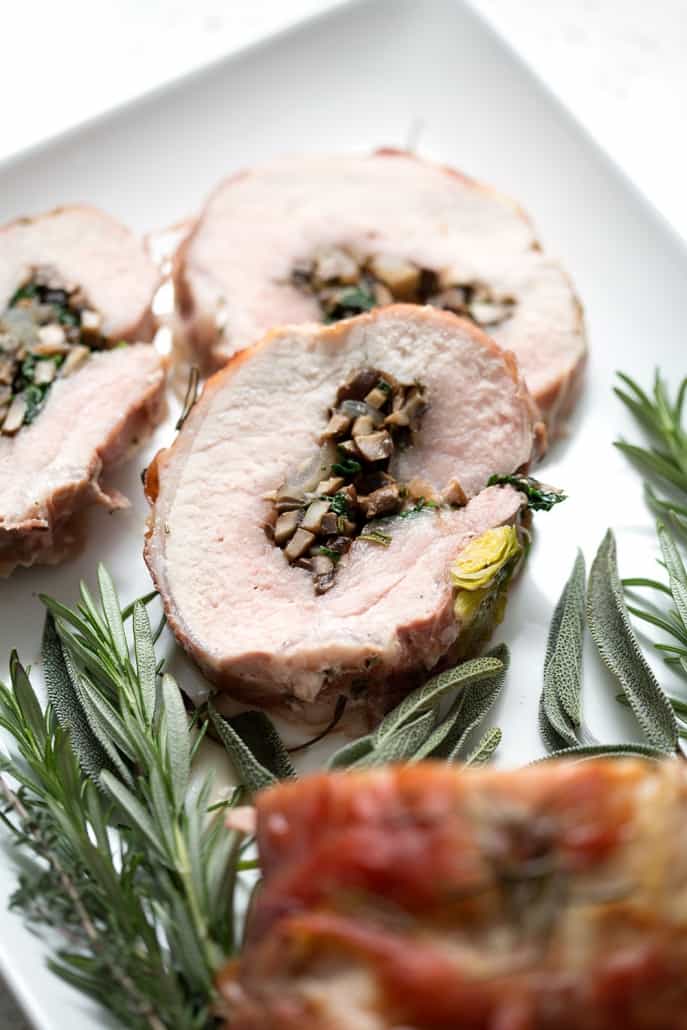 Wondering what to serve alongside this Prosciutto Wrapped Pork Tenderloin? Try one of these side dishes: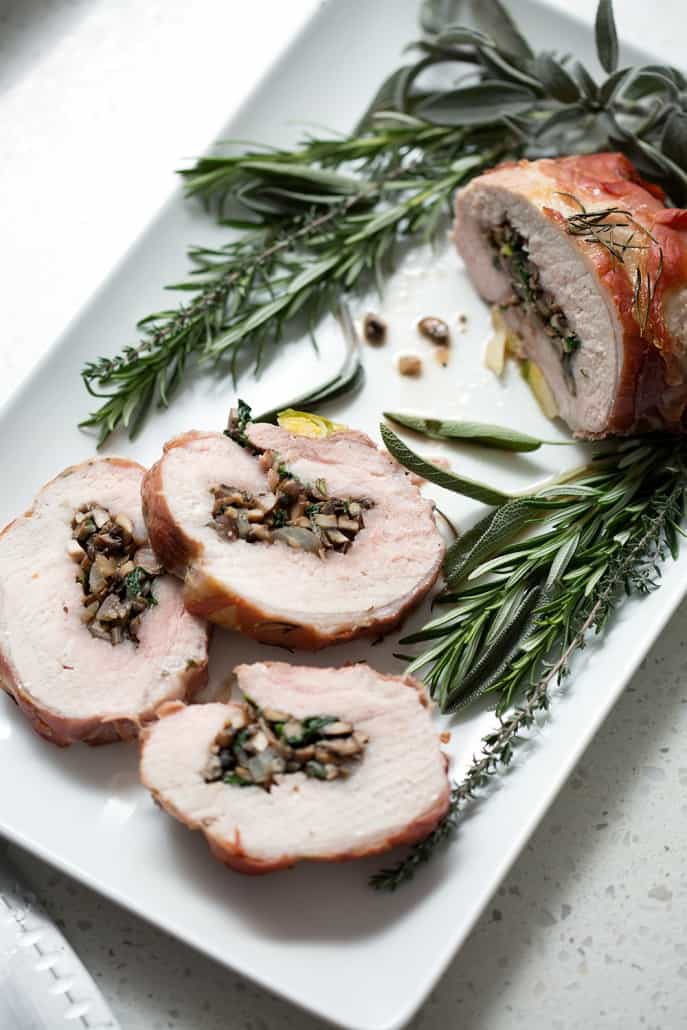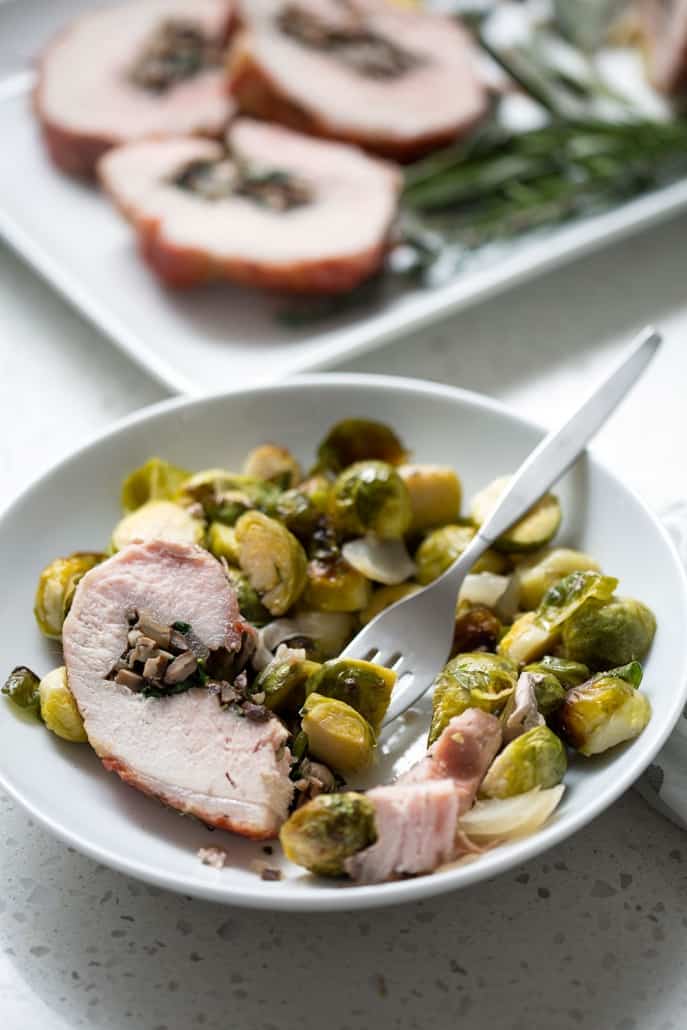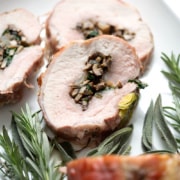 Print Recipe
Prosciutto Wrapped Stuff Pork with Brussel Sprouts
This Prosciutto Wrapped Pork Roast with Brussel Sprouts recipe is pork roast stuffed with savory mushrooms, onions and herbs then wrapped in salty prosciutto and fished off with brussel sprouts. It's a complete meal in one dish. This recipe is allergy friendly (gluten, dairy, shellfish, nut, egg, and soy free) and suits the AIP and Paleo diets.
Ingredients
Stuffing:

1

tablespoon

Olive Oil

3

Garlic clove

minced

1/2

Onion

diced

Salt

to taste

1

Sage Leaf

minced

1

sprig

about 4 inches Rosemary, minced

1

sprig

about 4 inches long Thyme

1

pint

Mushroom

diced

1

handful Spinach

Prosciutto Wrapped Pork Roast:

2-

pound

Boneless Pork Roast

8-10

slices

prosciutto about 8-ounces

1

sprig rosemary

4

Fresh Sage Leaves

minced

Brussel Sprouts:

2

pounds

Brussel Sprouts

halved

1/2

Onion

Chopped

4

Whole Cloves Garlic

1/4

cup

Extra Virgin Olive Oil

Salt
Instructions
To make the stuffing, heat the olive oil in a skillet over medium heat.

Next add garlic, onion, sage, rosemary, thyme and mushrooms.

Season the mushroom mixture with salt and then sauté until softened, about 10-12 minutes.

Add the spinach to the pan and toss.

Remove from the heat and let cool.

Preheat the oven to 375 °F.

To begin making the pork roast, place the meat on a cutting board.

Cut the pork by slicing at an angle, away to your cutting board, and then keep slicing lengthwise to cut into the pork to slowly 'unroll' it.

Lay the piece of meat open then cover with plastic wrap to avoid meat splatter.

Using a meat mallet, pound the meat to about 3/4 inch thickness then set aside.

On a piece of parchment paper, arrange prosciutto slices in a single layer but so the edges overlap.

Sprinkle chopped sage leaves on top of the prosciutto.

Season the pork with salt and place on top of the prosciutto slices.

Spread the stuffing evenly over the meat.

Roll up the pork and tie in intervals with twine to secure.

Tuck a rosemary sprig into the twine, on top of the pork loin.

To make the brussel sprouts, toss them and the remaining onions in a roasting pan together with the garlic and olive oil.

Season the sprouts with salt.

Set the roast on top.

Roast until the internal temperature reaches 145 degrees, 1 hour to 1 hour 15 minutes.

Slice the roast and serve alongside the brussel sprouts.

Garnish with fresh sage and thyme.
Nutrition
Serving:
1
slice
|
Calories:
440
kcal
|
Carbohydrates:
19
g
|
Protein:
43
g
|
Fat:
22
g
|
Saturated Fat:
5
g
|
Cholesterol:
102
mg
|
Sodium:
188
mg
|
Potassium:
1466
mg
|
Fiber:
7
g
|
Sugar:
6
g
|
Vitamin A:
1156
IU
|
Vitamin C:
133
mg
|
Calcium:
84
mg
|
Iron:
3
mg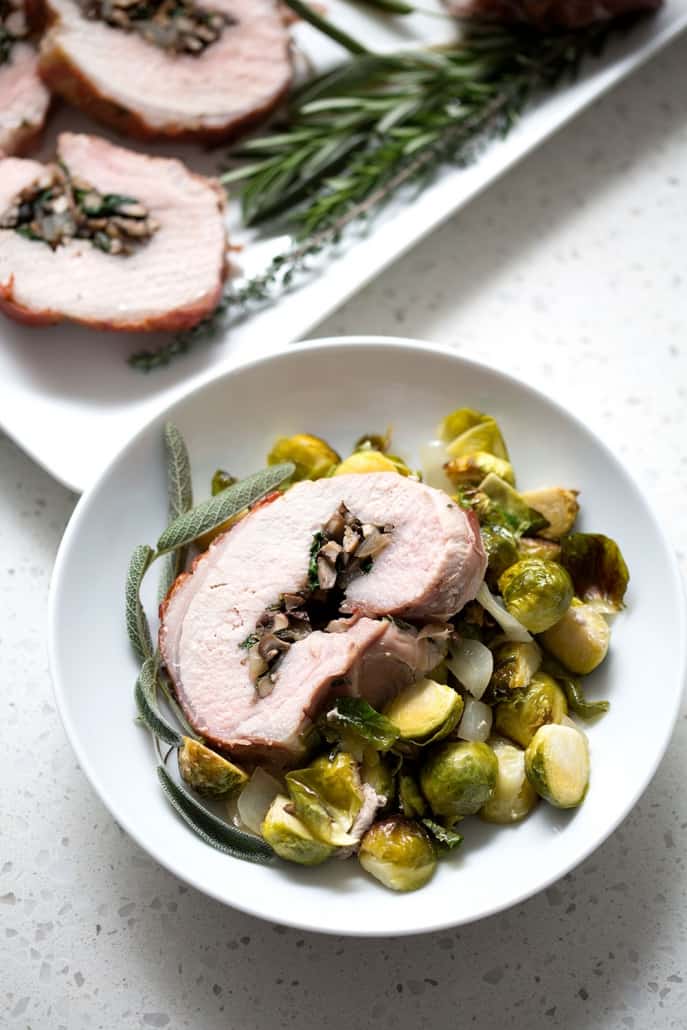 If you like this recipe, be sure to share it on Pinterest or leave a comment below!