I'm absolutely in love with my rotisserie. It came as an option with our new grill. We've used it for a number of whole chickens and even our thanksgiving turkey. The turkey was restaurant quality and hands down the best bird I've ever made. Our family was blown away. I aced thanksgiving this year!
Anytime I cook a whole bird, I like to brine it in advance. I find that it helps give the meat flavor and retain moisture.
You could go all crazy with your seasoning when using the rotisserie but until you get a handle on using the equipment, I suggest just keeping it simple. The rotisserie cooks the meat so slowly that it makes it taste amazing with just a brine, salt, pepper and olive oil. You really don't need much else. My husband doesn't typically like white meat because he thinks it's too dry – except when it's rotisserie chicken! It creates the juiciest breasts you've ever tasted.
Print Recipe
Simple Rotisserie Chicken + Tips for Using a Rotisserie
Get your grill on (rotisserie style) with this 4-ingredient chicken recipe that's simple but packed with a lot of flavor.
Instructions
Combine the salt, pepper and oil in a small bowl.

To prepare the grill, remove the grates directly under the bird.

Add about a 1/2 cup apple juice to a cast iron skillet (or a plate made out of aluminum foil).

Place the skillet directly under the bird to catch the drippings and give off the apple juice steam to make the bird even juicer.

To prepare the bird, tie up the legs.

Insert bird on rotisserie stick.

Secure with spikes.

Tie the bird extra tight to keep it from shifting or falling during cooking.

Also make sure wings are tied close to the rest of the bird so they don't burn.

Turn on the burners that aren't directly under the bird to high for 5 minutes.

After 5 minutes, reduce the burners to low to maintain a consistent temperature of 325-350 degrees.

Using a brush, baste the bird.

Cook the unstuffed bird for 20 minutes per pound or until the meat is falling off the bird.

If the skin isn't as crispy as you'd like, then turn the heat up to medium high for a few minutes and let it brown.
Nutrition
Serving:
1
serving
|
Calories:
839
kcal
|
Carbohydrates:
4
g
|
Protein:
51
g
|
Fat:
68
g
|
Saturated Fat:
15
g
|
Polyunsaturated Fat:
12
g
|
Monounsaturated Fat:
37
g
|
Trans Fat:
1
g
|
Cholesterol:
204
mg
|
Sodium:
483
mg
|
Potassium:
549
mg
|
Fiber:
1
g
|
Sugar:
3
g
|
Vitamin A:
383
IU
|
Vitamin C:
5
mg
|
Calcium:
34
mg
|
Iron:
3
mg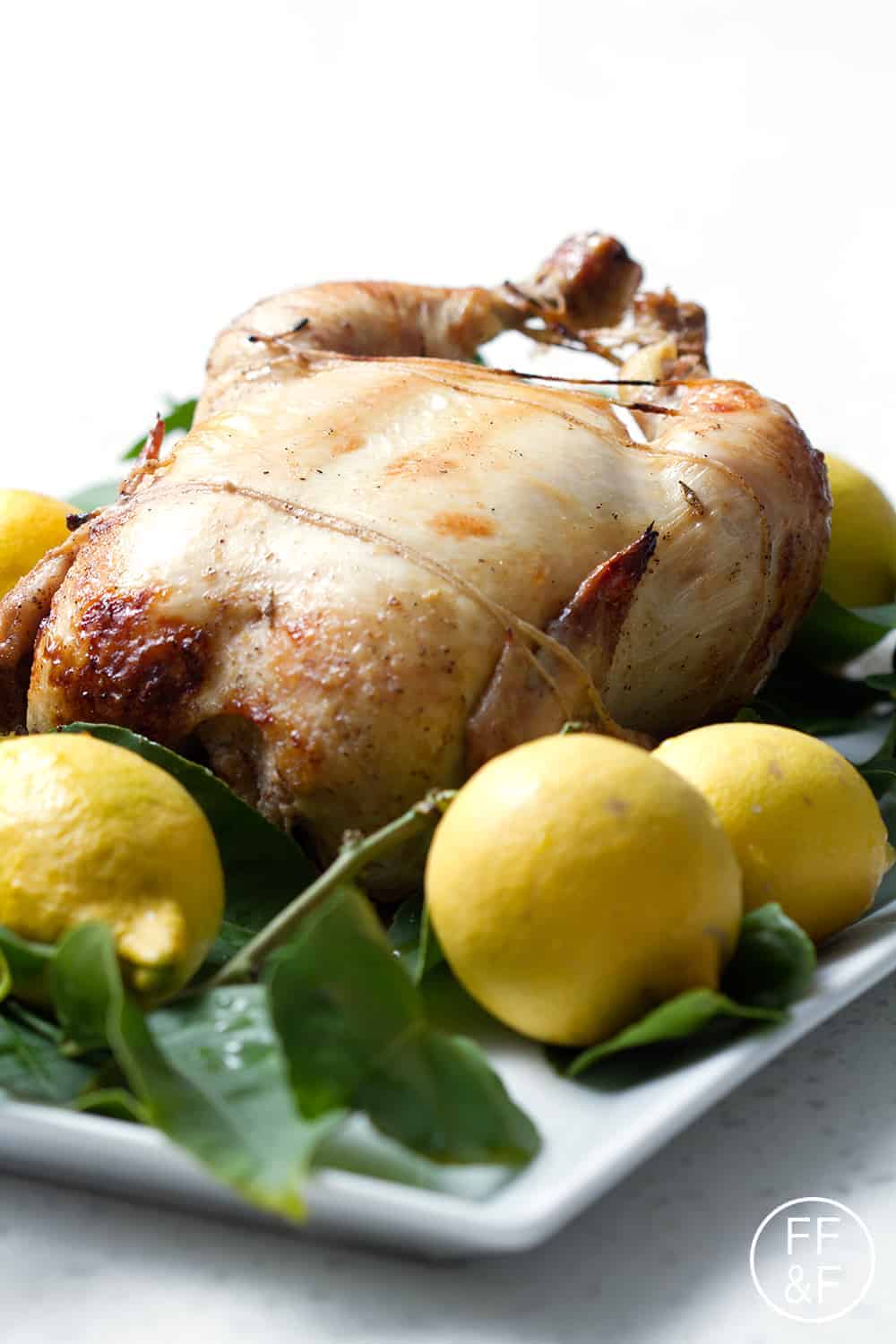 Tips
Make sure that the bird is secure on the spit before turning on the burners. The rotisserie stick needs to be completely cool before you can add the bird. You'd end up with third degree burns if you tried to make adjustments after the grill has been turned on.
Get to know your equipment before you start cooking. Once the grill is hot, it becomes incredibly difficult to make any adjustments. It's just better to fully understand how the grill operates in advance so there are no surprises while you're cooking.
Adjust the weight. Not all rotisseries have them but they should. Weights keep the bird balanced. Make sure to adjust the weight and make sure the bird spins on the rotisserie properly. If it looks unbalance adjust the bird and/or the weight.
I like to brine whole birds before cooking. I find that whether it's roasting or rotisserie, it gives them flavor and helps them retain their moisture.
Use the drippings to make gravy. We used the rotisserie to cook our thanksgiving turkey this year. The combination of drippings, basting juice and apple juice made for some very flavorful gravy.
Get an extra set of hands to help. It's difficult to try and wrangle a slippery bird onto a very sharp rotisserie stick on your own. It can be done but having an extra set of hands to help out, streamlines the entire process.
Use oven mitts and a basting brush meant for grilling. Grills can get incredibly hot, incredibly fast. So much hotter than your oven! You shouldn't be so close to the grill that you feel the mascara on your eyelashes melting. If you're using your 5-inch kitchen basting brush then you're going to be too close. Get a basting brush that's meant for the grill that is extra long. Grabbing the rotisserie with kitchen oven mitts will still burn you. They aren't thick enough to protect your skin from burns. You really need something that's meant for the grill like leather gloves.
If you want to use a larger bird, like a turkey, make sure that the weight and size is ok for your specific grill. Like I mentioned above, we used the rotisserie to grill the thanksgiving turkey this year. It weight about 15 pounds and I'm not sure if the rotisserie could have done a larger bird. It seemed to have trouble turning and the bird was so wide that it almost hit the grates below.