This recipe for Vietnamese Pickled Vegetables using carrots, cucumbers and daikon radishes is quick pickled. That means they are done in an hour or two and last weeks in the fridge. They are the perfect side dish to burgers or ribs.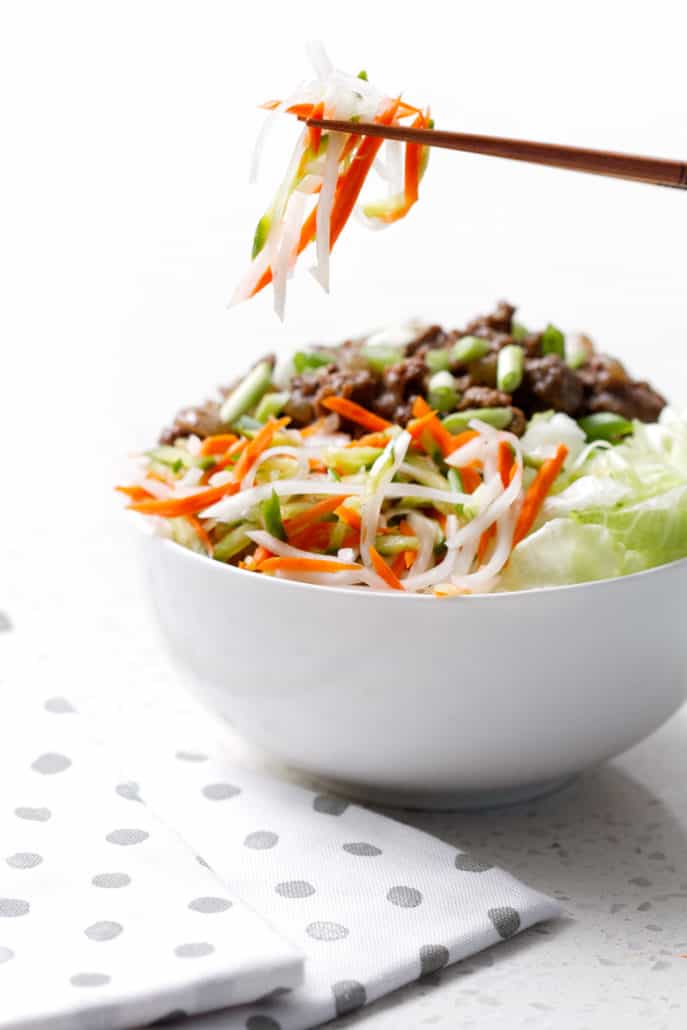 Old school pickling scares me a little as I don't want to poison my loved ones or myself. It's also super time consuming. Maybe one day I'll conquer pickling but not while I'm wrangling my young son. So, quick pickling is more my speed and allows me to indulge my love of pickles using high quality ingredients that won't made me ill.
This quick pickle recipe ends up on a lot of Vietnamese dishes. I always see them in salads and along side meat dishes at my favorite Vietnamese restaurants. I've included them in my Beef Bowl. It's a nice way to cut the fattiness of the meat like ribs (try my Slow Cooker Cardamom Ribs) or chicken thighs (try my Italian Chicken). Although I have a tendency to just eat them right out of the jar.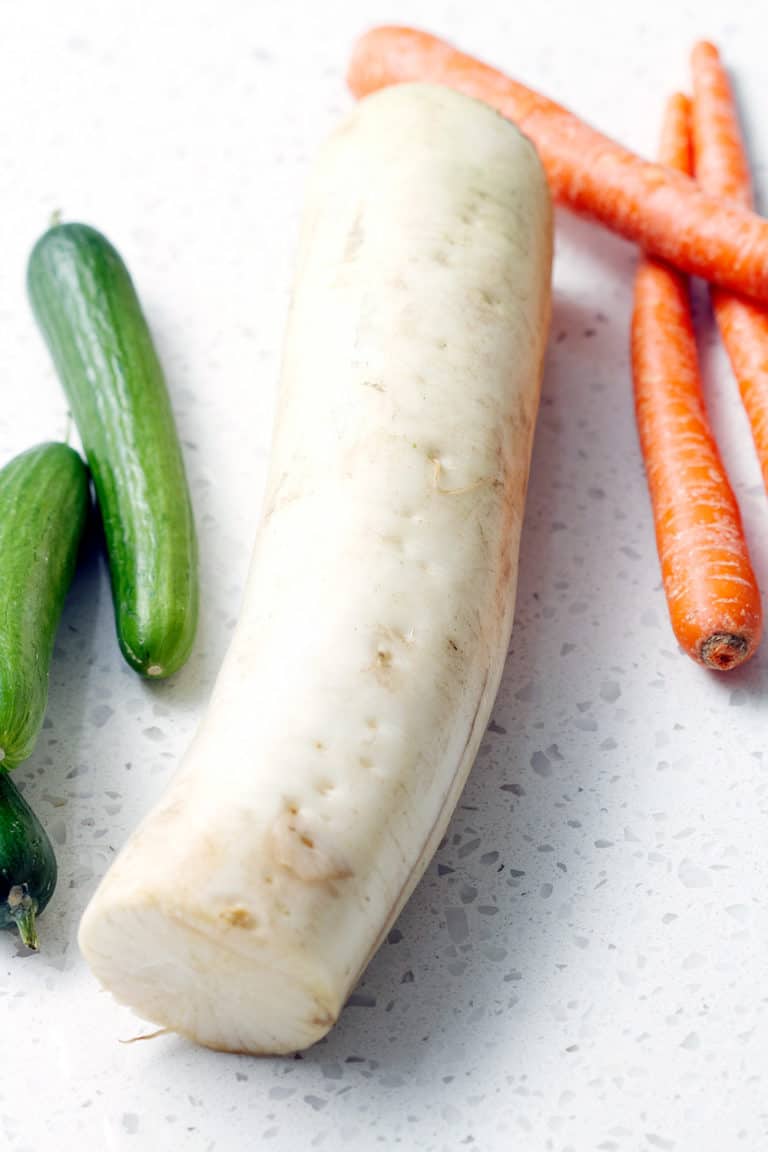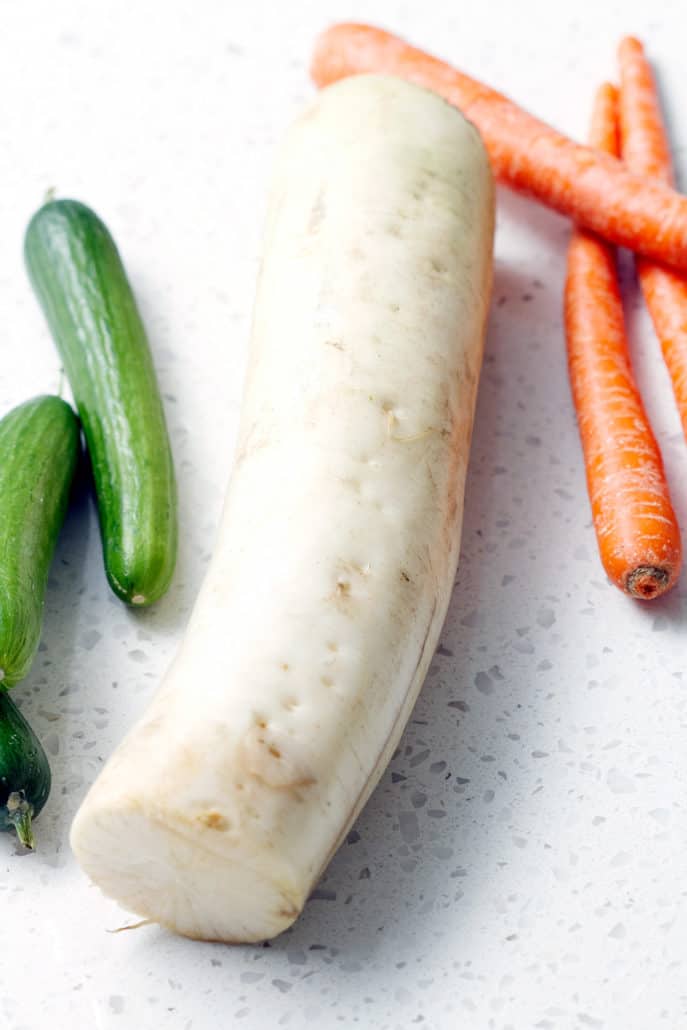 Pickled vs. Fermented
Just to be clear, these are quick pickled or refrigerator pickles. However, they are not fermented pickles. Often times they are lumped together but they are not always the same thing.
Pickling is when something is preserved in brine (salt and water) or an acid (lemon or vinegar). Fermenting is when food is preserved and transformed by bacteria.
Here's where it gets confusing. Some fermented foods are pickled, and some pickles are fermented. But not all fermented foods are pickles! And not all pickles are fermented!
For instance, kimchi, is both pickled and fermented because it uses salt AND bacteria to preserve the cabbage. Kombucha is not pickled because there's no salt involved. It is fermented because the good bacteria grows from the sugar. Sourdough, beer and yogurt are all fermented foods that are not considered pickles.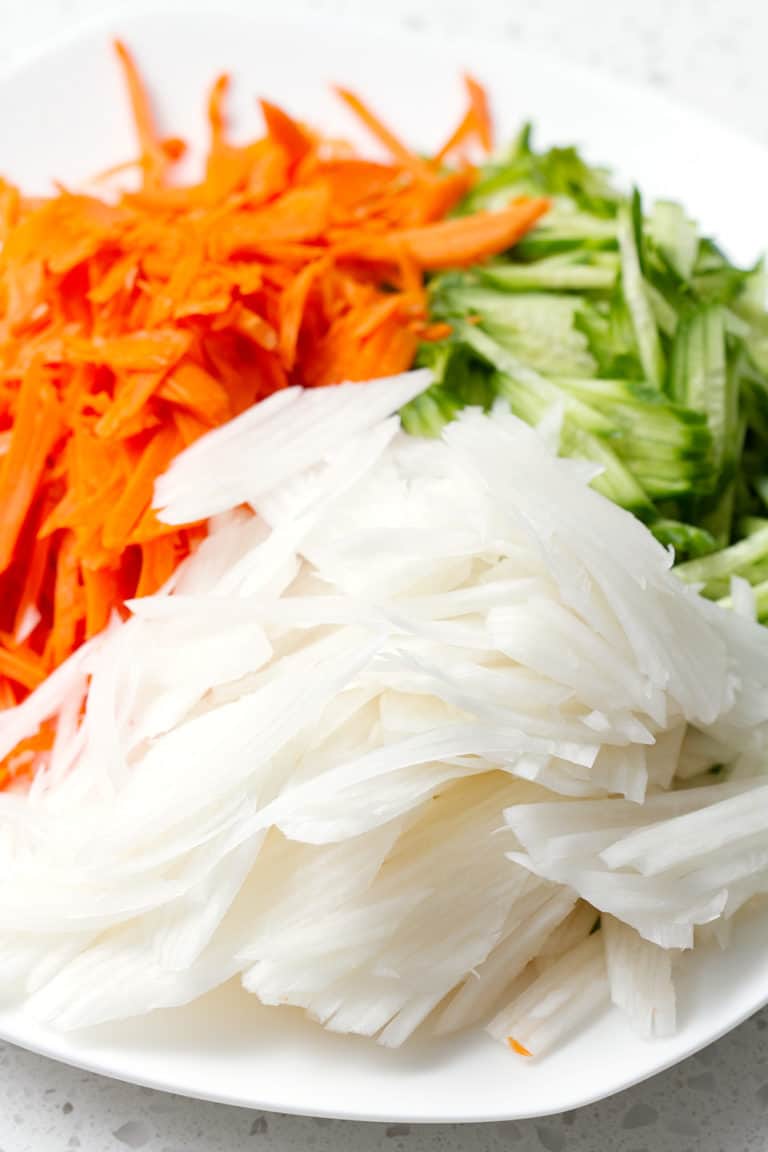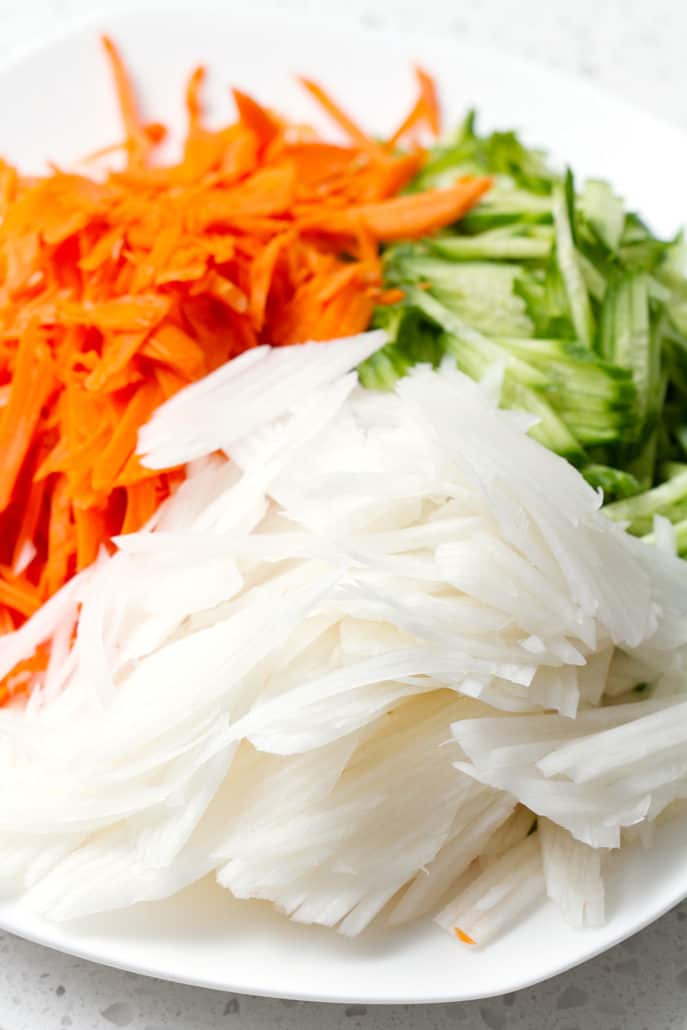 How to make homemade pickles?
Homemade pickles are actually really easy to make. It just takes a few simple ingredients (vinegar and salt) to make homemade pickles! I added a few other ingredients to make my AIP friendly version of Vietnamese Pickled Vegetables.
Again, I'm not talking about fermenting or canning so that they are shelf stable. Both of those processes seem like a labor-intensive task that may or may not end up with my family being poisoned. There are some added health benefits of fermented foods but it's not something I'm interested in doing at home just yet. [Source]
When I learned about quick pickles or refrigerator pickles, I was thrilled. I can have the same taste without risking poison and potentially wasting a ton of food.
What vegetables are good for pickling?
Many vegetables can be pickled. Here are my favorites: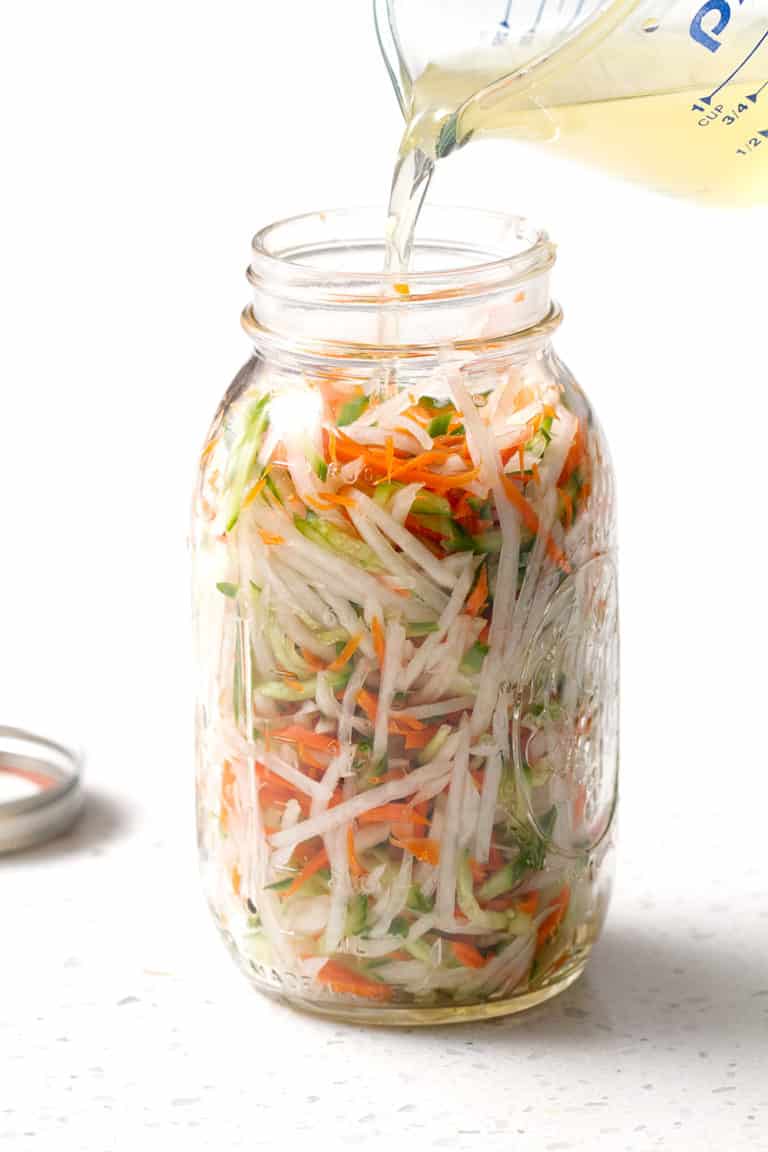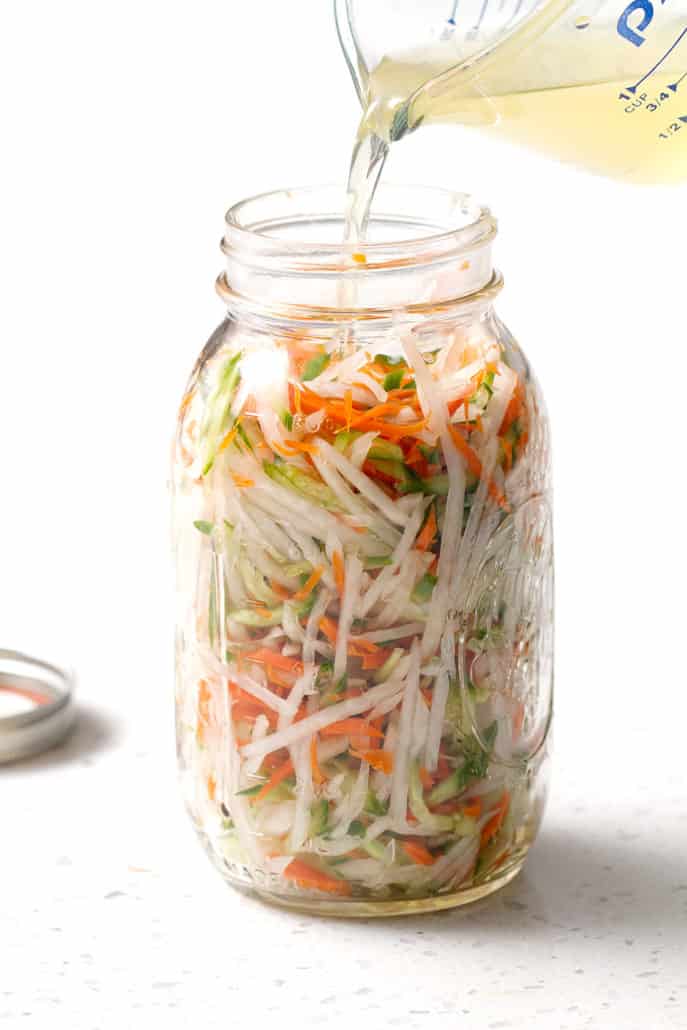 How long do pickled vegetables last?
While this Vietnamese Pickled Vegetables recipe lasts about 4 weeks in the fridge, please note that the texture will start to change. The longer they sit, the more likely they are to become soggy. I prefer to eat my pickled vegetables in under 2 weeks.
Please be aware that this is a quick pickled or refrigerator pickle recipe. That means this recipe is not fermented or shelf stable. These quick pickled vegetables must be stored in the refrigerator.
Are pickled vegetables healthy?
Pickles that are not fermented still deliver the benefits of vinegar and the veggies used. For me, it's honestly about adding new flavors to vegetables so keep them interesting.
Which vinegar is best for pickling?
Distilled vinegar is the most common vinegar for pickling, which is part of the reason I'm making these Vietnamese Pickled Vegetables recipe at home. There's no reason why you can't use apple cider vinegar or red/white wine vinegar when pickling at home.
Are pickled foods good for your gut?
The easy answer is yes. There is definitely a health benefit to eating vegetables. However, fermented pickled vegetables would have an even added benefit to your gut health over quick pickled vegetables. However, you can get those benefits from other sources like kombucha, coconut milk yogurt, coconut milk kefir, and water kefir. [source]
I think the most important thing is to maintain a diverse diet and not rely on any one food for all your nutrients.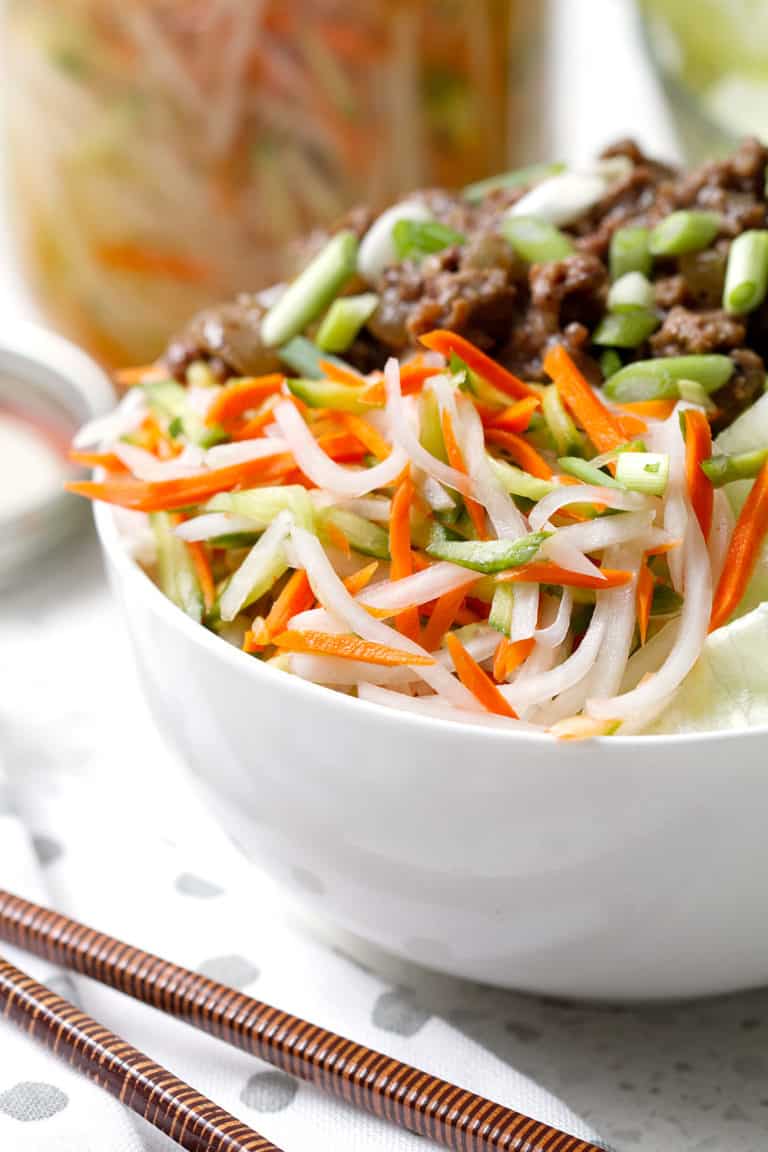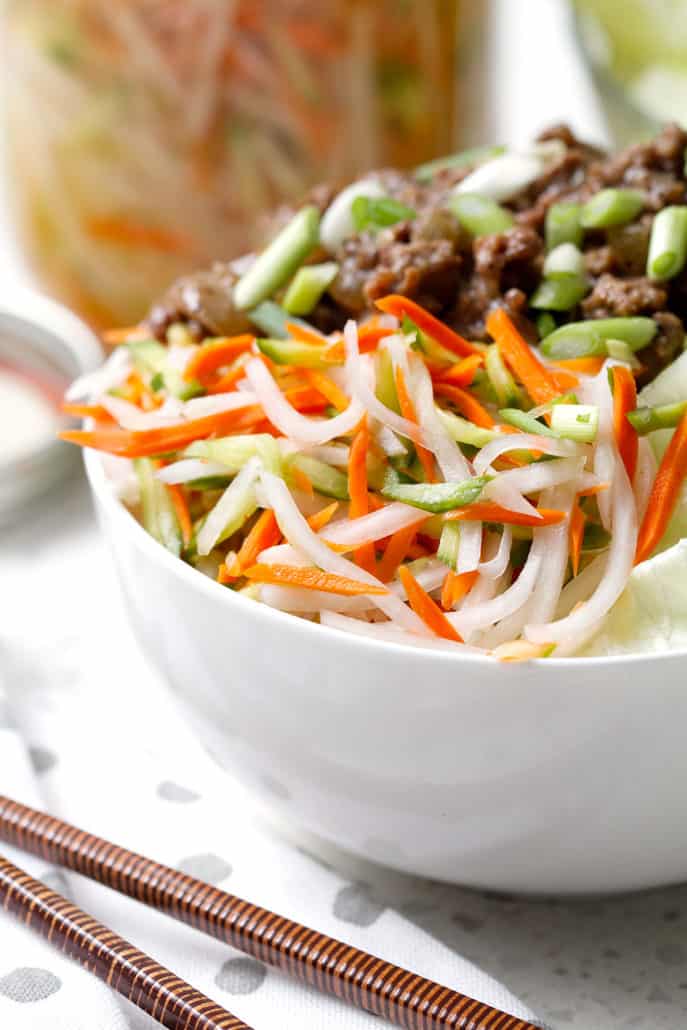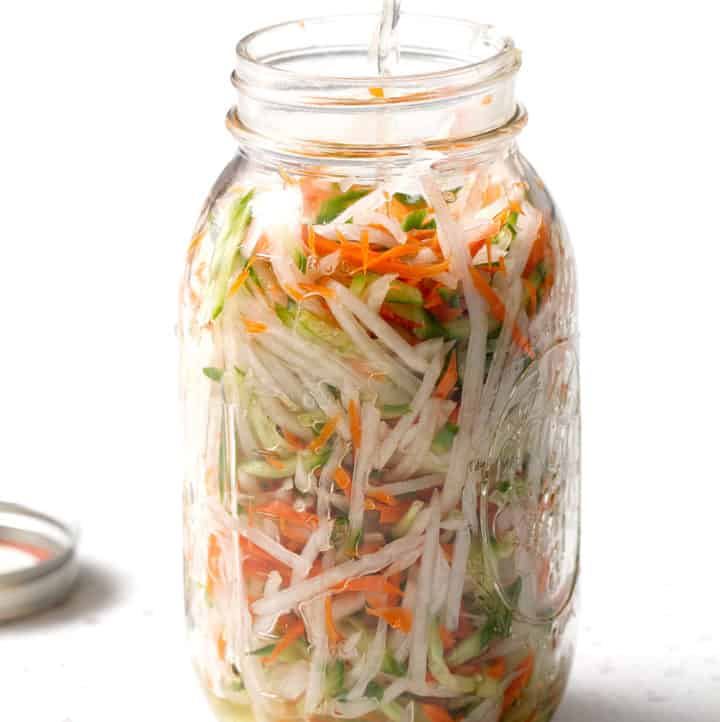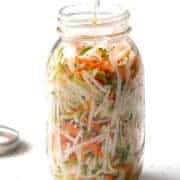 Print Recipe
Vietnamese Pickled Vegetables
Vietnamese Quick Pickled Veggies are pickled veggies with as
Asian twist. They are a great condiment or side. This recipe is AIP, Paleo and
Vegetarian.
Ingredients
1 1/2

cup

White Wine Vinegar

(Rice Vinegar would be a great substitute however it's not AIP. Rice is a AIP Reintroduction.)

1/2

cup

Warm Water

1/4

cup

Honey

1/2

teaspoon

Salt

1

cup

Carrots, peeled and shredded

about 3

2

cups

Daikon, peeled and shredded

about 1/4 large

1

cup

English Cucumbers

(about 3 Persian Cucumbers would be a good substitute)
Instructions
Put vinegar, water, honey and salt into a large bowl and whisk until the honey is dissolved.

Add carrots, daikon, cucumbers and toss to combine.

Cover and refrigerate for at least 1 hour or up to several hours before serving.
Notes
Since this is just a quick pickled recipe, this needs to be stored in an airtight container in the refrigerator.
This recipe will last about a week in the fridge.
Nutrition
Serving:
1
cup
|
Calories:
109
kcal
|
Carbohydrates:
24
g
|
Protein:
1
g
|
Fat:
1
g
|
Saturated Fat:
1
g
|
Sodium:
333
mg
|
Potassium:
318
mg
|
Fiber:
2
g
|
Sugar:
21
g
|
Vitamin A:
5375
IU
|
Vitamin C:
15.8
mg
|
Calcium:
36
mg
|
Iron:
0.9
mg
Do you like this recipe? Be sure to share this recipe on Pinterest or leave a comment below!