My 5 Ingredient Pesto Fish Patties are the poor man's crab cakes. I use cod instead of crab which is so much cheaper and easier to find. They are also the busy person's quick and easy way to a delicious home cooked meal. They are also great for those on the AIP diet. Stop. Wait. What is AIP? Why are some recipes geared towards this diet?
As some of you may know, I've been dealing with food sensitivities/allergies for a few years. After my son was born, my body went a little haywire and my list of foods grew. In an effort to reboot my belly I've been trying the autoimmune protocol diet. It's meant to heal your gut by removing foods like nightshades, grain, nuts, etc. that can be upsetting to your system. The AIP diet is actually a stricter version of the paleo diet, which is extremely popular right now. I've been on it a few months and have mostly stuck to the diet. I say mostly because a girl needs her wine. This diet won't be forever but I wanted to share the delicious recipes I've found in hopes that it helps someone else from struggling.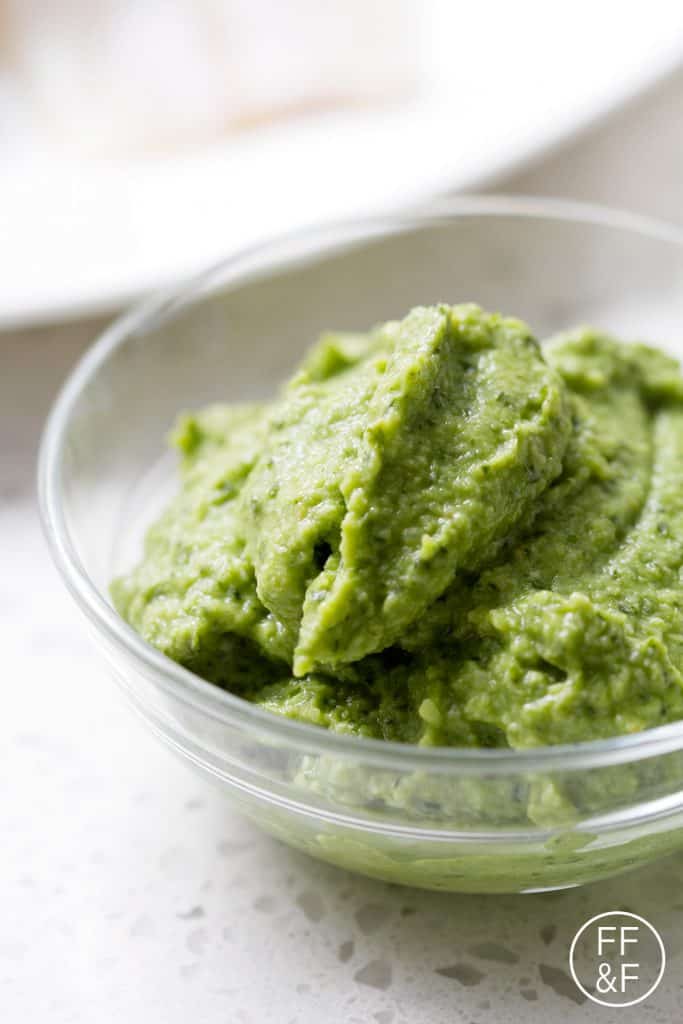 If any of you have tried this diet or any diet that's restrictive, then you know how difficult it can be. To be honest, I was hungry for a few weeks before I figured out how to make it work for my family. I've gotten into a groove and found a few really great recipes, including this one for 5 Ingredient Pesto Fish Patties.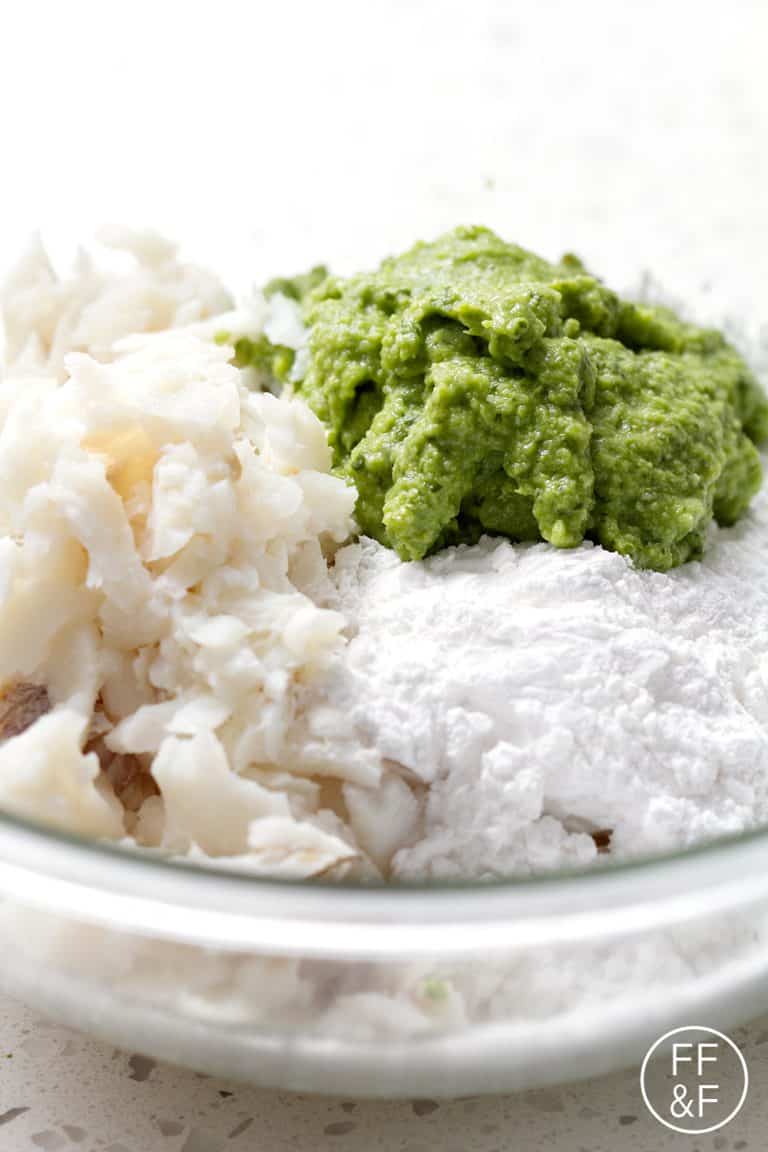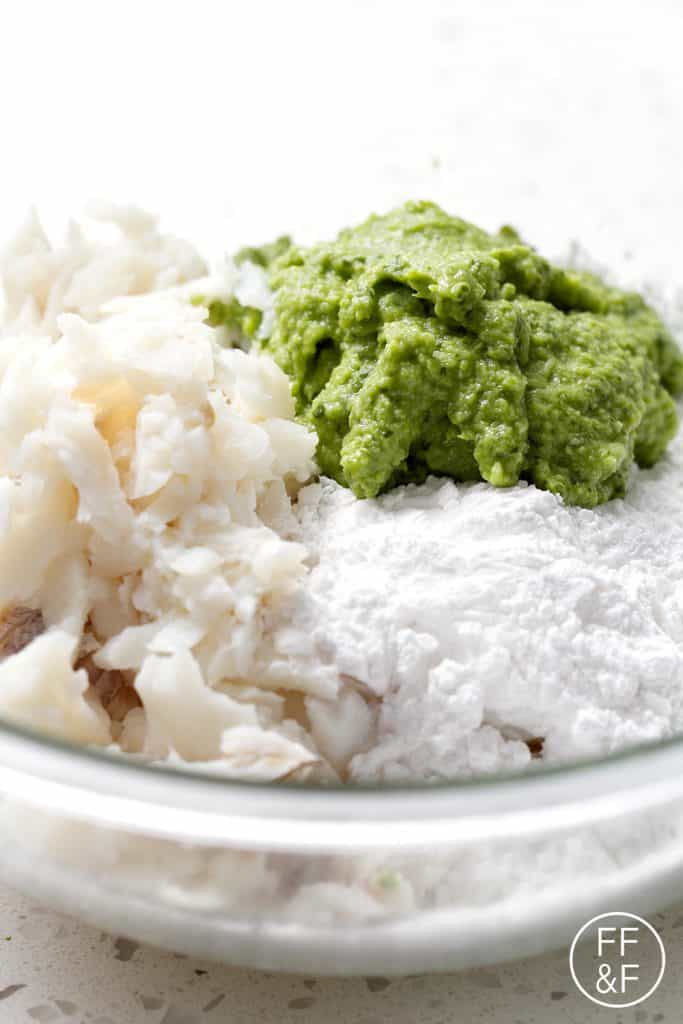 I was craving pasta but I needed something to act as a sauce as the AIP diet is nightshade free (bye bye tomatoes, bell peppers, tomatillos, potatoes, etc.). I came up with another favorite AIP recipe, Vegan Basil Pesto. It's dairy and nut free but still has a ton of flavor. I used it as the base for my fish patties. It's the reason why this recipe only requires a few ingredients. You're welcome to use store bought pesto to make this recipe even easier.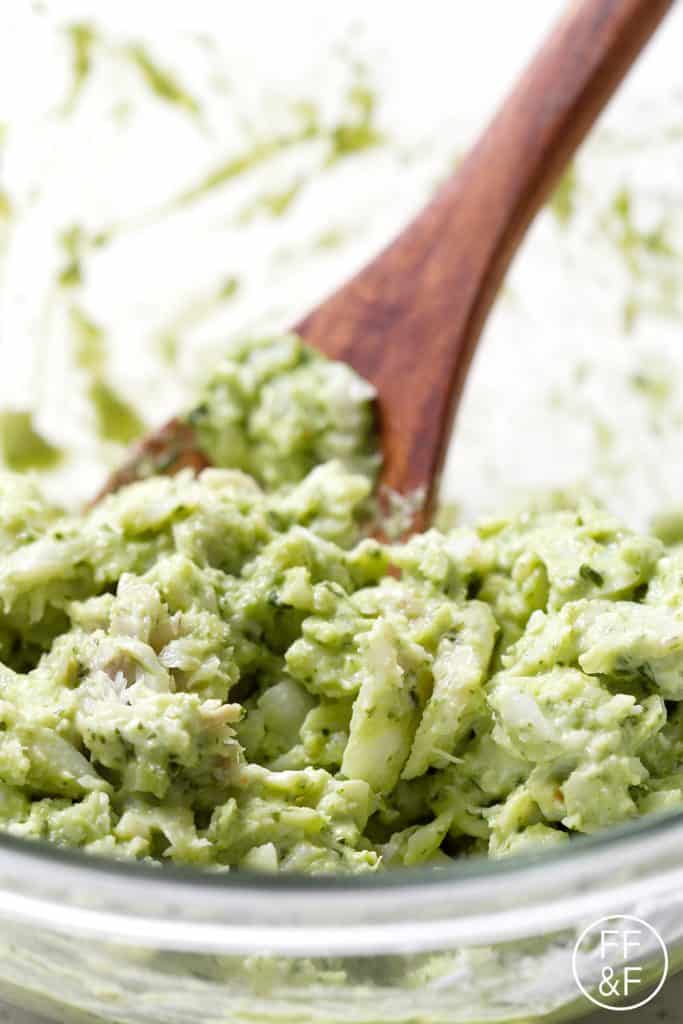 This recipe is actually pretty quick. The most labor-intensive part of this recipe is the frying. This recipe makes enough patties that you'll have to fry them in batches so it takes a little extra cooking time to complete this recipe. If you want them all on the table at once, then you can use two fry pans and cook them all at the same time.
Have you tried the paleo or autoimmune protocol diet? I'd love to hear your experience. Leave me a note in the comments below.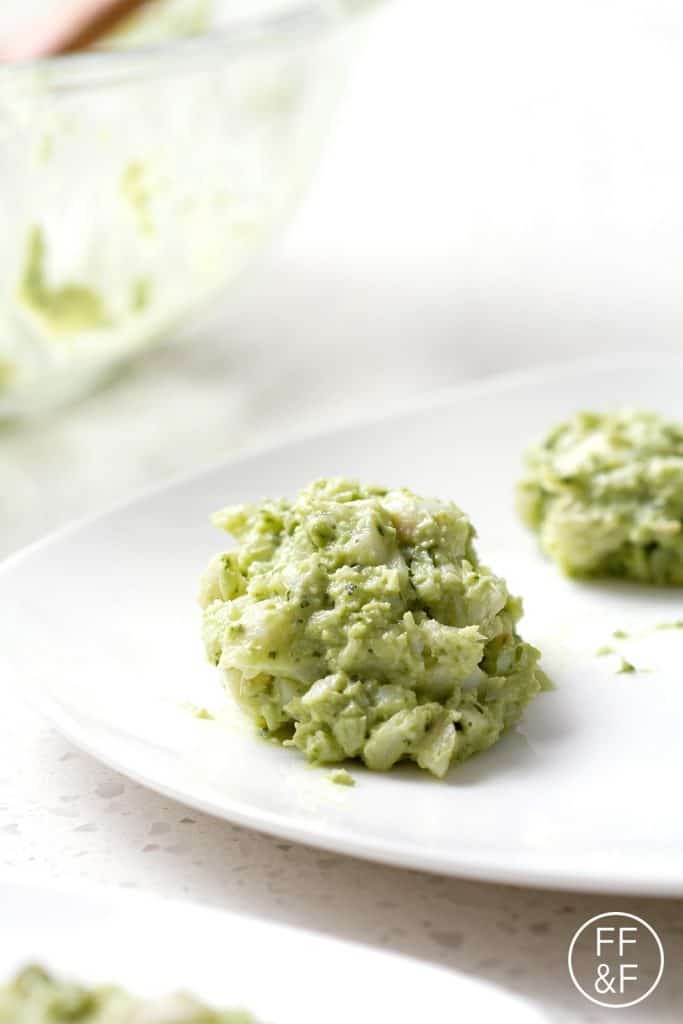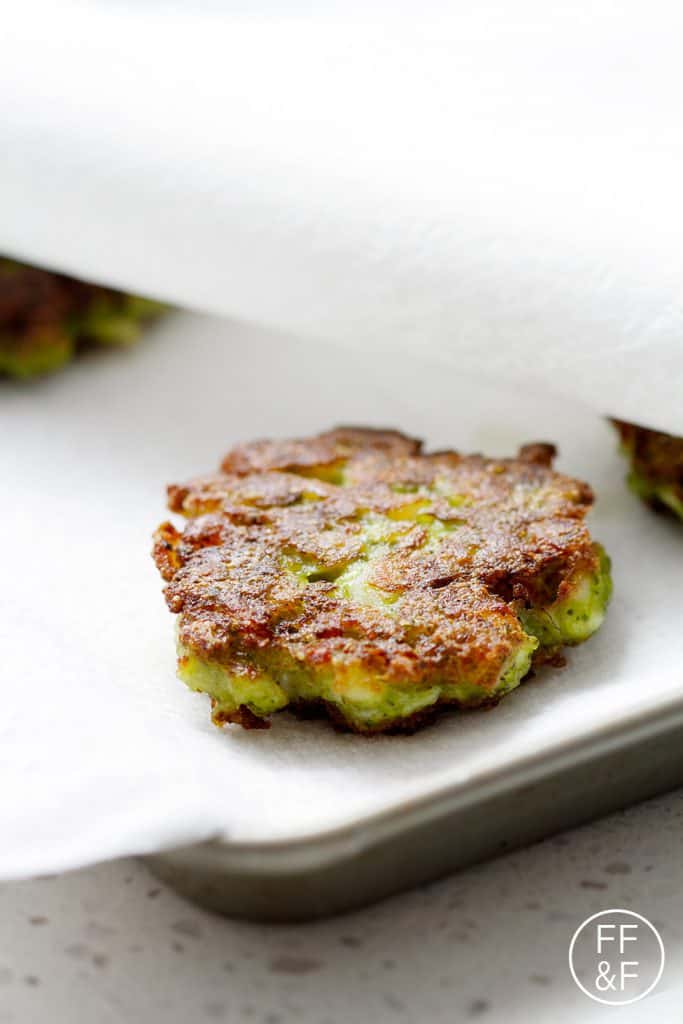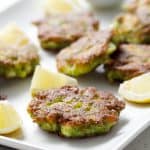 Print Recipe
5 Ingredient Pesto Fish Patties
These Pesto Fish Patties are made of only 5 ingredients and that includes the salt! It's amazingly flavorful even with such few ingredients. This recipe is gluten, soy, nut and dairy free which is great for paleo and autoimmune protocol diets.
Ingredients
1 1/2

pounds

Cod Fillets

2

teaspoons

Salt

1/2

cup

Arrowroot Flour

3/4

cup

Vegan Basil Pesto

3

tablespoons

Lard orAvocado Oil

you can use any light oil that has a high smoking point

Lemon

quartered (for serving)

Tarter Sauce

optional, for serving
Instructions
Bring a small stockpot filled with about 8 cups of water to a boil.

Add the salt to the pot and then stir to make sure that the salt has dissolved and been disturbed.

Next add the cod fillets to the water and boil for about 3-5 minutes or until flakey.

Turn off the heat and remove the fish from the water with a slotted spoon. Taking care to drain off as much water as possible.

Place the cooked fish into a mixing bowl and then let cool slightly.

Using a fork, flake the fish into smaller pieces and then add remaining ingredients to bowl.

Using a spoon or your hand, mix to combine.

Heat lard or oil in a medium to large sized frying pan for about 2 minutes.

Divide meat mixture into 8-10 sections.

Gently roll each section into a ball in your hands and flatten into a patty shape.

Carefully add formed patties to the hot oil and fry for 3-5 minutes per side, until browned and crispy to your liking. Take care not to flip the patties before they are ready. Repeated flipping will cause them to lose their shape. Also, you'll need to cook them in batches as there won't be enough room in one pan for all 8-10 patties.

Serve with tarter sauce and lemons.
Nutrition
Serving:
1
fish cake
|
Calories:
98
kcal
|
Carbohydrates:
7
g
|
Protein:
15
g
|
Fat:
1
g
|
Saturated Fat:
1
g
|
Cholesterol:
37
mg
|
Sodium:
627
mg
|
Potassium:
351
mg
|
Fiber:
1
g
|
Vitamin A:
34
IU
|
Vitamin C:
1
mg
|
Calcium:
17
mg
|
Iron:
1
mg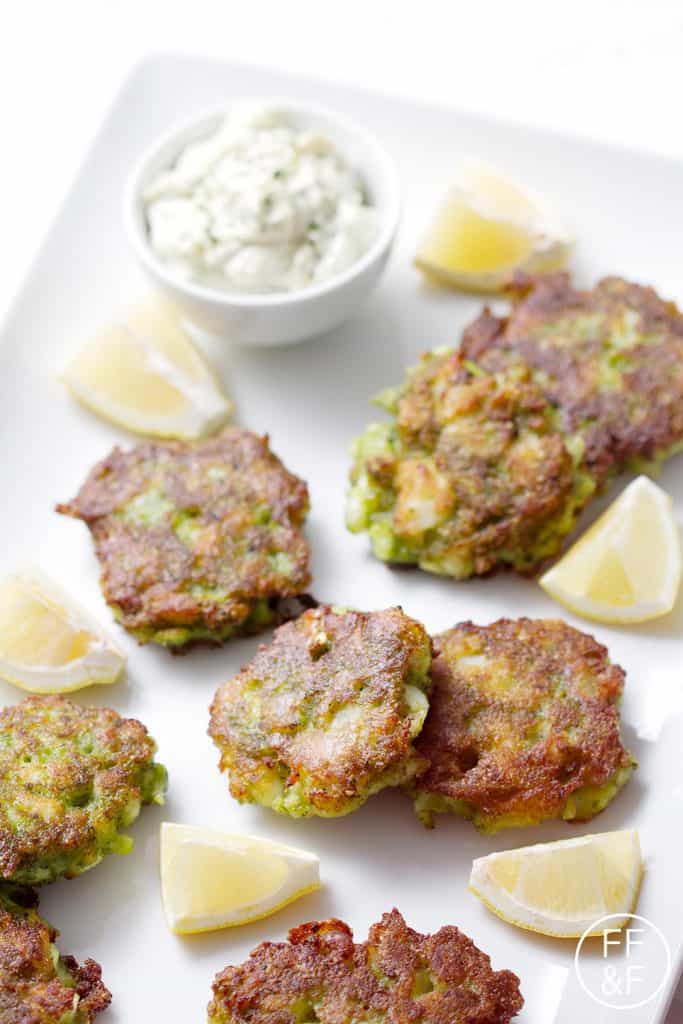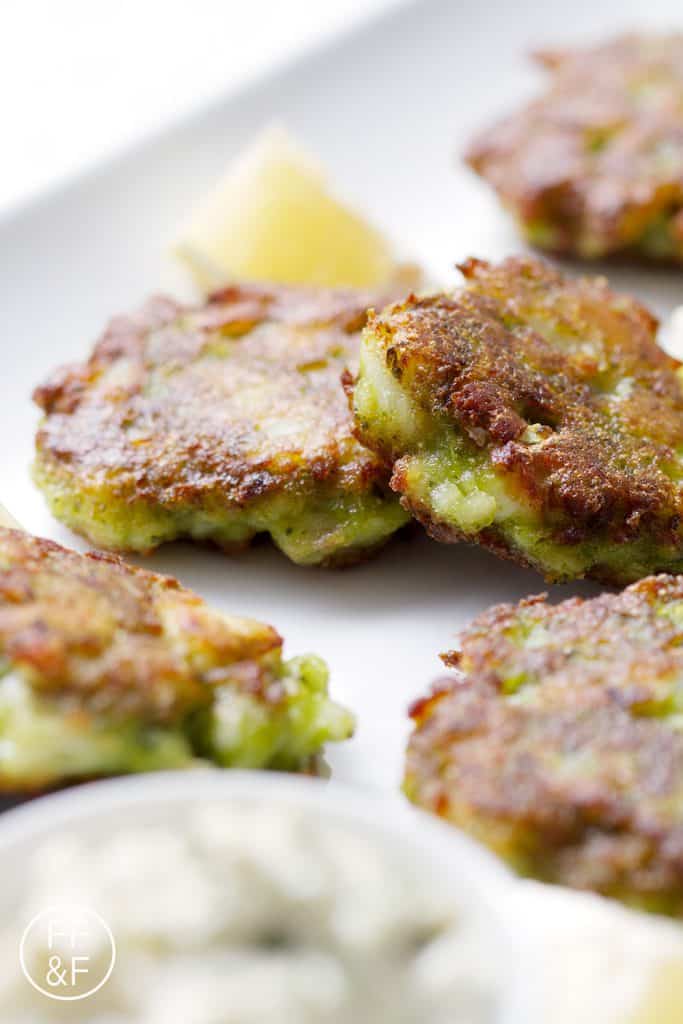 If you like this recipe, be sure to share it on Pinterest or leave a comment below!