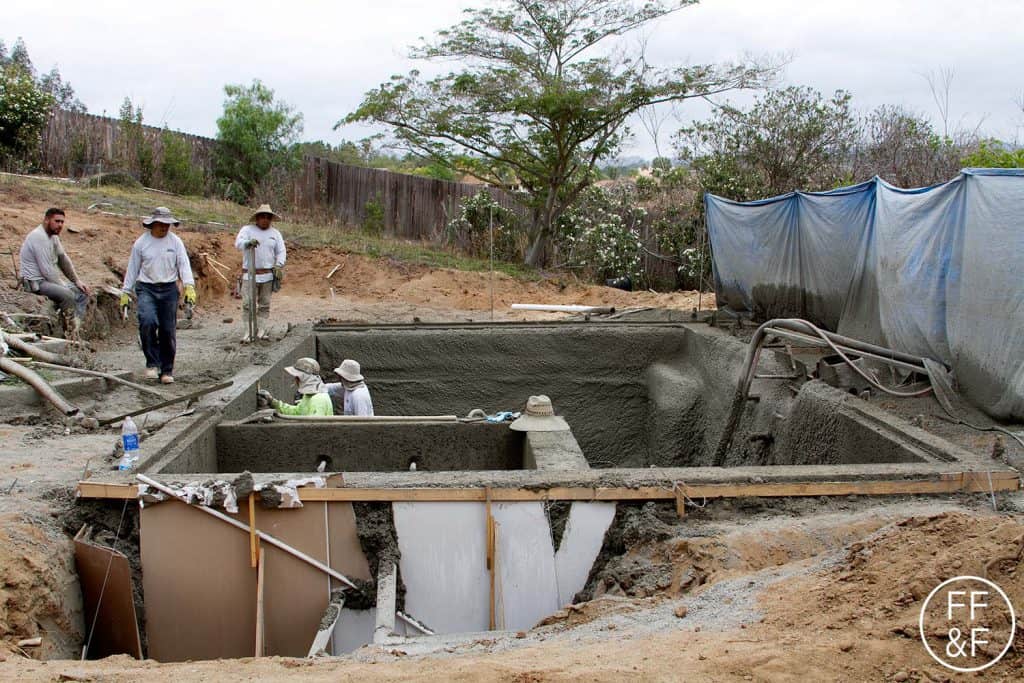 The concrete was the most exciting step in the renovation since the demo. It was a full day's work for about five guys. It briefly crossed my mind that the process would use a concrete mixer with a concrete slide to guide the concrete into place like they would if they were building a concrete basement. The side yard just isn't big enough for a full size truck so I thought that they would just mix concrete and shovel it into the pool. I was so wrong.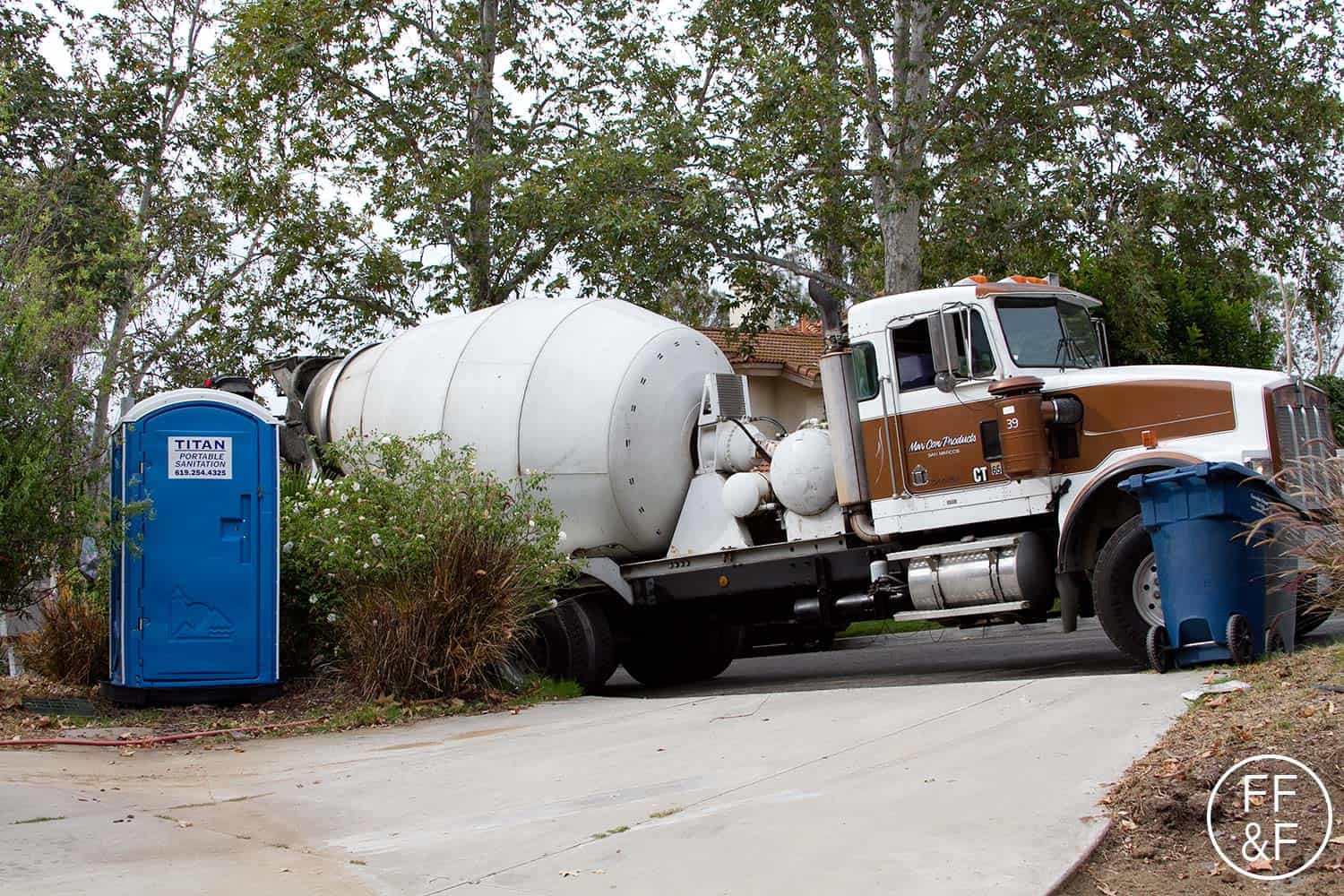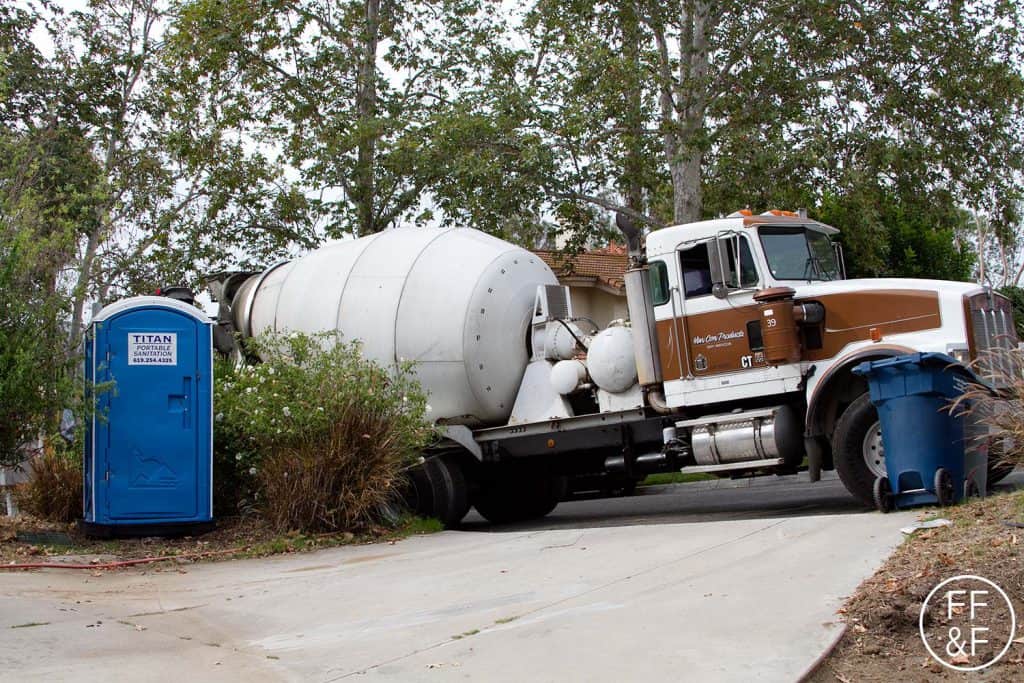 That morning a concrete mixer pulled up and parked right in front of our house. They then used a huge hose that started at the truck and went down the side yard and ended in the pool.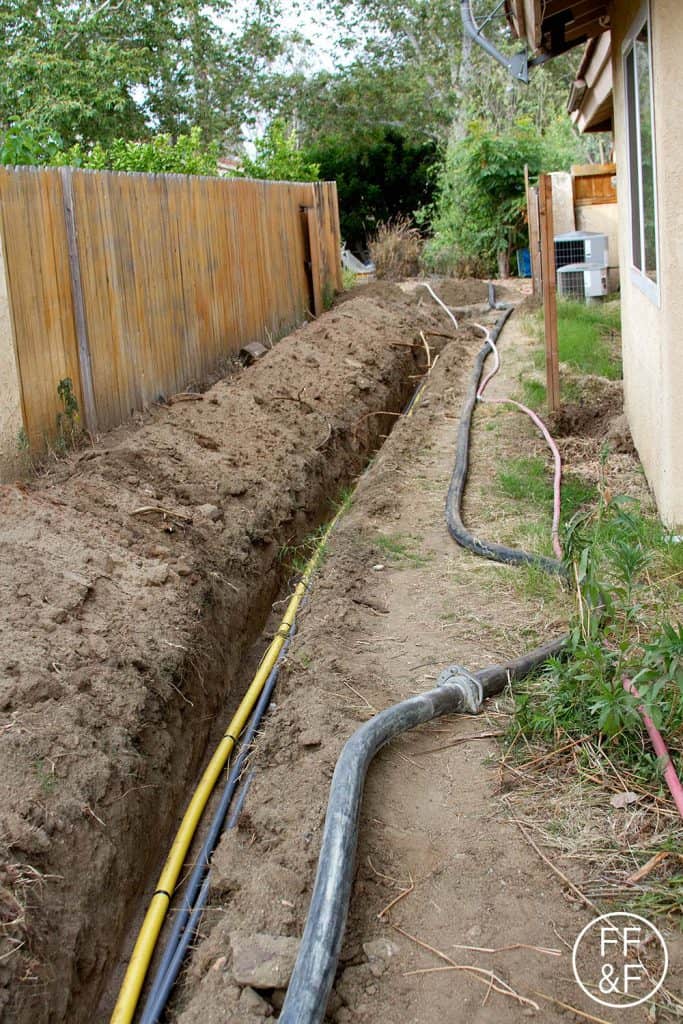 They ended up using the hose to spray the concrete into place. It's the craziest thing to watch. It almost looks like a fire hose because it has such a force that it can knock a grown man on his butt if he's not careful.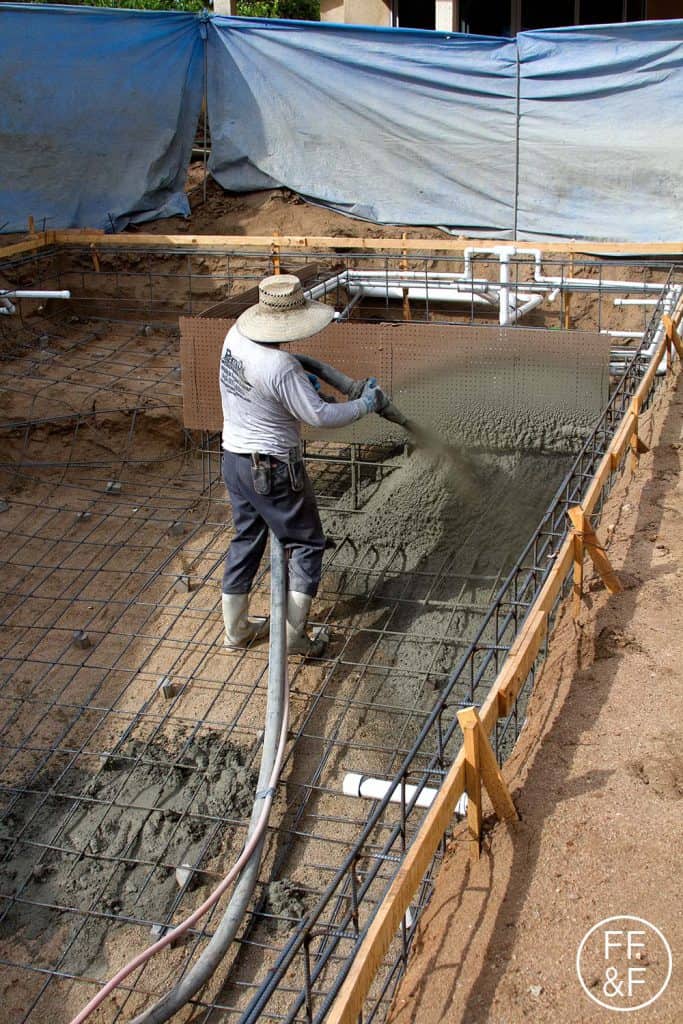 They also had to set up a plastic tarp as a screen around the pool to catch the spray. I would have loved to stay out there and see the entire process but the open trenches and tarps made the backyard a major hazard. I almost fell a few times and thought that I better just stay out of the way before I hurt myself.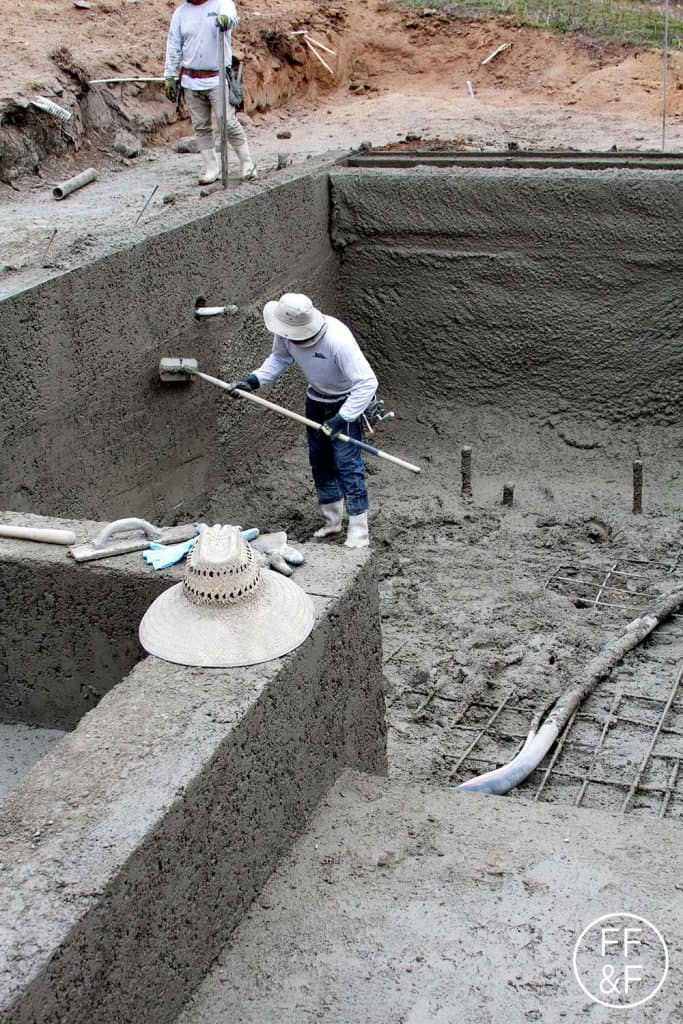 After they sprayed the concrete then they have to smooth it out by hand. They also make all the corners straight and fine-tune the shape of the pool.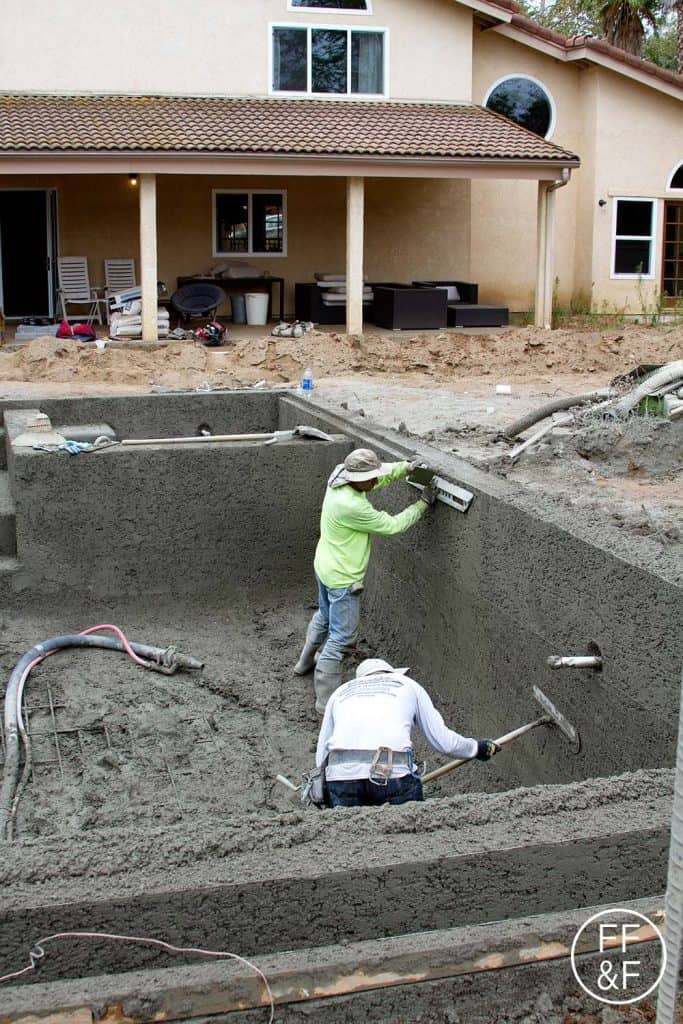 We were dodging rainstorms during June and July, which is very surprising for San Diego. It's normally a desert during the summer. It wasn't just a lot of rain but we also had a ton of lightning. It was cool to watch but not great for construction. We got rain a few days before and after the concrete but it was clear skies on the scheduled day. Luckily it didn't cause any delays.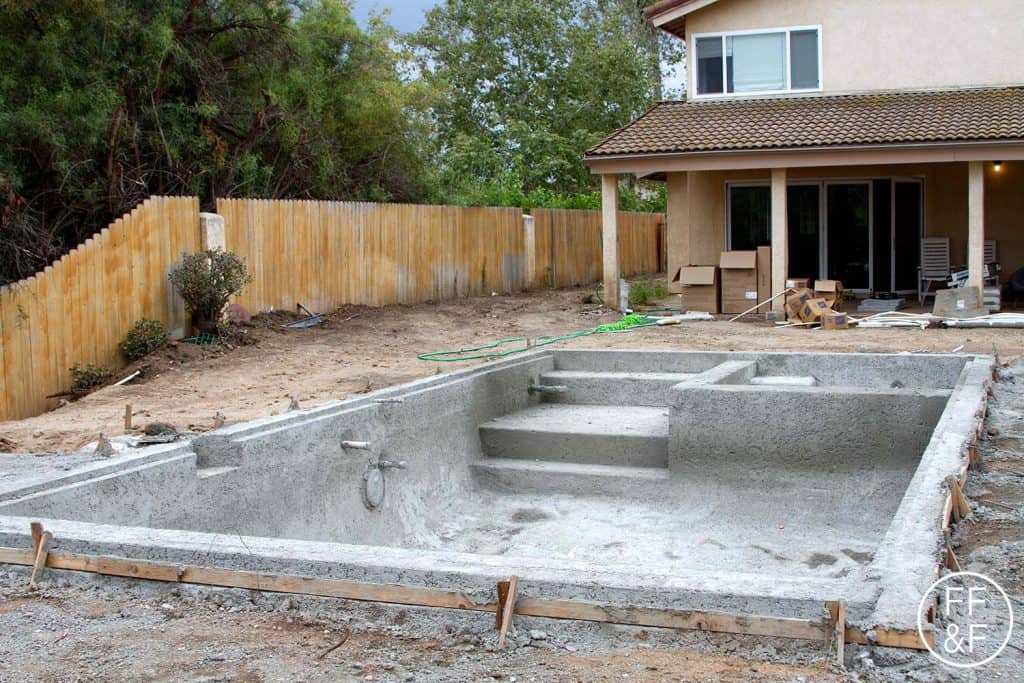 There is a chemical reaction that happens to concrete as it hardens which causes it heat up. To keep the concrete from over heating or cracking, we needed to use the hose and spray down all the concrete twice a day for five days. The first few days you could actually hear the concrete sizzle when the water hit it.
Stay tuned for the next step in our renovation, which is the pool tile and coping! In the meantime, be sure to follow along the renovation on instagram using the hashtag #BethHomeProject.
If you missed my last post, check out Backyard and Frontyard Renovation: Steel, Plumbing and Electrical.