Please note that this recipe is not AIP, however, I'm looking forward to making it changing the recipe to make it compliant.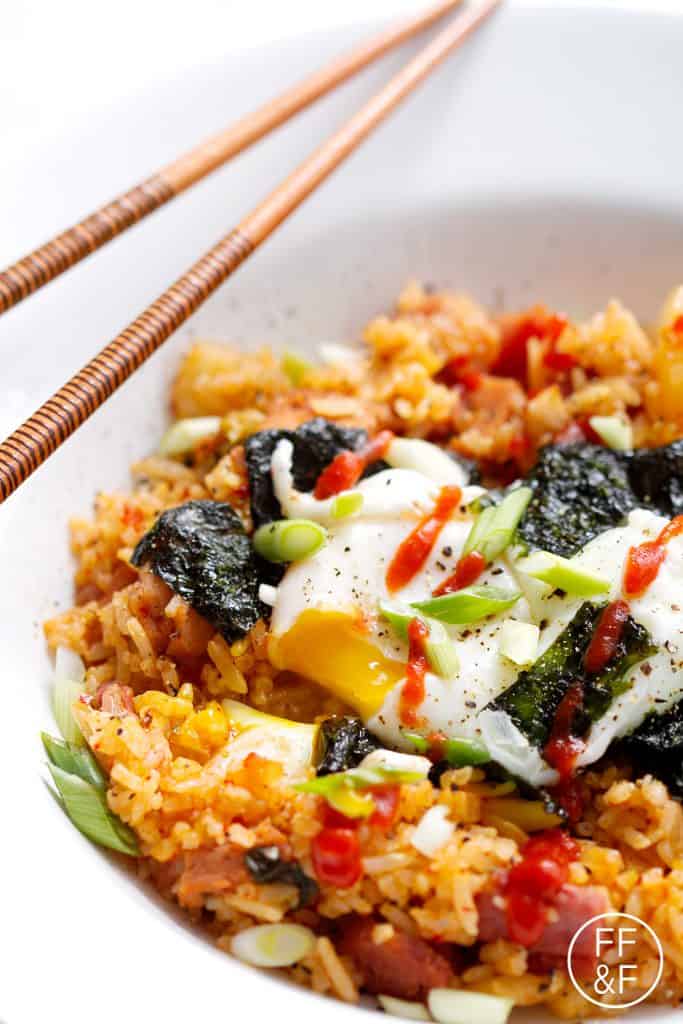 It's springtime, which means glazed ham. It's the traditional springtime meal. If you're like me then you will be eating it almost every weekend until Easter. Do I sound like I'm complaining? Well, I love ham but eating it for a month can get a little boring which is where this recipe comes in handy. Just add a little bit of kimchi to leftover rice and ham and you've got a completely different meal. The ham will be unrecognizable in my Kimchi Fried Rice.
Glazed ham works better than just plain ham. The sweetness tempers the spiciness, but make no mistake, this dish is deliciously spicy.
This dish can be pulled together really quickly which is great because that means that is can be breakfast, lunch or dinner. Seriously, doesn't this look like the best breakfast ever?!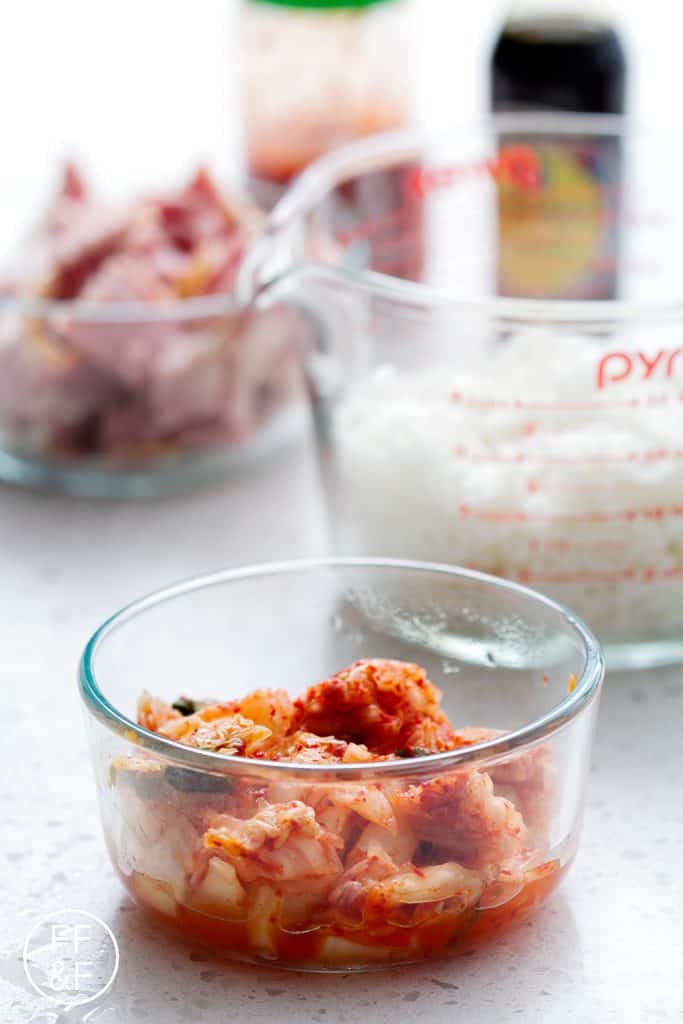 If you're allergy friendly, meaning you avoid the top 8 food allergens, then just omit the egg. Fried rice usually means that there is egg in the dish but since the egg is prepared separately then it's easily adapted without sacrificing flavor. Please note that if you have an allergy or sensitivity to sesame seed (which is in the top 10 food allergens), make sure that the seaweed doesn't contain sesame oil. It's a really common ingredient but you can find seaweed without it.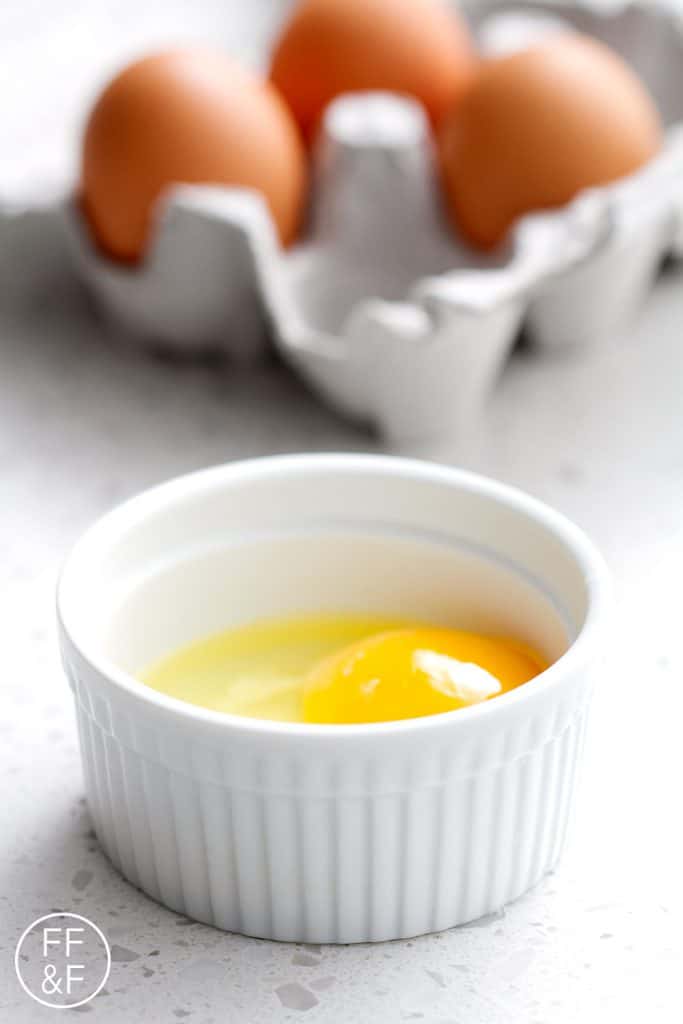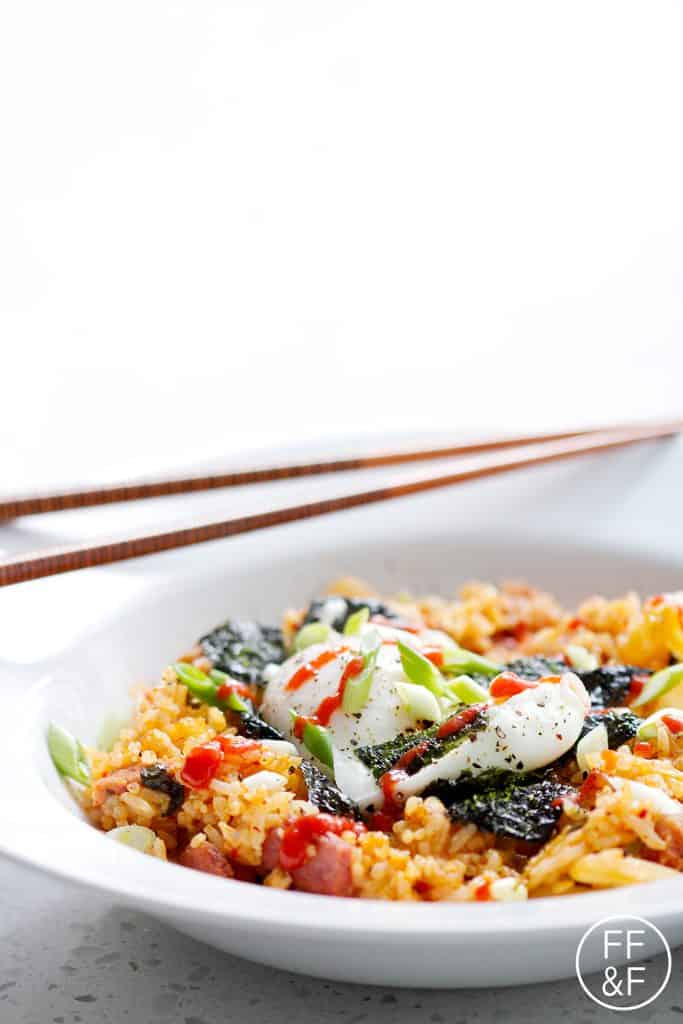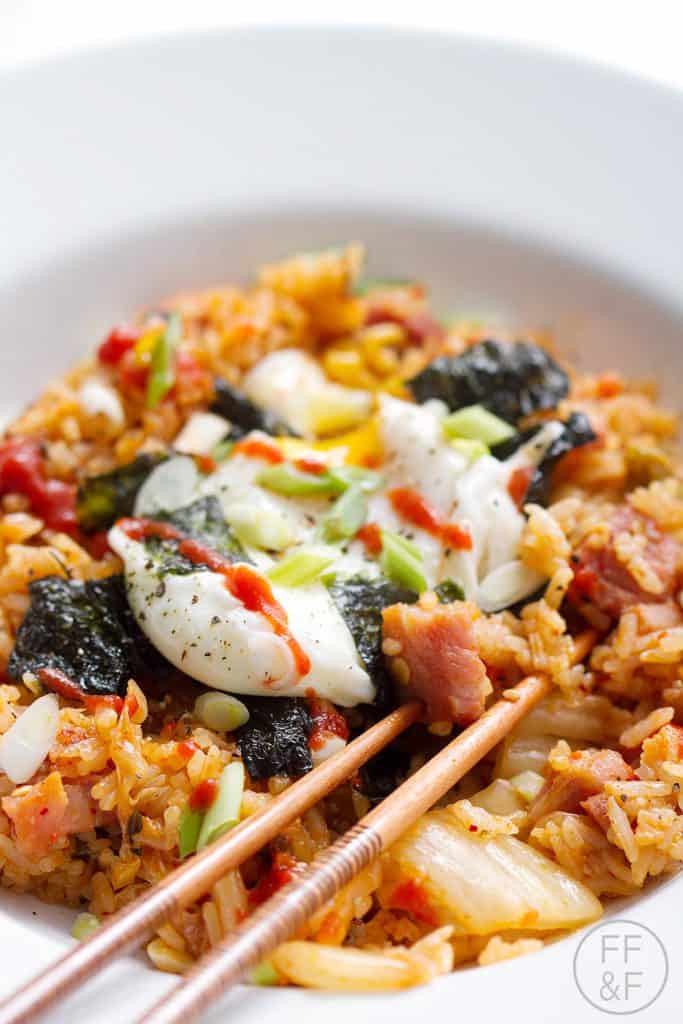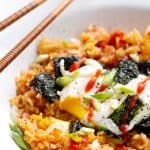 Print Recipe
Kimchi Fried Rice
This Kimchi Fried Rice dish is the perfect recipe to use leftover ham and rice. This recipe can be made allergy friendly (gluten, dairy, shellfish, nut, egg, and soy free) and suits the paleo diet.
Ingredients
1

tablespoon

Rice Vinegar

1/4

cup

Kimchi Juice

1

teaspoon

Garlic Chili Sauce

1

teaspoon

Coconut Aminos

1

teaspoon

Extra Virgin Olive Oil

2

Garlic Cloves

chopped

1

cup

Kimchi

chopped

1

cup

Glazed Ham

chopped (leftovers work great)

2 1/2

cups

White Rice

cooked (leftovers work great)

4

Eggs

optional if you're allergy free

Ground Pepper

4

Green Onions

chopped

4

sheets of Roasted Seaweed

shredded or chopped (optional)

Sriracha

to serve (optional)
Instructions
Fill up a saucepan about half way with water and then add the vinegar.

Bring to a boil under high heat.

Combine the kimchi juice, garlic chili sauce and coconut aminos in a small bowl and then set aside.

Meanwhile, heat the oil in nonstick skillet over medium heat.

Add the garlic and stir fry for about 30 seconds.

Next add the kimchi and ham to the skillet and stir-fry for 1 minute.

Add rice then stir all the ingredients together for about 2 minutes.

Add the kimchi juice mixture and cook for another 3 minutes.

Remove from heat and transfer to 4 serving bowls.

At this point, the water and vinegar in the saucepan should be boiling. Reduce heat to medium so that the water is simmering.

Crack an egg into a ramekin.

With a spoon stir the water so that it creates a whirlpool.

Pour the egg into the center of the saucepan (the center of the whirlpool).

Cook for about 3 minutes.

Remove the egg with a slotted spoon and tap the spoon on the edge of the pan a few times to remove the water.

Place the egg on top of one of the serving of rice.

Repeat with the remaining eggs.

Sprinkle a little bit of fresh pepper on top of each of the eggs.

Sprinkle each serving with equal amounts of chopped green onion, and roasted seaweed.

Serve immediately.