AIP Coconut Date bars are a yummy and sweet treat that contain zero added sugar refined or otherwise. You can add sunflowers or tigernuts for a little added crunch. I made these AIP Coconut Date Bars as part of our Chinese Candy Box. This is a Chinese tradition, which is part of the celebration of Chinese New Year.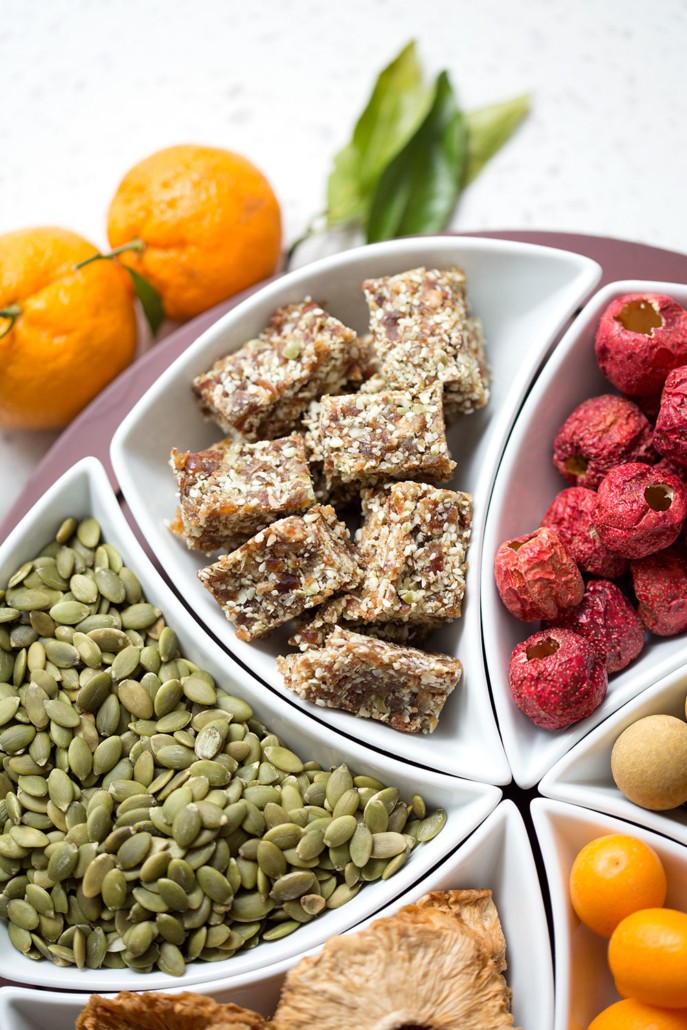 What is a Chinese Candy Box?
It's traditionally a red lacquered box that has 6 or 8 compartments. Red symbolize joy and luck. The numbers are also lucky numbers is Chinese culture. Those numbers are so lucky that my husband moved heaven and earth to have our anniversary date be 8-8-16.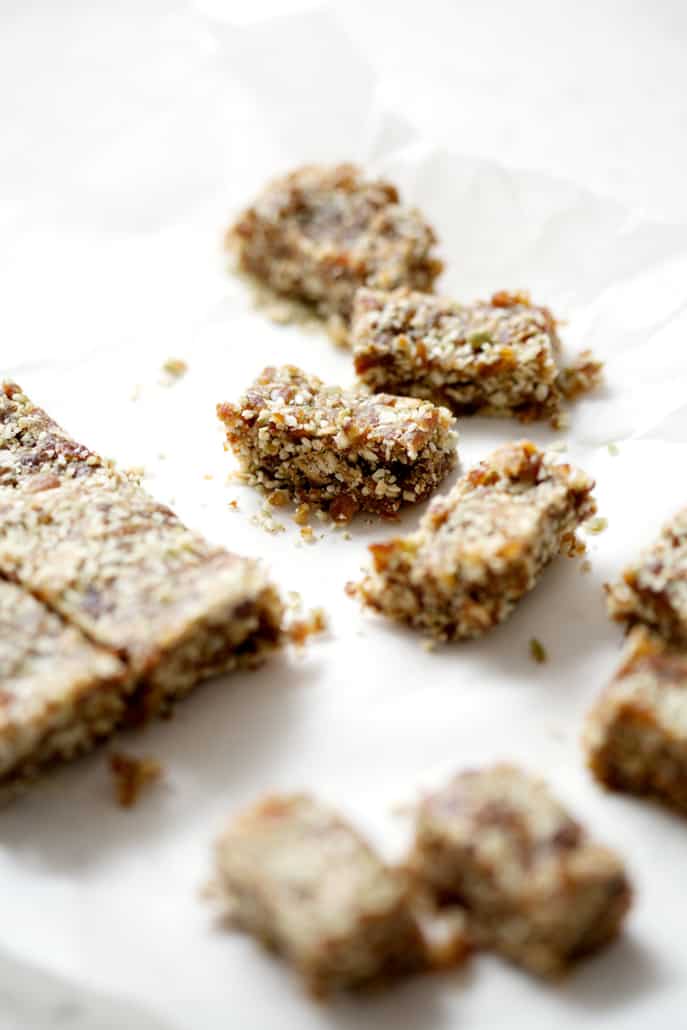 Each compartment is filled with a different snack, with dried seeds, candied nuts or fruits being the most popular choices. I've also seen a lot of little candies made with seeds and nuts. They remind me of chewy and hard candies just made with Asian flavors like sesame.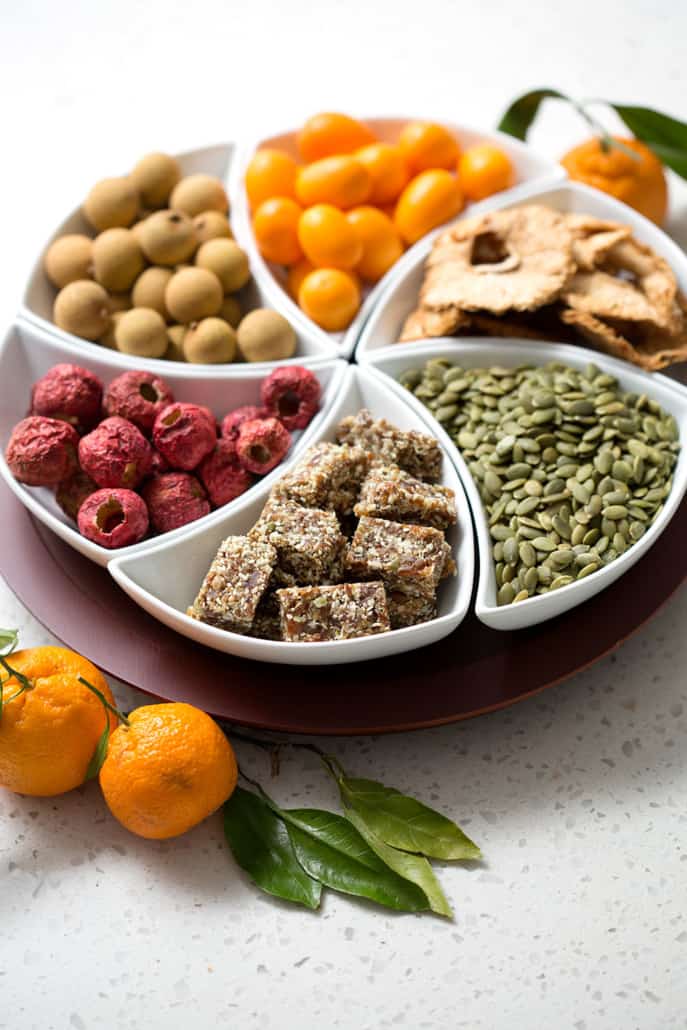 Chinese New Year is celebrated over 15 days and it's customary to entertain friends and family during that time. This is a way to always have something on hand to serve your guests.
I grew up influenced by my mom's Italian culture, which meant she was always trying to feed people. Food is very important in Chinese culture as well. There's really no difference. Moms in every culture always want to feed their family!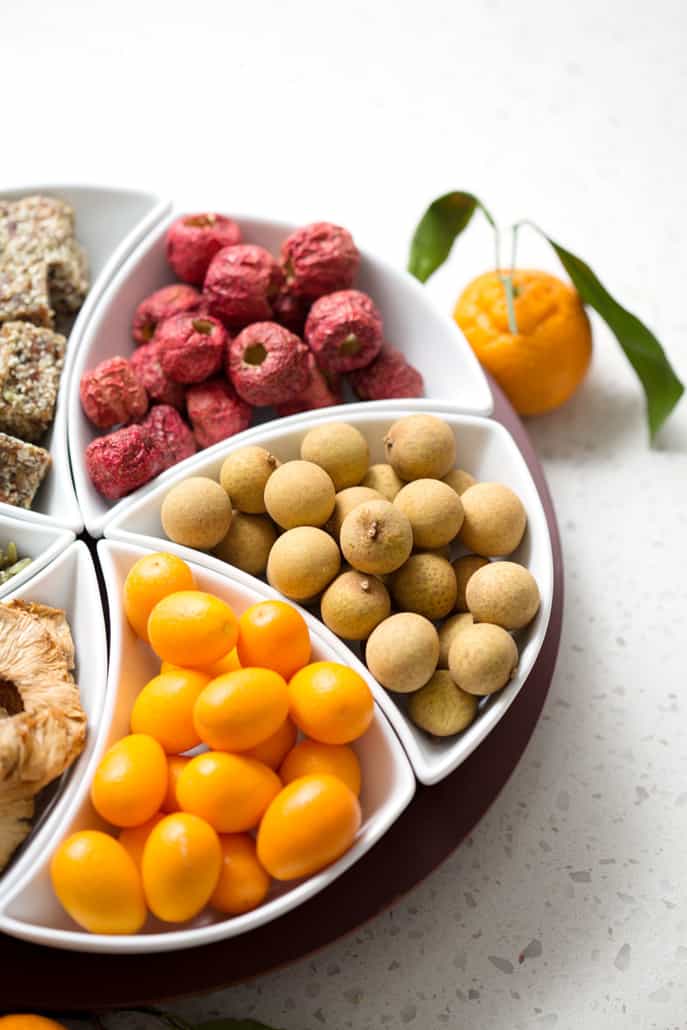 Where do you buy Chinese Candy Boxes?
I searched everywhere for a traditional box and it was hard to find in San Diego. I'm going to try to search LA next year for a traditional candy box. I just serving tray that I had on hand and subbed those traditional candies for something a little healthier. Here is a link to a exact serving tray: http://bit.ly/2DDKMun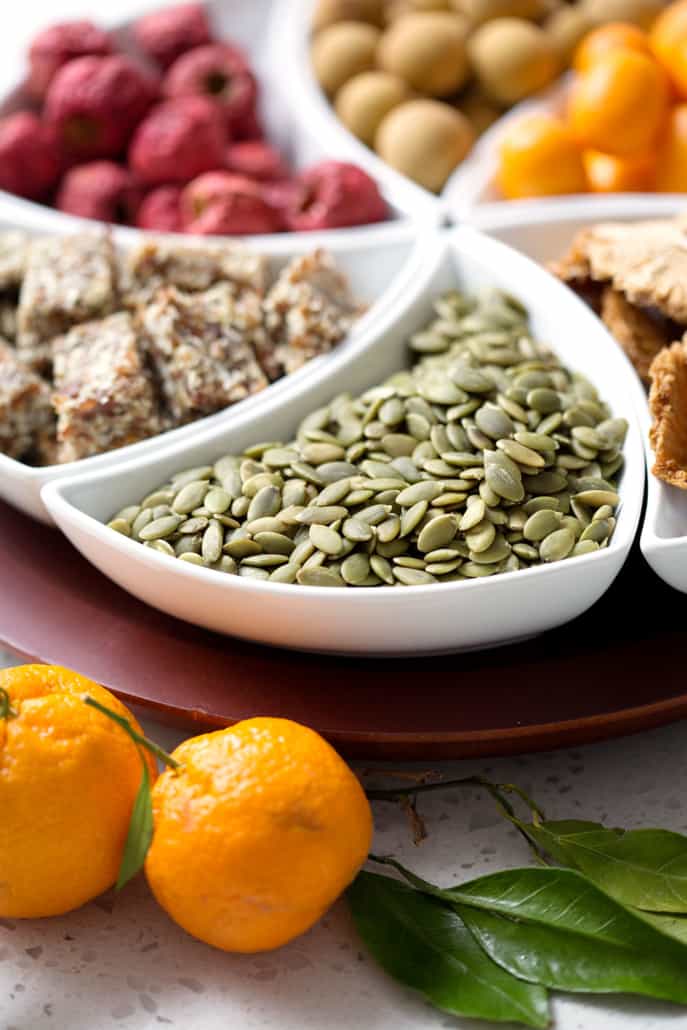 How to fill the box
You can fill the box with whatever candies you like but traditional options include: sweetened dried coconut, fried sesame balls, candied carrot slices, sweetened dried coconut pieces, and sweetened dried lotus root slices or seeds, among others. More modern additions are gold foil-wrapped chocolate coins, fruit jelly candies, or hard candies wrapped in shiny red foil. All of these are considered good luck foods that help with wealth and prosperity. It's extra lucky if the wrapping is red or gold.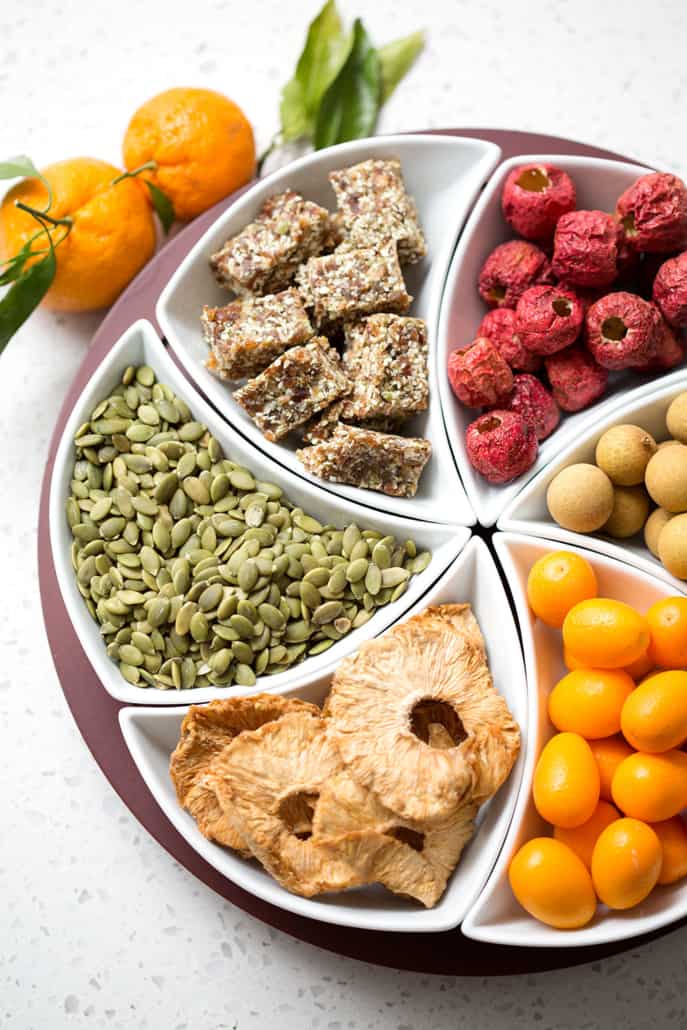 None of these traditional foods are considered Paleo let alone AIP. I took the idea of candy and simplified it to AIP/Paleo sweets. I used fresh, dried and dehydrated fruit as well as seeds and my AIP Coconut Date Chews in my box.
Here are the items I used to create my Chinese Candy Box.
Dried pineapple
Dehydrated hawthorne berries (a Chinese fruit that is quite tart)
Fresh Kumquats
Fresh Logan
Mandarins
Raw sunflower seeds
AIP Coconut Date Bars
Here are a few additional options.
Oranges
*Pumpkin Seeds
*Watermelon Seeds (very traditional)
Dried Coconut
Dates
Dried Mango
Dehydrated Mango
Dehydrated Banana
*Please note that seeds are a reintroduction.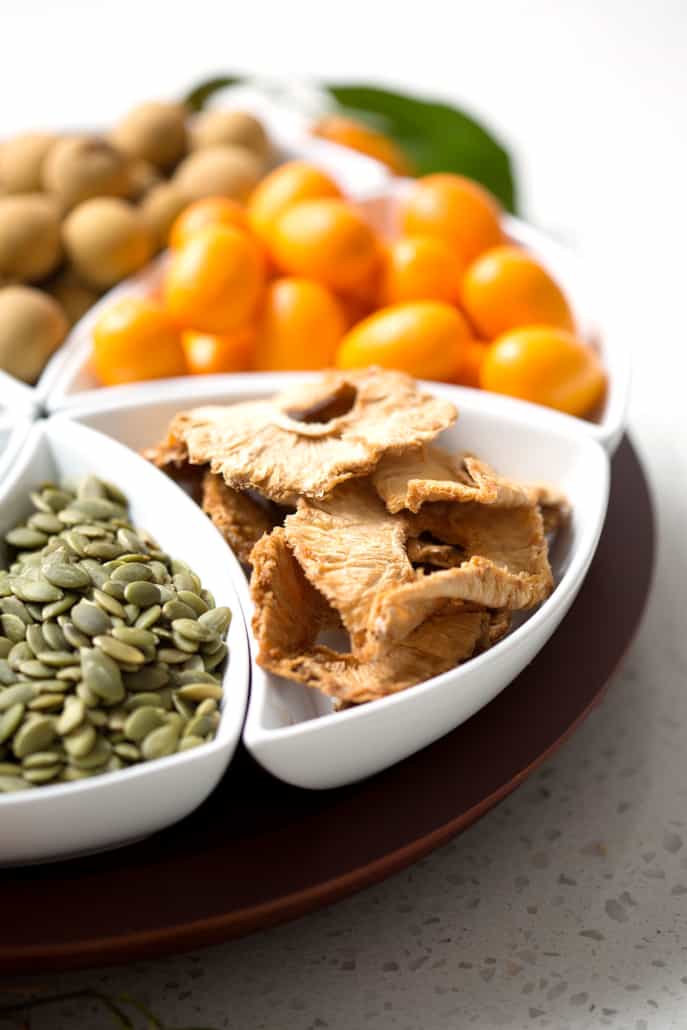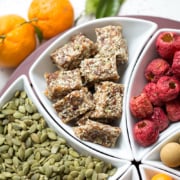 Print Recipe
AIP Coconut Date Bars
AIP Coconut Date Bars are a yummy and sweet treat that contain zero added sugar refined or otherwise. They only have 5 ingredients and require zero baking just blending. This recipe suits the Autoimmune Protocol (AIP), Paleo, and Vegan diets.
Ingredients
2

cups

Dates

1/2

cup

Coconut Flakes

1/2

cup

Sunflower Seeds

AIP reintroduction, substitute tigernuts for strict AIP

1/8

teaspoon

Vanilla Powder

pinch

Salt
Instructions
Add dates to high-speed blender (I recommended

vitamix

).

Blend until shredded then add the rest of the ingredients.

Blend again until combined.

Press down until covering the bottom of the pan.

Place the loaf pan in the refrigerator for at least 2 hours.

Remove from the fridge and then cut into but size pieces and serve.
Notes
If you're looking at this recipe and decide not to make it because you don't have a mini loaf pan here are a few more.
Ok, so that's three whole recipes that use these pans! That makes a mini loaf pan purchase totally justifiable!
Nutrition
Serving:
1
piece
|
Calories:
63
kcal
|
Carbohydrates:
10
g
|
Protein:
1
g
|
Fat:
3
g
|
Saturated Fat:
1
g
|
Sodium:
1
mg
|
Potassium:
108
mg
|
Fiber:
2
g
|
Sugar:
8
g
|
Vitamin C:
1
mg
|
Calcium:
7
mg
|
Iron:
1
mg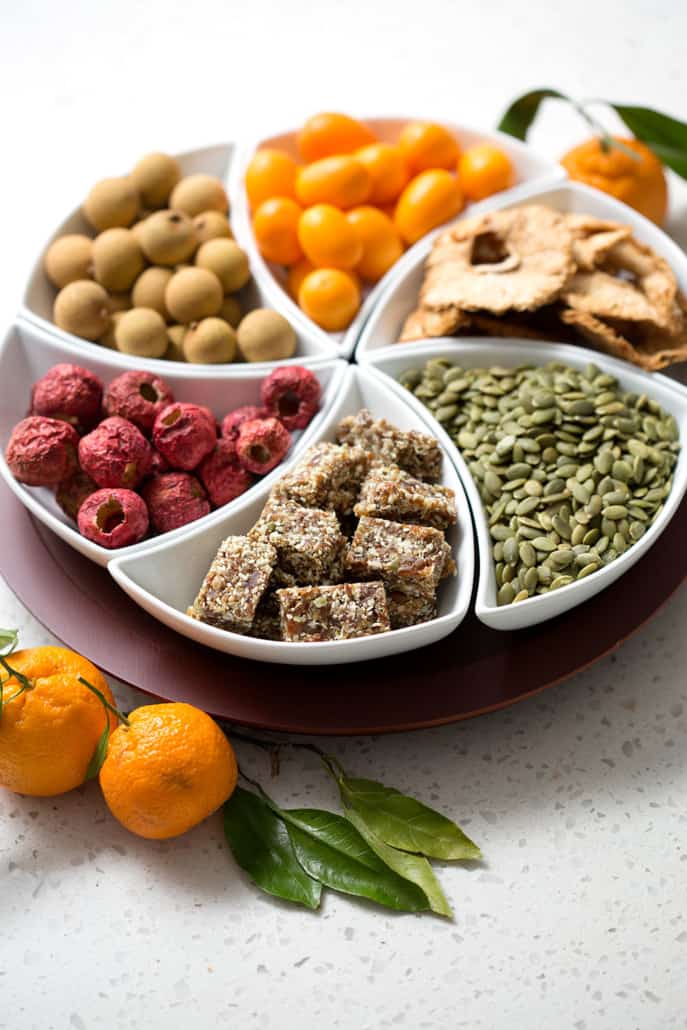 If you like this recipe, be sure to share it on Pinterest or leave a comment below!