This super thick Coconut Beetroot Latte is reminiscent of a hot cup of chocolate just minus the chocolate and the milk. Ehh. I know it's a stretch but I'm telling you it's good and will hit the spot on a cold night. It's also made with nutrient dense beets and other healthy spices like turmeric and ginger. This tastes so good that you'll forget that you are drinking beets and it's good for you!
How to make a beetroot latte.
This is a ridiculously simple recipe. Seriously, dump all the ingredients into a saucepan. Heat. Done!
The beetroot powder makes this recipe super easy. There's no messy prep, cooking or cleaning. I like to eat beets and certainly like the health benefits that come with them but boy, they are messy.
Beets turn everything magenta including all my white plates, counters and serving ware. While I'm not ready to give up on beets entirely, beetroot powder does allow me to enjoy them more often in drinks or soups without the hassle.
I found my beetroot powder at Sprouts but I've found a few brands online. Sari Foods and Frontier Natural are both high quality organic brands. I also use beetroot powder in my AIP Char Sui Pork recipe so you have multiple recipes to use this powder.
What are the beetroot latte health benefits?
Beets are nutrient dense, helps fight inflammation, and a good source of fiber. Since I included a bunch of spices in this Coconut Beetroot recipe, you're not just cooking with beet powder. There are also a lot of health benefits that come from the honey, turmeric, collagen peptides, cinnamon and ginger. They are:
Anti-inflammatory
Fight nausea (thank you ginger)
Antioxidant
Reduces cholesterol
Help prevent cancer
Antimicrobial
Reduce bone loss
Improve hair, skin and nails
Sources: health benefits of turmeric, ginger, cinnamon, honey, collagen peptides
Healthy, blah, blah, blah – Is it good?
Yes! I swear. It's think and slightly sweet and definitely coconut-y. It has some warmth from all the spices and beets, which reminds me of an adult version of hot chocolate. My non-AIP eating husband loved it! He drank the entire thing before he even thought to ask what was in it. I told him beets and he didn't believe me. He said it tasted too good. Haha!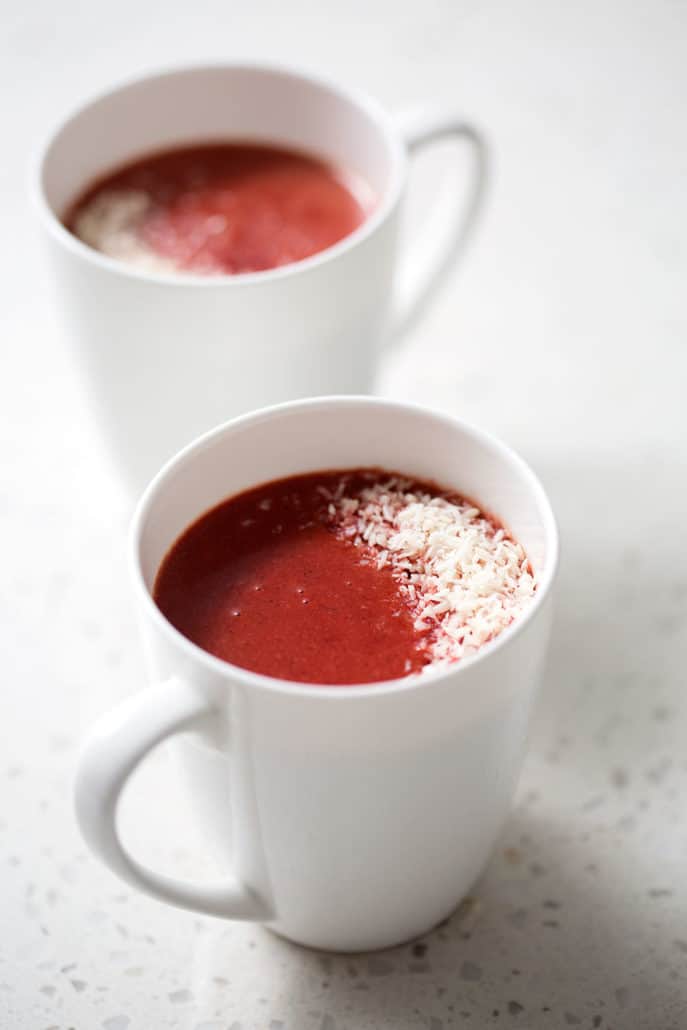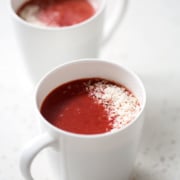 Print Recipe
Coconut Beetroot Latte
Coconut Beetroot Latte is a surprisingly healthy drink in a shocking color of deep red. This super simple beet power recipe can be made in less than 10 minutes. This recipe suits the Autoimmune Protocol (AIP), Paleo, Vegan, Whole30 and allergy friendly diets.
Instructions
Combine all ingredients in a small saucepan.

Stir to combine.

Bring to a boil.

Pour into two mugs and serve.
Nutrition
Serving:
1
cup
|
Calories:
443
kcal
|
Carbohydrates:
23
g
|
Protein:
4
g
|
Fat:
41
g
|
Saturated Fat:
36
g
|
Sodium:
29
mg
|
Potassium:
420
mg
|
Sugar:
17
g
|
Vitamin C:
2
mg
|
Calcium:
34
mg
|
Iron:
7
mg
Do you like beets? If you like this recipe, be sure to share it on Pinterest or leave a comment below!