The broth is what shines in this Asian Pork and Noodle Soup recipe. The molasses, cinnamon and fish sauce give so much flavor to the broth and, well, everything. It just tastes so rich. The depth that you get from the trifecta of ingredients reminds me of soy sauce. It's definitely not the same flavor but it's not a one-note flavor. It's a symphony.
Pork and long glass noodles are both signs of luck in Chinese culture so this Asian Pork and Noodle Soup is a perfect dish for the Lunar New Year. Lunar New Year also goes by Chinese New Year or Tet in Vietnamese culture. It's probably the biggest celebration of the year in Asian cultures. The party generally lasts for two weeks. The Chinese New Year has already passed for 2018 but I'm just getting around to posting my favorite recipe for this year.
My son, Tyler, is at the age where he can appreciate some of the local celebrations. This year we went to see a few lion and dragon dances. I feel so lucky to live in a community that celebrates Chinese (and other Asian) cultures. There were so many festivals and events over the first two weeks of the year that we couldn't possible attend them all. We were able to hit up a few Chinese celebrations this year but next year I want to check out the Vietnamese Tet Festival as well. I'm not as familiar with Vietnamese traditions but look forward to next year.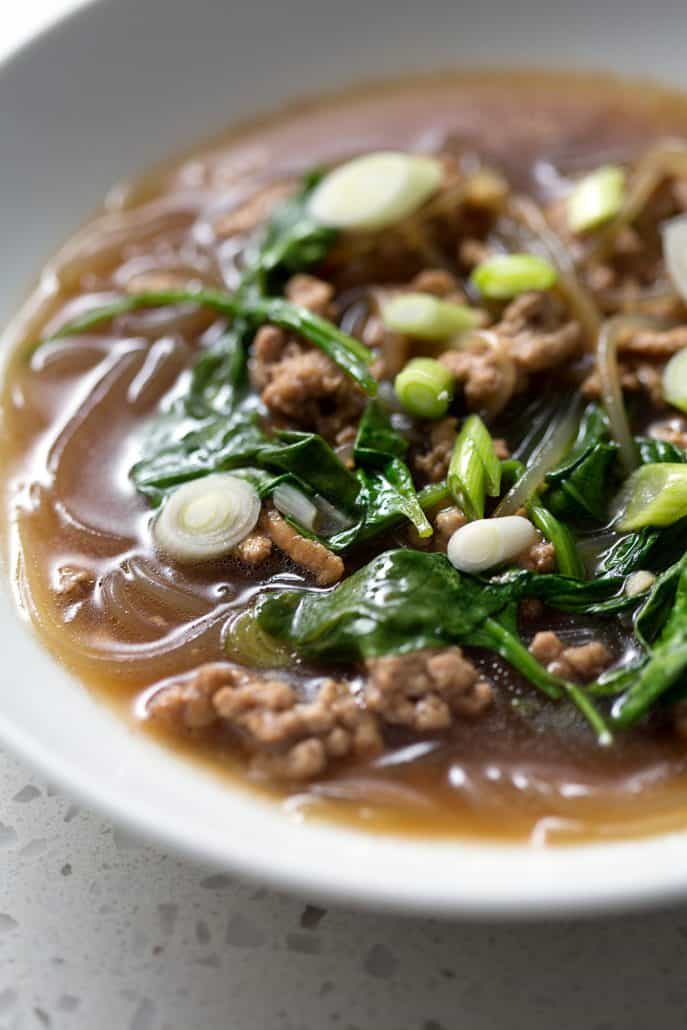 This recipe is too good and way too easy to make to keep it solely for the New Year. The prep takes less than 5 minutes. No joke. You only need to chop the garlic and green onions. The rest takes place on the stove with minimal supervision. It's really great during the week when time is super limited.
I created this Asian Pork and Spinach recipe with the hopes of reintroducing sweet potato glass noodles. Luckily I was able to stomach them because they're so freakin' good. We've had it 3 times this week. This recipe makes me so happy. If you haven't tried sweet potato glass noodles, this is the recipe. It's a must try!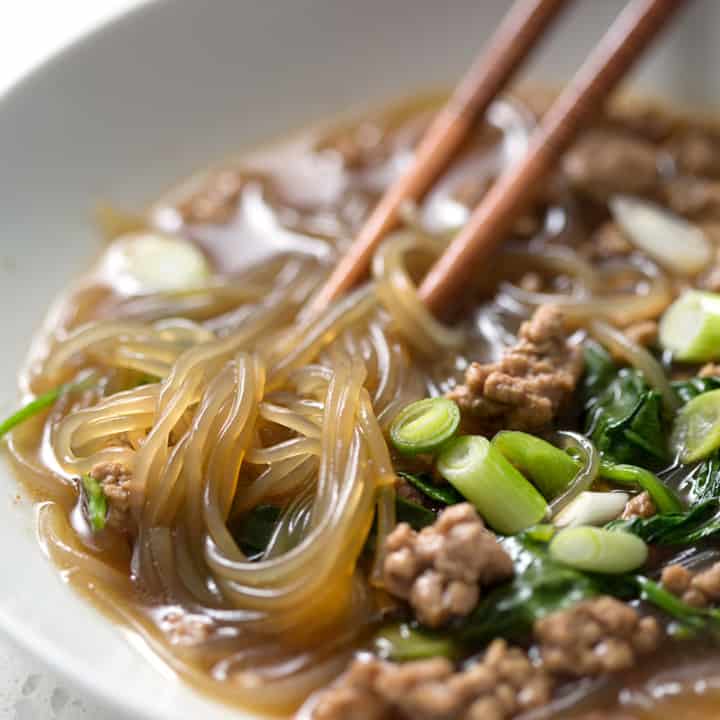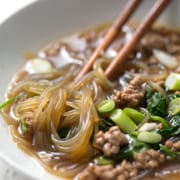 Print Recipe
Asian Pork and Noodle Soup
Asian Pork and Spinach Soup is a great way to celebrate the Lunar New Year or just for a fast and flavorful weeknight meal. It's totally AIP/Paleo and can easily be made in less than 30 minutes. This recipe is allergy friendly (gluten, dairy, shellfish, nut, egg, and soy free) and suits the autoimmune protocol diet (AIP), and paleo diets.
Ingredients
1

pound

Ground Pork

2

Garlic Cloves

finely chopped

1

tablespoon

Extra Virgin Olive Oil

Salt

1/4

teaspoon

Ground Cloves

Cinnamon Stick

1

tablespoon

Molasses

1

teaspoon

Fish Sauce

4

cups

Chicken Broth

1

bunch Baby Spinach

about 2 cups or 2.5 ounces

4

Scallions

thinly sliced

8

ounces

Sweet Potato Glass Noodles
Instructions
Heat oil in a large pot over medium heat.

Add pork, garlic, 1/2 teaspoon salt, and molasses then cook, stirring and breaking up with a spoon, until browned and cooked through, 5-8 minutes.

Add the ground cloves, cinnamon stick, broth and fish sauce then bring to a boil.

Reduce heat and simmer until flavors meld, 8–10 minutes.

Add noodles, scallions and cook, stirring occasionally, until the noodles are cooked, about 5 minutes.

Remove from the heat and add the spinach then stir to combine.

Season the soup with salt, to taste.

Divide noodles among bowls and ladle soup over.
Nutrition
Calories:
362
kcal
|
Carbohydrates:
6
g
|
Protein:
21
g
|
Fat:
28
g
|
Saturated Fat:
9
g
|
Cholesterol:
82
mg
|
Sodium:
1046
mg
|
Potassium:
620
mg
|
Fiber:
1
g
|
Sugar:
4
g
|
Vitamin A:
120
IU
|
Vitamin C:
20
mg
|
Calcium:
52
mg
|
Iron:
2
mg